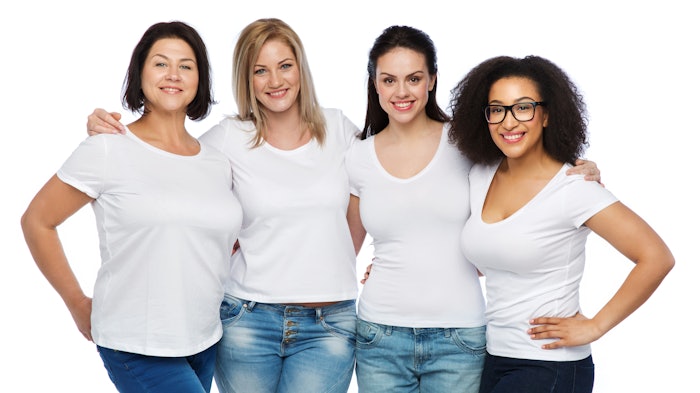 To help injectors enhance the individual beauty of their patients through more customized treatment plans, dermatologists André Braz and Camila Cazerta de Paula Eduardo of Brazil, published a paper in the August issue of the Indian Journal of Plastic Surgery outlining their AB (Anatomy of Beauty) Face Technique.
The technique involves planning your injectable filler treatment based on the shape of the patient's face (oval, round, heart, angular). Then performing injections in two steps. The doctor's refer to the first step as AB face structure, which involves improving the contours and proportions of the face—based on the individual's facial shape—to enhance the patient's beauty, using high-elasticity or high-density hyaluronic acid gels or composite gel matrix of hyaluronic acid (70%) and calcium hydroxyapatite (30%). The second step—AB face refinement—involves blending the areas treated and correcting remaining sulcus or areas of shadowing with softer gels and more superficial placement in the subcutaneous plane.
For example, patients with a heart-shaped face tend to lose contour in the lower third as they age, resulting in significant laxity in this area. While the middle third of the face shows minimal changes, with loss of volume mainly in its anterior and medial portions, they explain. Therefore, when planning your injections:
In the middle third of the face, the volume should be injected mainly in the middle or anterior portion, with less volume of product placed laterally in the zygoma and malar prominence.
In the lower third of the face: promote projection of the mentonian area, secondarily a slight elongation of this region; areas of focus would include prejowl, the jawline, and the mandible angle, where the larger volume of product should be placed.
"The knowledge of the standards of beauty is of great importance to the aesthetic physician, but, above all, the sensitivity to capture the essence of each patient, which makes that person unique, is paramount," the authors wrote. "We hope that this study might be helpful in giving an insight into and a practical view of how to plan a treatment with injectable fillers in an effective manner."
Read the full paper here.