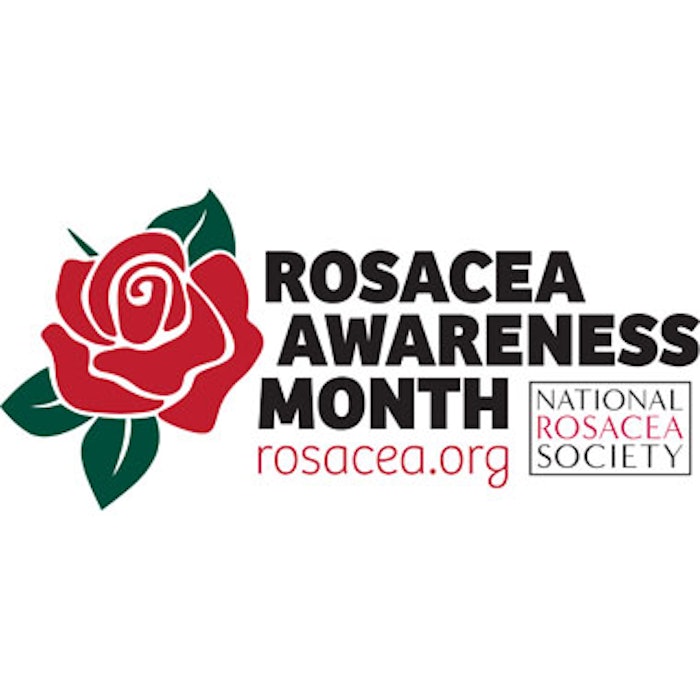 The National Rosacea Society (NRS) has designated April as Rosacea Awareness Month to educate the public on this often life-disruptive disorder estimated to affect more than 16 million Americans and 415 million individuals worldwide. During April and throughout the year, the NRS will conduct public education activities to reach the many millions of rosacea sufferers who may not realize they have a medical condition that can be treated, emphasizing the warning signs and urging those who suspect they may have rosacea to see a dermatologist.
Medical professionals interested in spreading awareness during the month of April can download educational flyers to post in their offices as well as the NRS rose logo to use as their social media profile photos for the month of April at www.rosacea.org/ram. The page also features a physician finder for patients seeking a dermatologist for care. You can also follow the NRS on Facebook, Twitter and Pinterest for up-to-date information and tips on rosacea.
In an NRS survey of 1,675 rosacea patients, 90 percent said the disorder had lowered their self-esteem and self-confidence, and 52 percent said they had avoided face-to-face contact because of the disorder. In another survey, 51 percent of those with severe symptoms said they had even missed work because of their condition.
When the signs and symptoms of rosacea are virtually eliminated, however, the improvement in patients' lives is often dramatic. In a new NRS survey of more than 800 rosacea patients, 83 percent of those who had achieved clear or almost clear skin said their psychological well-being had improved. Seventy-three percent said it had also improved their social lives, and 63 percent reported improvement in their occupational well-being.
"Clear skin is not only desirable, but it is increasingly attainable with the advanced medical therapies that are available today. Though they may feel discouraged, the most important thing for those battling the signs and symptoms of rosacea is to visit a dermatologist to be correctly diagnosed and treated," said Linda Stein Gold, MD, director of dermatology clinical research at the Henry Ford Health System. "Rosacea is a disorder of varying signs and symptoms, and finding the best therapy or combination of therapies for each individual's case is key."