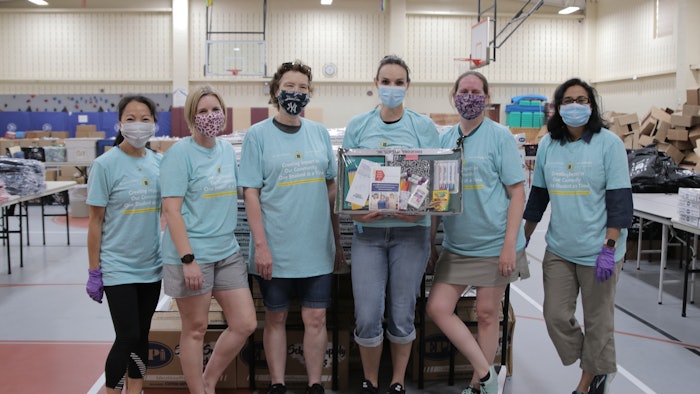 Galderma
For the fifth consecutive year, Galderma donated backpacks filled with school supplies to Northwest ISD students in need. This year, Galderma donated 1,200 backpacks for students in grades kindergarten through 12. Each backpack included all of the specific supplies requested by NISD schools.
While this is the fifth year that Galderma has distributed school supplies to NISD students, the 1,200 backpacks were distributed differently due to social distancing precautions required by the COVID-19 pandemic. Instead of students and parents gathering in the gym at NISD's Hatfield Elementary School, masked Galderma and NISD employees staffed a "drive-thru" distribution in the school's parking lot.
"COVID-19 has created economic pressures with layoffs and reduced working hours for many families locally. And, as we approach the start of a new school year, we know that many more parents will need help to get their students ready. We weren't going to let the pandemic stop us from supporting the families in our community as we have done for the past five years or interrupt our partnership with our local school district," said Miles Harrison, president and general manager, Galderma U.S.
"We are so grateful for partners like Galderma. They've helped at least a thousand families this year, and that matters a great deal," said Ryder Warren, Ed.D., superintendent of schools for Northwest ISD. "Galderma's leadership, generosity and commitment to the community speaks to their support of education, and we are proud to partner with them. Their contributions today will help set our students up for success. In these difficult times, something like a new backpack and a new set of school supplies can give our students a sense of normalcy and a sense of hope. For that, we are extremely appreciative."