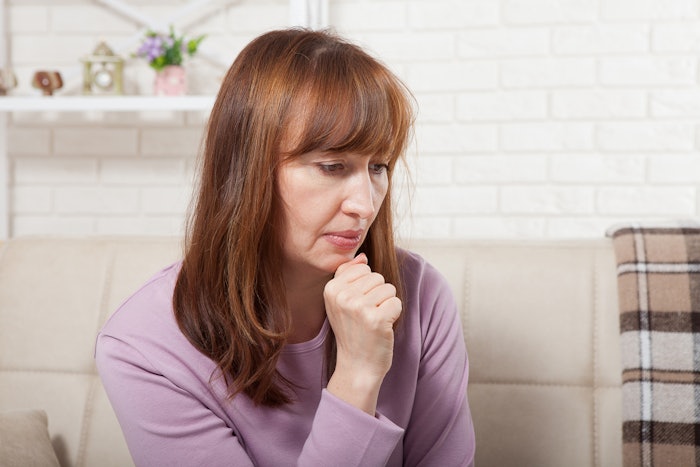 Nutrafol has announced positive results from its new clinical trial: a study presented on hair growth in menopausal women.
Nutrafol's Women's Balance is a hair wellness supplement formulated to address the root causes of hair thinning in perimenopausal and menopausal women. It features patented Synergen Complex Plus, a combination of botanicals with anti-inflammatory, anti-stress adaptogenic, antioxidant, DHT-inhibiting and hormone-rebalancing properties, and natural ingredients including saw palmetto, ashwagandha and maca, that support hormone health before, during and after menopause.
The six-month double-blind, randomized and placebo-controlled study was designed to assesses the safety and efficacy of the formulation in improving hair growth and quality in perimenopausal, menopausal and postmenopausal subjects with self-perceived thinning hair. 
Results of the study showed there was a progressive increase in hair counts for Nutrafol subjects compared to placebo at three and six months. Also, daily administration of Nutrafol resulted in significantly less shedding compared to placebo. This was accompanied by significant visible improvement in hair growth and quality in the active group, as assessed by a blinded physician investigator. 
"Menopause is a disruptive time for women between the hormonal shifts and changes in their bodies that are out of their control," said Glynis Ablon, MD, primary investigator on the clinical study. "Nutrafol has pioneered a new way of thinking about the science of hair wellness as it relates to menopause. With safety and efficacy at the forefront of everything the brand does, the published data supports the clinical effectiveness of the Women's Balance formulation for menopausal women. This provides physicians with a solution for their patients and gives menopausal women the opportunity to take control of their menopausal transition and beyond."