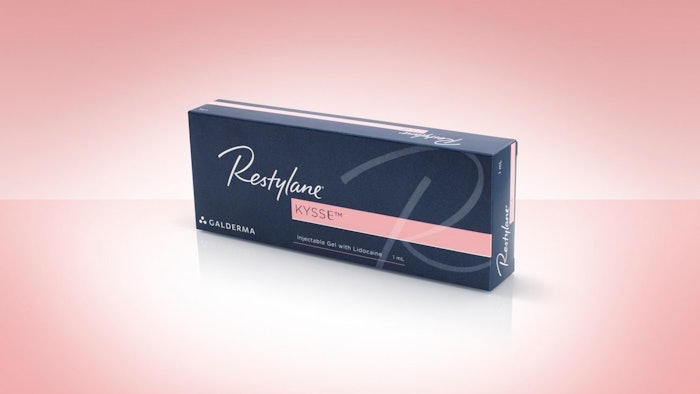 At the virtual American Society for Dermatologic Surgery (ASDS) 2020 Annual Meeting on October 9, Galderma announced that it has completed patient enrollment in several clinical trials supporting a Phase 3 program of relabotulinumtoxinA (QM1114), its proprietary novel, ready-to-use, liquid formulation of investigational botulinum toxin, for the treatment of glabellar lines and lateral canthal lines. The Phase 3 program, called READY (RElabotulinumtoxin Aesthetic Development studY), enrolled more than 1,900 patients across 60 sites in the United States and Canada in four clinical trials—three multi-center, randomized, double-blind, placebo-controlled studies and one long-term open-label study.
The relabotulinumtoxinA clinical trials will evaluate rapid onset, duration and additional patient measures for the next-generation botulinum toxin. The liquid formulation will be ready to use upon arrival and will not require in-office reconstitution before administration. The company believes that, in addition to reducing preparation time, the toxin has the potential to increase accuracy and improve patient outcomes, in contrast with current treatments that require reconstitution by clinicians before administration. Derived from Galderma's proprietary strain of Clostridium botulinum bacteria and created using an animal-origin free process, relabotulinumtoxinA will be manufactured in Galderma's new Center of Excellence in Aesthetics in Uppsala, Sweden.

During the ASDS meeting, the company also presented clinical research findings across its neurotoxin and dermal fillers portfolio. The company's oral and poster presentations highlighted results from the DREAM (Dysport Real-world Evaluation and Measured satisfaction) study of Dysport (abobotulinumtoxinA) for Injection, which demonstrated high levels of patient satisfaction and natural-looking results with only two treatments per year. Additionally, Phase 3 clinical research showed that Restylane Defyne was effective for correction of chin retrusion and was associated with a high degree of patient satisfaction, and Restylane Kysse was shown to be effective for lip augmentation over a 48-week treatment period with a high degree of patient satisfaction. In a Phase 4 study of Restylane Kysse, both subjects and their partners were satisfied with the subjects' lips after treatment.
"The results of the DREAM study showing the long duration of Dysport and high patient satisfaction with treatments given twice a year are especially important as it's the first toxin to showcase this extended patient satisfaction benefit," said Carolyn Jacob, MD, FAAD, founder and medical director of Chicago Cosmetic Surgery and Dermatology and an investigator for the DREAM study. "The study data showing that 95% of patients were satisfied or highly satisfied with the aesthetic results of treating the lines between their eyebrows every six months for a year with Dysport should give patients and aesthetic specialists confidence in this treatment regimen."