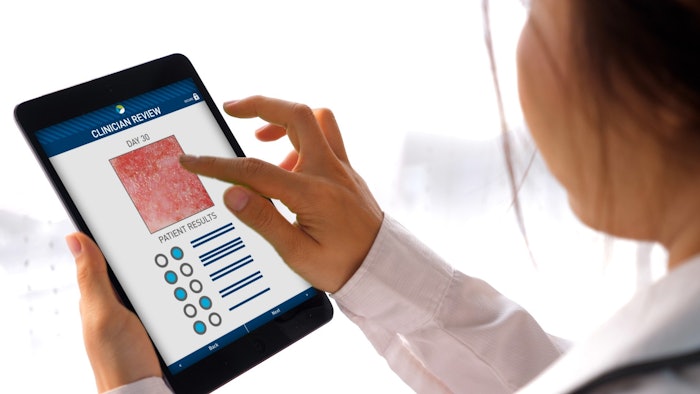 ERT has developed a multimedia software solution that allows for the collection, processing and analysis of photos and audio as part of clinical trial eCOA assessments. Its goal in developing the platform was to streamline and improve patient compliance with data collection, while safeguarding patient privacy and ensuring data security.
The eCOA Multimedia solution minimizes site visits, by enabling patients to capture and send important files to the study's database from home. 
The company notes that many clinical trials, including those in dermatology, skin cancer and CNS disorders, require photos or audio to demonstrate the efficacy of new treatments. Other trials, such as those in biologics, require photos to monitor local reaction to injection sites to support, for example, a new vaccine's safety profile. Previously, patients were required to visit an investigative site to have photographs taken with a dedicated camera, adding burden to site staff and increasing patients' risk of exposure to COVID-19 and other infectious diseases.
"Our eCOA Multimedia solution offers simplicity for sites and patients while delivering the high-quality information clinical trial sponsors need to determine the safety and efficacy of new medical treatments," said Elisa Cascade, executive VP of eCOA at ERT. "By unifying our proven eCOA imaging and processing capabilities into one solution, we've streamlined the collection of these important data, which will ultimately lead to improved treatment options for patients with, for example, skin conditions, CNS and other disorders."
By collecting photo and audio on one device, ERT's eCOA Multimedia provides a more holistic view of a patient's condition and enables them and site personnel to more easily and conveniently monitor changes over time. 
For CNS studies involving diseases such as Parkinson's and Alzheimer's, where patients complete cognitive assessments to determine disease progression and treatment effect, central raters are able to review audio recordings of these assessments to ensure consistent, high quality clinician assessments and scoring. The clinician is also able to take a photo of any cognitive puzzles or pictures the patient has completed as part of the assessment, on the same eCOA device, to allow progression to be visually monitored over time.