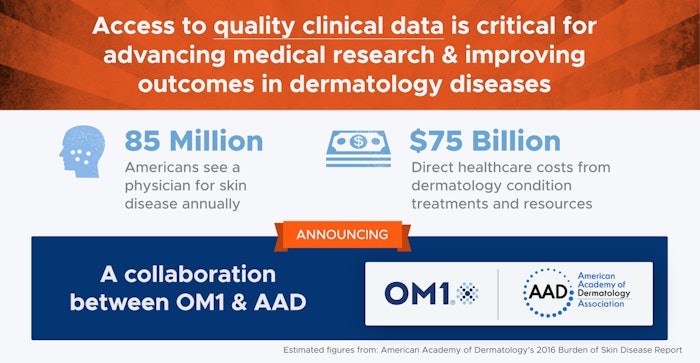 OM1, a technology company focused on real-world outcomes, leveraging AI and clinical data, has announced a collaboration with the American Academy of Dermatology (AAD).
The collaboration will connect the Academy's DataDerm clinical data registry to OM1's real-world data and evidence platforms.
The AAD DataDerm registry has been populated by thousands of clinician members and includes more than 40 million patient visits, documenting the diagnosis and treatment of psoriasis, atopic dermatitis, skin cancer, actinic keratoses, acne and many other dermatologic conditions. The data are used to advance the diagnosis and treatment of these conditions and to guide the highest standards in clinical practice and research.
Leveraging billions of data points, artificial intelligence technology and advanced analytics, OM1's Real-World Data Cloud and technology platforms connect and process condition-driven health information to help healthcare stakeholders use real-world data for advancing medical research and personalizing care.
The AAD and OM1 collaboration will enable dermatologists, researchers and life science companies to leverage clinical data for real-world evidence, outcomes, regulatory support and personalized medicine programs.