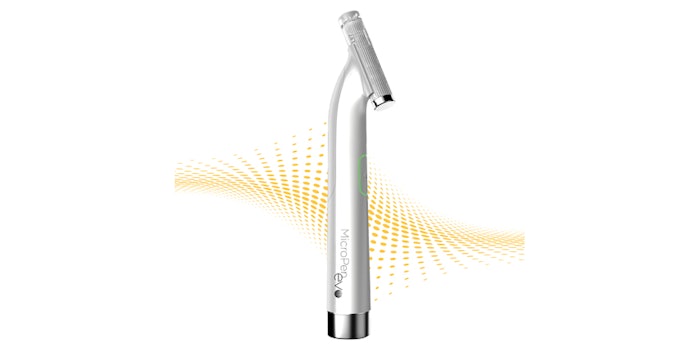 Courtesy of Eclipse
Eclipse has received FDA clearance of its latest medical-grade microneedling device, the MicroPen EVO, which is now commercially available to medical aesthetic practitioenrs in the U.S.
The MicroPen EVO is a third-generation MicroPen from the company.
Features include:
Angled cartridge for improved visibility
A lightweight aerospace-grade magnesium alloy
One touch power on and off with LED indicator light
Self-contained charging station that allows wireless charging in three-to-six hours
Adjustable depth feature on sterile, disposable, single-use cartridge
Teflon gear seal to prevent fluid transfer into body of the pen
A 7,000 RPM (+/- 10%) motor and precise depth adjustment
A 4+ hour lithium-ion battery for cordless operation (2 included)
"I have been an Eclipse customer for a decade. I trust their products for my patients and my practice. Eclipse makes reliable products and the new MicroPen EVO clearance takes it all to a higher level," said Joel Cohen, MD, of AboutSkin Dermatology and DermSurgery.
With the U.S. clearance of the MicroPen EVO, Eclipse will be offer an upgrade program for previous customers of its MicroPen Elite.