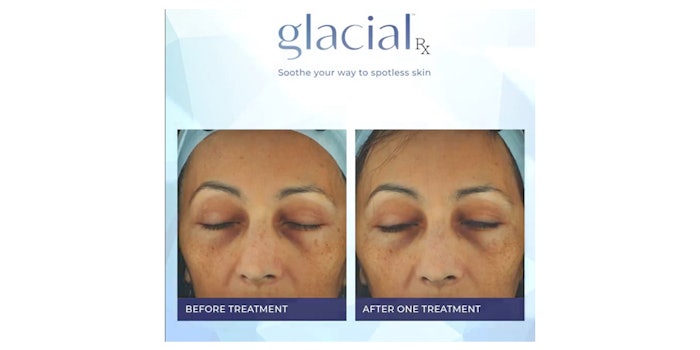 Courtesy of Glacial Rx
R2 Technologies' in-office system, Glacial Rx, has been FDA-cleared for general dermabrasion, scar and acne scar revision and tattoo removal. The device was previously cleared for the removal of benign lesions and temporary reduction of pain, swelling and inflammation.
"This additional FDA clearance is a huge win, and not an easy feat. It took innovation, dedication, time, and resources," says Tim Holt, R2 CEO. "It couldn't have been possible without our amazing team and strategic partners. The clearance had an exceptional outcome in which we went from being part of one classification, among hundreds of other devices, to being placed in our very own FDA-issued product code. This is further proof that our product is so novel, it warrants a completely new category."
R2 has also established a Scientific Advisory Board of industry veterans, including the inventors of the Glacial Rx technology, Rox Anderson, MD, Dieter Manstein MD, PhD, and Henry Chan, MD, PhD.
"With the appointment of our new Scientific Advisory Board, R2 is tapping into years of knowledge and expertise to launch new groundbreaking innovations, develop a superior product pipeline, and leverage technical insights to secure new clinical indications and expansion opportunities," says Holt.