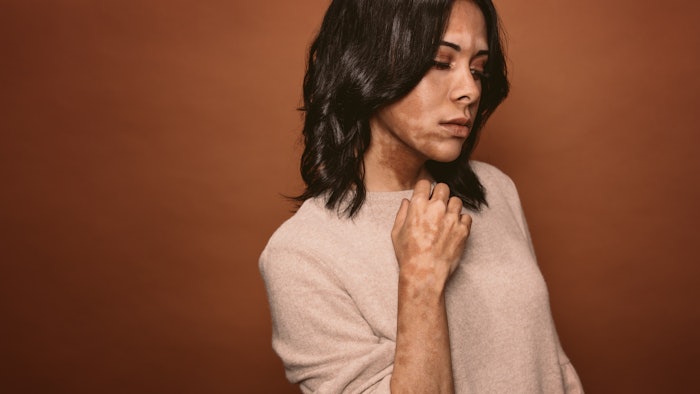 The global vitiligo market is anticipated to reach $4.3 Billion by 2027, according to a report from Research and Markets. The industry was valued at $3.5 billion in 2021 and is predicted to grow at a 3.5% CAGR from 2021 to 2027. The report indicates that new treatment drugs, availability of appropriate treatment, growing awareness of the condition and increasing prevalence of the condition are driving the market growth.  
Related: US Medical-Dispensed Skin Care Market Players Report Robust Growth & Strong Supplier Satisfaction Despite Fears of Inflation
Combination Treatments vs. Monotherapy
Currently, there's no cure for vitiligo and no universally accepted method for limiting the spread of the disease. Although visible symptoms are only temporarily reversible with a range of treatments, the combination works far better than monotherapy, according to the market report. The industry, however, still has significant concerns about the side effects and short-lived therapeutic effects of currently available vitiligo treatment drugs. Presently, common vitiligo treatment drugs include ARN-4079, ATI-502, AX-1602, BOS-475, CCP-070, Cerdulatinib (RVT-502), HuABC-2, Abatacept, Topical Ruxolitinib and VLRX-001.
Despite many vitiligo projects worldwide being postponed during the COVID-19 pandemic due to the staggered growth rate of the market, new drugs reaching late-stage trials and approval discussions have helped regulate the market and account for a slow growth rate, according to the report. 
Increased Investment in Research & New Technology
The United States contributes the largest market share to the global vitiligo market and overall dominates the market. India also holds a significant market share due to its market players' increasing investment in research and development activities and clinical trials. The United Kingdom is anticipated to expand the vitiligo market due to advancing government funding, fostering the adoption rate of new technology and drugs and increasing medical tourism in its states, per the report.
The key market leaders in the global vitiligo market include Incyte Corporation, Bristol-Myers Squibb, Clinuvel Pharmaceuticals Ltd, Astellas pharma inc and Baxter International Inc.