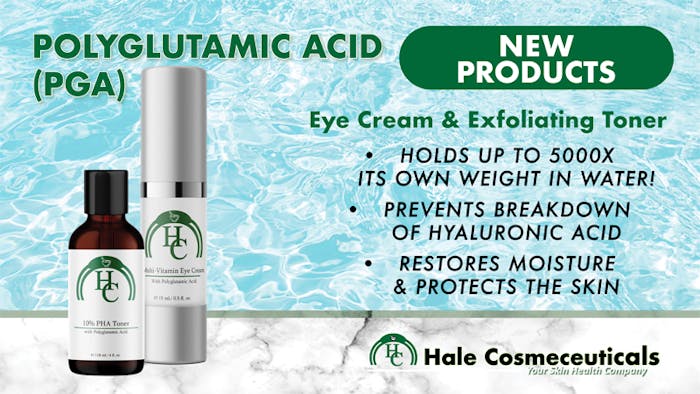 Hale Cosmeceuticals Inc is excited to announce the release of TWO new products with the glow-boosting humectant Polyglutamic Acid (PGA). Our products have been used and trusted by Dermatologists and Estheticians for over 30 years, and we continue to innovate with our NEWEST formulations!
Polyglutamic Acid (PGA) is a naturally-derived peptide which can retain up to 5000x times its weight in water! When applied to skin, this hydration powerhouse can reduce fine lines by improving the moisture and elasticity. More impressively, Polyglutamic Acid inhibits Hyaluronidase, the enzyme which breaks down Hyaluronic Acid (HA). This means that PGA works synergistically to help the skin produce and retain its natural Hyaluronic, giving skin its youthful appearance and tone.
Our NEW Multi-Vitamin Eye Cream and 10% PHA Toner have harnessed the power of PGA to give thirsty skin a rejuvenated and hydrated glow! Learn more about the products our physician-led team has created for you!