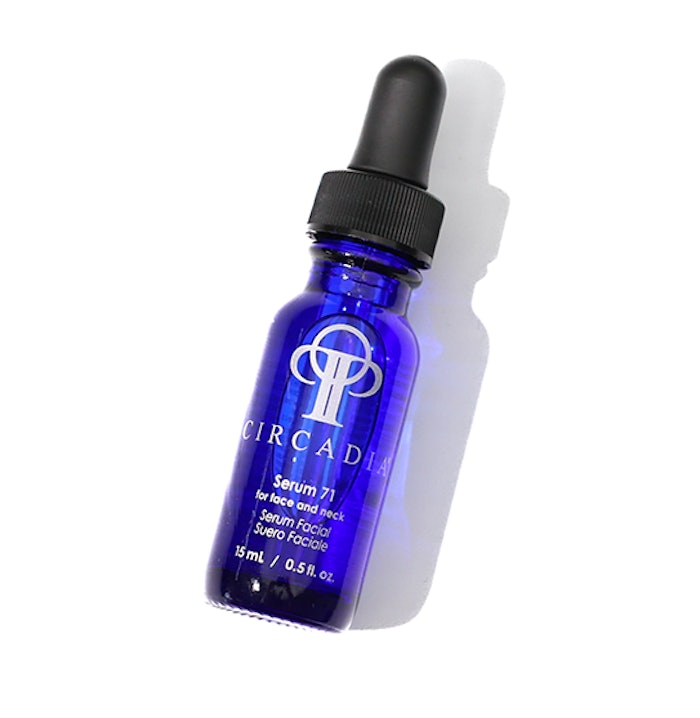 Circadia launched its first new product of 2023; Serum 71, which gives a nod to the past and an eye to the future. The product contains anti-aging and hyperpigmentation fighting qualities, and a story entirely on its own. 
In 1971, Dr. Peter Pugliese joined the Society of Cosmetic Chemists, resulting in a major career shift that would ultimately change the trajectory of his life and the skin care industry. Dr. Pugliese did the initial clinical studies on the first ever commercially available copper peptide for cosmetic use in the 1980s.
This research led to the expansion of peptides used in personal care products worldwide. His studies discovered that copper assists in fibroblast activity and works as an antioxidant by preventing free radical damage. In addition to his pioneering research on the copper peptide, Dr. Pugliese conducted the original penetration tests of Beta Glucan on the skin in the late 80s, paving the way for cosmetic formulators today.
Related: Peptides: An Antidote to Aging Skin
Fast forward to 2023, and Circadia's CEO Michael Pugliese, is reviving his grandfather's innovations, but putting his own passionate spin on these industry-standard ingredients, bringing a new excitement to an established ingredient profile.
"We have many ingredients that have become standard in skin care formulations, but the history behind them is important too. Each of these ingredients came from a person or people who were passionately pursuing them," says Michael Pugliese, grandson of Dr. Pugliese and now CEO.
Serum 71 has an immune-boosting, nutrient-rich formulation with a powerful trio of tranexamic, mandelic and azelaic acids. Also included is a second-generation Beta Glucan and Neodermyl, the next-generation copper peptide helps build back collagen and elastin.
The serum s designed to deliver brightening, lightening, and tightening effects for all skin types. Named after the year Dr. Pugliese joined the Society of Cosmetic Chemists, Serum 71 is a tribute to his immense contributions throughout his career as a chemist.