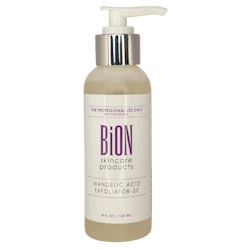 BiON Skincare Mandelic Acid Exfoliator 30% is a multifunctional chemical peel for professional use only that is ideal for anti-aging, acne and skin brightening.
Along with mandelic acid, the exfoliator is formulated with niacinamide, azelaic acid and lactic acid to further improve acne control and skin lightening.
How to Use:
Consult BiON's Protocol and Education Manual before using the product.
Leave the exfoliator on the skin for no longer than 2-7 minutes. Can be layered to obtain more intense results.
Add a layer every 1-2 minutes.
Do not exceed 3 layers and do not exceed 7 minutes total.
Key Ingredients:
Mandelic Acid
Azelaic Acid
Niacinamide
Lactic Acid
Sodium PCA