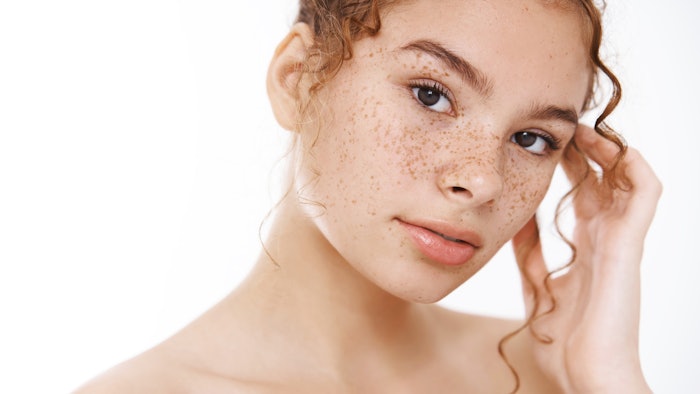 A study published in the Journal of Plastic, Reconstructive & Aesthetic Surgery (February 2021) investigated the clinical efficacy and safety of combination treatment with Q-switched alexandrite and CO2 lasers with topical lighteners from ZO Skin Health for facial pigmentary disorders. 
The observational study included 251 patients who had at least one facial pigmentary disorder. Of the 251 patients, 246 had lentigo senilis, 186 had moles, 79 had melasma, 53 had seborrheic keratosis, 17 acquired dermal melanocytosis (ADM) and 16 had freckles. All patients first applied ZO Skin Health's Milamin and Miramix to their cheeks for five days to check for any reactions, irritations, redness or itching. Patients without hypersensitivities then received the ZO treatment with 0.1% retinoic acid (RA), and the patients who showed hypersensitivities were treated with Buraitalive cream containing brightonil instead of hydroquinone.
The treatment plans differed between the patients depending on the presence of melasma. In patients with melasma, ZO treatment was initiated in combination with 500 mg of tranexamic acid (twice a day orally), 1 gram of vitamin C (twice a day orally) and 50 mg of vitamin E (once a day orally). If melasma improved in the 6th week, Q-switched alexandrite laser therapy (7.5 J/cm2) was performed for ADM, LS and freckles on the sites that did not overlap with melasma. For patients who did not have a melasma diagnosis, Q-switched alexandrite laser therapy (7.5 J/cm2) was performed for ADM, LS and freckles in the 6th week. For patients with moles and SK, CO2 laser therapy was performed in week 3. The RA dosage was gradually decreased beginning in week 12 to suppress redness and skin scaling by week 18. Patients who received long-term treatment with any medication and patients with any other skin disease on their face were excluded from the study. The use of cosmetic agents and strong sun exposure was prohibited during the duration of the study. 
The researchers assessed the treatment efficacy and investigated which disorders were most responsive to combination treatment as well as the relationship between doctors' skills, outcomes and dropout rates. Of the 251 patients, 227 completed treatment. Of those 227 patients, 97 had an excellent outcome, 113 had a good outcome, 17 had a fair outcome and 0 had a poor outcome. Freckles were the most responsive to the treatment, and ADM was the least responsive. Patient withdrawal and treatment outcomes did not differ significantly based on the doctors' skills. 
Read the full study here.