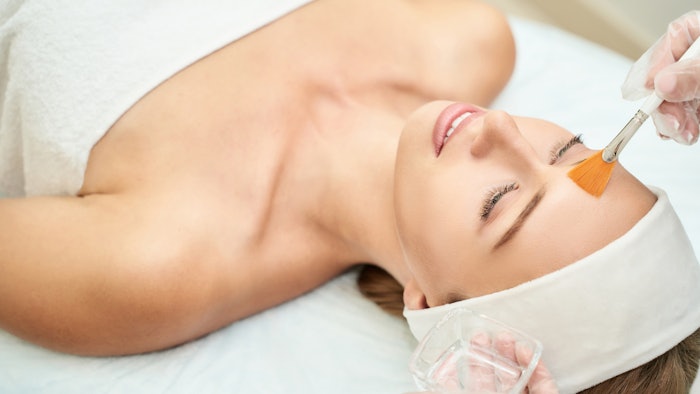 In an effort to elucidate the mechanisms of action behind trichloroacetic acid (TCA) and alpha-hydroxy acid (AHA) peeling agents, independent researchers worked with investigators from PCA Skin and Colgate-Palmolive to perform a series of in vivo and in vitro experiments on a commercial TCA-lactic acid peel.
The investigators used a PCA Skin TCA-lactic acid commercial peel and obtained a human skin biopsy from abdominal plastic surgery. They performed:
In-vitro: Enzyme Inhibition Assays, 3D Human Skin Equivalents and qPCR
Ex-vivo: Tissue Culture and Product Treatment and Photo-Damaged Collagen Skin Model
A Synergy Investigation and Computation using CompuSyn software
In-silico Molecular Docking
Skin Viability using 3-(4,5-dimethylthiazol-2-yl)-2,5-diphenyl tetrazolium bromide (MTT) assay
Histochemical Imaging
The peel significantly inhibited tyrosinase, collagenase and elastase in a dose-dependent manner. TCA:lactic at ratio 1:2 exhibited strong synergy for anti-tyrosinase and anti-collagenase activities. The authors noted that CompuSyn further confirmed that it was a true synergy (not an additive effect) based on the intensity of the green line in CompuSyn polygonograms. No synergy was observed for anti-elastase activity.
The results of the testing suggested that TCA on its own has little to no tyrosinase inhibition activity. However, TCA is critical for the synergy seen and can reduce the needed dose of both TCA and lactic acids by several folds to achieve the same level of efficacy.
Read the full study, published in Frontiers in Medicine – Dermatology (February 21, 2021), here.