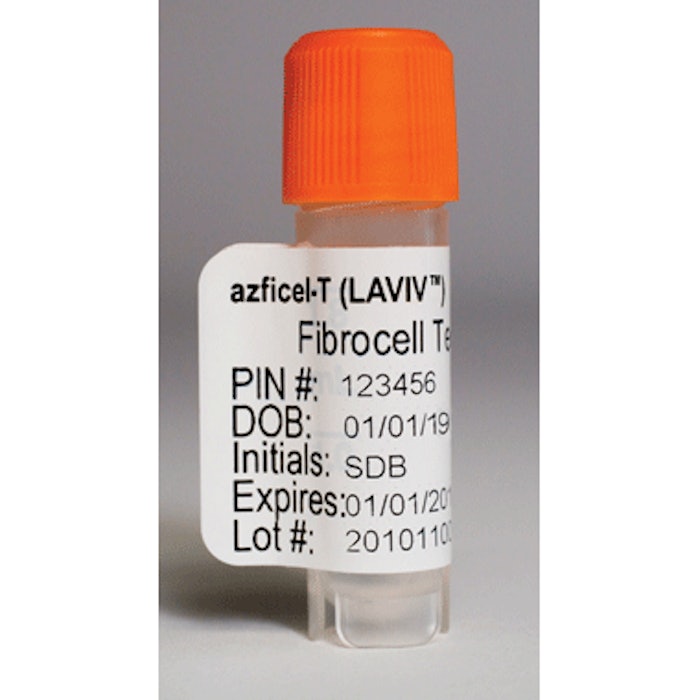 When the United States Food & Drug Administration (www.fda.gov) cleared LaViv (azficel-T, Fibrocell Science, www.fibrocellscience.com) in June 2011 for the treatment of moderate to severe nasolabial folds, it was hailed as a more natural alternative to Botox. Unlike neuromodulators or hyaluronic acid-based dermal fillers, LaViv does not offer instant relief from wrinkles. Its effects depend on a biologic process. The physician extracts skin cells from behind the patient's ear. Fibroblasts are extracted from the sample and cultured to create hundreds of millions of new cells—a process that takes 90 days. The cultured cells are then ready for dermal injections. The company suggests three treatment sessions at three- to six-week intervals. Doctors charge $300 to $500 per session. The skin cells can be frozen and stored for years.
The injected fibroblasts stimulate production of collagen, elastin and hyaluronic acid that can, over time, return the patient's skin to a younger version of itself, filling in wrinkles and improving tone and texture. Since the trials for FDA approval were limited to six months, there are no real data on how long LaViv results might last.
David McDaniel, MD, director of the Institute of Anti-Aging Research and assistant professor of clinical dermatology, Eastern Virginia Medical School, Virginia Beach, Virginia, worked on some of the early studies of LaViv but not the FDA trials. He believes results may last for years. "There is some interesting anecdotal data from a number of investigators where patients have returned for unrelated reasons years later and we have seen a nice response. We saw one person a few months back who was still pleased with the response over four years," he says.
Vic Narurkar, MD, director of the Bay Area Laser Institute, San Francisco—who uses LaViv in his practice but has no other involvement with the company—believes that autologous cell therapy opens a whole new class of skin treatments. "I began using LaViv late last year with a subset of my patients who don't like the idea of putting any foreign substances into their bodies," he says. "They are excited about being able to rejuvenate their skin with their own cells. I don't think LaViv will replace other fillers, but it's an important addition to our armament. It offers a solution for two unique problems that fillers don't: fine lines and acne scars."
"In early trials we saw ice pick scars and scars in skin of color patients respond well," agrees Dr. McDaniel. "I plan to use it for patients who have already been lasered. I think they will show continued improvement."
In November 2011 Fibrocell Science presented data at the annual meeting of the American Society for Dermatologic Surgery demonstrating the efficacy of LaViv in treating acne scars. In the multicenter study of patients with depressed acne scarring on both side of their faces, 99 patients received up to three LaViv injections at two-week intervals on one side of the face and placebo injections on the other. Final assessments were conducted four months after the final treatment. There was a 2-point or greater improvement on a 5-point Subject Live Acne Scarring assessment scale and a 1-point or greater reduction in cheek acne severity on a physician-assessed 5-point Evaluator Live Acne Scare assessment scale for all patients. No serious adverse events were recorded and no patient discontinued treatment or withdrew from the study. Fibrocell is currently conducting additional studies involving 2,700 women in hopes of obtaining FDA clearance to cover the whole face.
"LaViv's ability to improve fine lines and skin texture give it potential for use in global rejuvenation, using mesotherapy-like injections," says Dr. Narurkar. "It also opens up the possibility of harvesting and storing your young healthy skin cells for other purposes."
"If you want to 'imagineer' for a minute, envision fixing burn scars or replacing melanocytes in vitiligo patients," suggests Dr. McDaniel.
"The buzz on LaViv will take a while to develop, because the process takes months and patients are just now beginning treatments," says Dr. Narurkar. "We'll be hearing a lot more about it in 2013 and beyond."
Linda W. Lewis is a MedEsthetics contributing editor.
Image courtesy of Fibrocell Science.