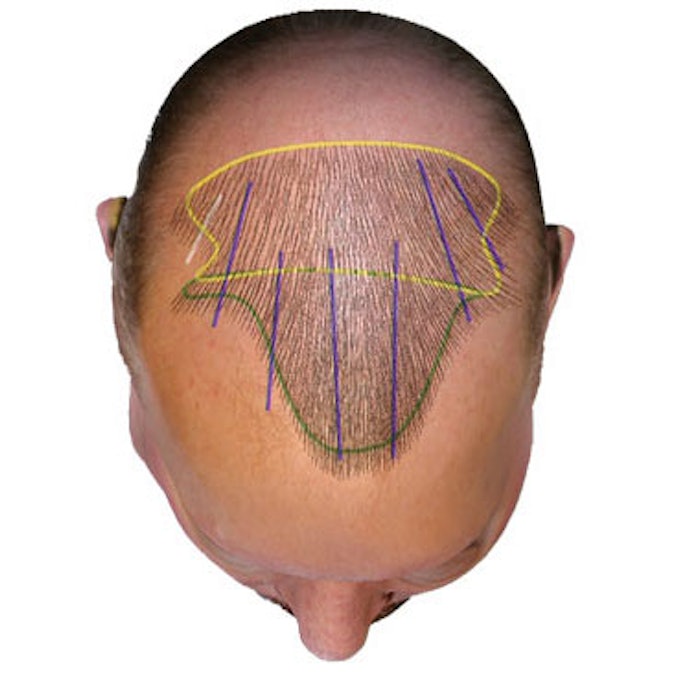 Would you be interested in a piece of equipment that could halve the time it takes to perform hair transplants and increase the number of patients who sign up for ongoing treatments? If so, ARTAS Robotic Hair Transplant system and Hair Studio from Restoration Robotics might be worth a look.
In many cases, robots in medicine have made procedures more cumbersome. "This is not true with ARTAS," says Mark Bishara, MD, of Paragon Plastic Surgery & Med Spa in Dallas. "If a physician has a sound knowledge of hair restoration, this tool can get him to a higher level by relieving him of the labor-intensive dissection process. The device more than tripled our production rates. We went from doing 1,500 follicular unit extraction grafts in a day to 6,700 per day. The consistent, accurate dissection process not only relieves the surgeon of this tedious task, it also improves outcomes for patients."
ARTAS is the first and only FDA-cleared, computer-assisted, physician-controlled robotic hair transplant technology. It provides superior visual access to the hair follicles and efficiently harvests individual follicular units. The robotic arm's consistency and accuracy means donor sites are kept to a minimum, and physicians can adjust settings without interrupting the procedure.
"I've been using the ARTAS system since January 2012," says Dr. Bishara. "It is the most sophisticated robot in the medical field. It, like most robots, is basically a standard robotic arm like those used in manufacturing, but the algorithms and software used to operate the arm allow it to mimic a skilled surgeon."
Currently, the ARTAS performs only the dissection process while the surgeon uses his time, skill and artistic abilities to transplant the grafts. In an effort to help surgeons obtain more aesthetically pleasing outcomes and help patients visualize the potential outcome of their surgeries, Restoration Robotics recently introduced the ARTAS Hair Studio.
"Hair Studio basically ties together two steps in the transplantation process: the patient consultation and the preoperative plan for recipient sites," explains Dr. Bishara. "It assists in sophisticated preoperative planning and also acts as a patient education tool. It helps answer the patient's major question: 'What will I look like after the procedure?'"
With Hair Studio physicians and patients can view a realistic three-dimensional image of the patient's head on a portable touch screen tablet. Together, they can evaluate hair distribution densities and growth directions from every angle, view different graft placement options and agree on a plan that gives the patient the look he or she wants to achieve with the transplantation procedure.
"Hair Studio is a real game changer because it gives each patient a way to see what hair transplants can do for him or her," says Dr. Bishara.
Linda W. Lewis is a contributing editor of MedEsthetics.
Image courtesy of Restoration Robotics