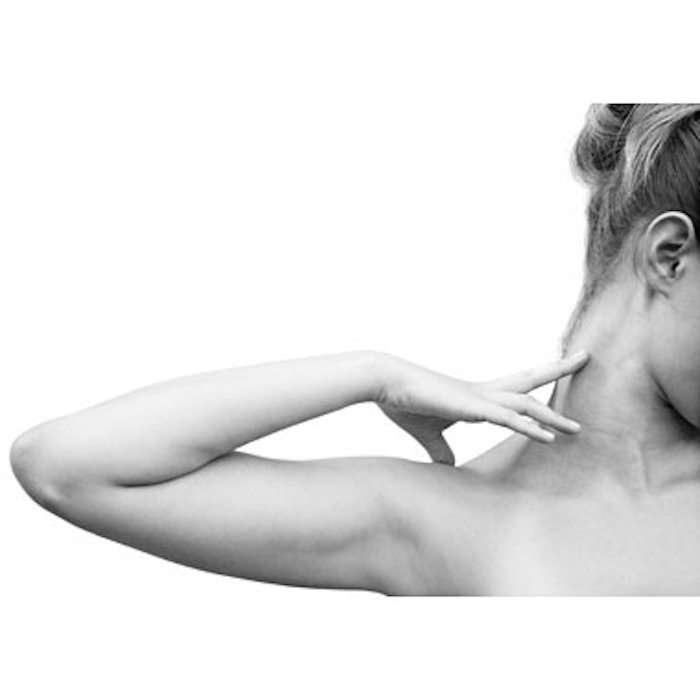 The increasing availability and improved efficacy of non- and minimally invasive aesthetic treatments has contributed profoundly to the growth of the medical cosmetic industry. Not only has the patient base for cosmetic enhancement expanded; existing patients now look past the face to alleviate signs of aging, such as skin laxity, pigmentation problems, and excess adipose tissue, on the chin, neck and chest.
Previously, many physicians were wary of using existing tools to treat concerns such as crepey neck skin, sagging jowls, uneven pigmentation on the décolletage, and neck and chest redness, due to complication risks and inconsistent results. But with more experience and a new range of energy-based devices, neck and chest treatments have become some of the fastest-growing offerings for medical aesthetic practices and medspas.
The key to achieving optimal outcomes is identifying patients' concerns and incorporating multiple modalities to address each of them effectively. "The neck, for example, is so different from the chest and has such a variety of possible problems and treatments," says Ronald M. Shelton, MD, of Laser & Skin Surgery Center of New York. "Patients can present with thin, hanging, discolored skin; fat pads; platysmal bands; or any combination of these complaints. The first step is a thorough consultation to establish what the patient wants to achieve, keeping in mind that plastic surgery can be a better option in some cases."
IPL and Lasers for Photodamage
Some doctors recommend IPL for photodamage; others are more likely to rely on lasers. "For brown spots or redness, IPL is the safest modality and provides fabulous results. We usually suggest a series of three to five treatments at one-month intervals," says Dore J. Gilbert, MD, Newport Dermatology Laser Associates, Newport Beach, California. "Patients see improvement after the first treatment as brown spots darken and flake off. Redness takes a little longer but gradually fades by the third or fourth treatment. We let the patient decide how much is enough; everyone sees things like skin coloration differently. We use essentially the same procedure for face, neck, arms, hands and legs for skin types I-IV."
Dr. Gilbert does not perform IPL or laser treatments on tanned skin or on patients who are using Accutane (isotretinoin). "If a patient has major neck and chest pigmentation, we will begin IPL treatments with high filters and work our way down to prevent possible injury," he says. "My philosophy is that you can always add more salt to the soup."
Suzanne L. Kilmer, MD, Laser and Skin Surgery Center of Northern California, prefers laser treatment to IPL. "Lasers can often do the needed correction more specifically and with fewer treatments," she says.
Dr. Shelton's preferred device for the chest area is the Fraxel Dual (Solta Medical). "The 1550nm wavelength builds collagen and 1927nm takes care of brown spots," he says. "We usually recommend four to five monthly treatments."
The degree of photodamage determines which device should be used, notes Vic Narurkar, MD, of the Bay Area Laser Institute. "For mild to moderate photoaging, we perform IPL photofacials and Clear + Brilliant (Solta Medical) laser treatments. For moderate to severe photoaging, we perform Fraxel Dual (Solta Medical)," he says. "Since the neck and décolletage have a higher risk of scarring, we use lower fluencies and treatment densities than we use on the face, and perform only nonablative procedures to reduce the risks."
Dr. Narurkar addresses fine lines that persist after laser treatment with Juvederm Volbella soft tissue filler injections and cosmeceuticals. "We usually recommend a combination of Skinceutical's CE Ferulic and AGE Interrupter, layered with Skinmedica HA5," he says.
Preventive Measures
To help patients achieve better outcomes and prevent future photodamage, Dr. Shelton encourages daily sun protection and antiaging topicals. "Sun damage is the underlying cause of most of these problems, and much of the damage occurs during childhood. We need to address symptoms with cosmeceuticals as soon as they appear," he says. "Newer products like Alastin help rejuvenate collagen, and we have found that skin primed with collagen-building cosmeceuticals responds better to many non- and minimally invasive treatments."
Dr. Gilbert also routinely recommends sunscreens and moisturizers. "Most often, I recommend Neocutis Hyalis and Bio-Restorative Cream with a sunscreen for daytime, and Epionce Intense Defense Serum and a moisturizer at night," he says.
Emily J. Kirby, MD, Kirby Plastic Surgery, Fort Worth, Texas, recommends Neocutis Microfirm Neck Complex for patients concerned with aging on the neck and décolleté.
Tightening Tools
Until quite recently, few safe noninvasive treatment options existed for sagging jowls and loose, crepey neck skin. Fractional ablative lasers, which have proven most effective for rejuvenating facial tissues, are more risky when used on the thinner neck and décolletage skin. Thus, ultrasound and fractional radiofrequency (RF) devices have emerged as the go-to tools for treating skin laxity in these delicate off-the-face areas.
The Ulthera System, originally FDA-cleared for brow lifts, received clearance for face and neck lifts in 2012. "For patients with loose skin only, Ultherapy alone is a good way to tighten," says Dr. Kirby. "We need to be careful not to overpromise, though, especially when patients have significant excess skin. Ultherapy will not provide the degree of tightening we get with a surgical procedure."
Ultherapy is typically offered as a single-session procedure in her practice, although she may perform two sessions for patients with significant excess skin who don't want surgery. "The second session needs to be eight months to a year later," says Dr. Kirby. "The initial result we get with Ultherapy continues to improve over that time period. Results aren't final for about a year."
But Ultherapy may not be the best option for people who are very thin. "It tends to shrink the fat as well as the skin, which can make very thin people look older," says Dr. Kirby. "Microneedling with devices like the SkinPen (Bellus Medical) are a better choice for these patients."
Dr. Kilmer prefers Thermage (Solta Medical) to Ultherapy. "Done right, Thermage is pretty predictable as long as patients are educated as to what it can and can't do," she says. "Ultherapy, although similar in efficacy, is more painful."
RF energy, like that used in Thermage, has gained fans worldwide for two important reasons. First, it does not target chromophores and therefore can be used on all skin types with less complication risk than a laser. Second, the heat it generates can be more easily concentrated in the dermis, causing less epidermal damage. While early RF devices worked through bulk heating to tighten and shrink the dermis, newer devices feature fractional delivery technologies to create thermal injury columns. These include both noninvasive fractional devices and minimally invasive devices with microneedles that penetrate the skin to deliver energy directly to the dermis.
"Fractional microneedle RF devices offer a whole new approach to treating skin laxity," says Dr. Gilbert. "They work especially well in the neck and décolletage area because they rejuvenate without overheating tissues. We use the Intensif RF (EndyMed) and usually recommend three to five treatments at three- to four-week intervals. Final results may not be visible until three months after the last treatment. The collagen building provided by 3DEEP RF Microneedling lasts for several years."
The Intensif, which is part of the EndyMed Pro System, uses 25 gold-plated, noninsulated needles 300µ in diameter that can be inserted at prescribed skin depths up to 3.5mm. Practitioners can also adjust fluence level and pulse duration. Lutronic introduced the latest of these devices, the INFINI 1.2, in June 2016. Unlike the Intensif, the INFINI uses high-intensity focused bipolar RF delivered through insulated 200µ needles. "For lax skin, we see the best results using three monthly INFINI treatments," says Dr. Shelton. "Redness and swelling dissipate in a few days, and the results are good."
A third option, ThermiTight (ThermiRF), positions itself as a bridge between noninvasive and surgical treatments. With this procedure, a small probe is inserted under the skin to heat tissue wherever tightening is desired. The probe monitors skin temperature and provides feedback to help reduce the risk of burning.
"ThermiTight is safe when used properly, but there is more downtime," says Dr. Shelton. "We usually prescribe a compression garment for two to three days and at night for a couple weeks."
Patients who are bothered by prominent platysmal bands or dynamic wrinkles may not achieve satisfactory results with noninvasive RF or ultrasound devices. In these cases, botulinum toxin (BTX) may be useful, especially when used in conjunction with other treatments. "We use botulinum toxin on about 25 patients a day to relax the underlying musculature and enhance the benefit of fillers, lasers and other devices," says Dr. Kilmer.
Topical BTX formulations—now being developed by Revance Therapeutics and Allergan subsidiary Anterios—may emerge as the latest innovation. But after more than seven years in development, there is still no estimate of when one of these products will reach the market.
Tools for Reducing Fat
The dreaded double chin affects all age groups. Until the 2015 FDA approval of Allergan's fat-dissolving Kybella (deoxycholic acid) injection and the CoolSculpting CoolMini (cryolipolysis) applicator from Zeltiq Aesthetics, liposuction was the only option for this problem."Although liposuction is more invasive, results are excellent," says Dr. Shelton.
"Kybella injections are minimally invasive. We use two to three vials per treatment and recommend three to six treatments, five to six weeks apart," Dr. Shelton adds. "We always warn patients to expect the 'Jello jiggle' two to three weeks after treatment."
The "Jello jiggle" is a sensation that makes patients feel like excess swelling or skin is jiggling or swinging around. One RealSelf reviewer describes it as having a "giant, pronounced bullfrog jiggle when I move my head side to side."
Kybella can both decrease fat and tighten skin in the treated area. "We have found skin tightening as well as a decrease in submental volume with Kybella," says Dr. Kirby. "We usually do two treatments, but sometimes it takes three or four. Treatments need to be about eight weeks apart because it can take that long to see final results,"
Dr. Gilbert finds that Kybella works well, but says, "Patients need to understand that significant bruising and swelling can last as long as a week. If there is enough fat, we prefer CoolSculpting because the results are just as good, with less downtime."
The best tool for the job depends on the patient, says Dr. Kilmer. "Kybella is great for smaller areas of fat when the CoolMini won't fit, but the CoolMini is fabulous for larger areas," she advises.
For patients who need debulking, Dr. Narurkar starts with the CoolMini and then follows by contouring with Kybella.
In April 2016, Allergan purchased Topokine Therapeutics, which has been working on Topokine Gel, a topical using a proprietary active called XAF5 technology to get rid of the fat in undereye bags. XAF5 is also in phase 2 trials as a treatment for submental fat under the chin. "I wouldn't be surprised if a number of new treatments are available in two or three years," says Dr. Shelton. "What we have now works but not as well as it could, and I know manufacturers are looking for more effective modalities with no downtime for neck and chest treatments. Patient demand drives innovation."
Linda W. Lewis is the contributing editor of MedEsthetics.
Image copyright Getty Images