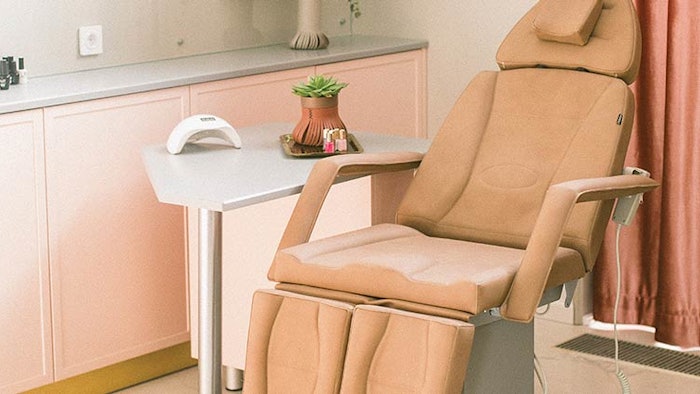 Photodynamic therapy, blue light LEDs and multiple lasers are used as either standalone or adjunctive acne treatments. More recently, they have been joined by radiofrequency-based devices. We spoke with physicians offering energy-based acne treatment to determine which patients benefit from these treatments and which devices are most effective.
"I find the most useful laser modalities for acne include the Aerolase Neo Elite device and the AdvaTX from Advalight," says Michael Gold, MD, medical director of the Gold Skin Care Center and Tennessee Clinical Research Center in Nashville. His preferences are based on outcomes and cost—a key consideration when offering nonreimburseable acne therapies.
The Neo Elite is a 1,064nm laser that features 650 Microsecond Technology to deliver high energy in a short pulse duration. "It's by far the easiest device to use. It's contactless, which is wonderful during COVID-19, and it's virtually painless," says Dr. Gold. "There is no numbing and no down time. You do a series of two to four treatments every other week, and the patients
clear dramatically."
Because the device requires no consumables, he is able to offer the treatments for $150 to $200 per treatment. "It takes 10 minutes per session, and we're done. So that's my go-to device," he says.
The AdvaTX is a combination 589 nm/1319 nm device. Dr. Gold opts for the AdvaTX for patients with both active acne and acne scarring. "The 589 nm wavelength works really well for acne and the 1319 nm component is good for acne scars. We do the treatment once a month and, again, there are no disposables so that keeps the treatment reasonably priced," he says.
Pulsed dye lasers (PDL) and intense pulsed light (IPL) devices are also effective in treating acne. "They are very similar in that they both target redness," says Monica Boen, MD, of Cosmetic Laser Dermatology in San Diego, California. "The PDL specifically targets blood vessels, so I use it a lot for acne, especially if the patient has a lot of erythema."
Her choice between IPL or PDL often comes down to skin type. Patients with darker skin types have a higher risk of complications with IPL.
When it comes to longevity of outcomes and patient selection, "there is some data out there that shows that laser alone is helpful, especially for those patients who don't want to do oral treatments," says Dr. Boen. "Longevity of results is something that needs to be better studied. But, in our practice, we're seeing that usually after a series of three to four laser treatments, these patients are clear for several months."
In addition to lasers, Dr. Gold is using radiofrequency (RF) microneedling with treatments spaced one month apart for his acne patients, particularly those with a combination of active acne and acne scars. "Whether you are using the microneedle pins, such as the Venus Viva, or the needle-based devices, such as the Endymed Intensif or the Inmode Morpheus8, you are generating heat," he says. "They are all indicated for acne scars, and there are numerous studies that show any kind of heat is going to help active acne."
One caution when using RF microneedling is that it does require topical anesthetic, which can aggravate acne, "but we don't leave it on for very long," says Dr. Gold.
The majority of his laser patients continue with their oral or topical acne medications. "In the real world, most patients continue with their medications alongside the laser treatments, because there is no contraindication to using the medications, even isotretinoin. So the laser is really an add-on treatment," says Dr. Gold.
Inga Hansen is the managing editor of MedEsthetics.
Continue Reading about Photodynamic Therapy in our Digital Magazine...