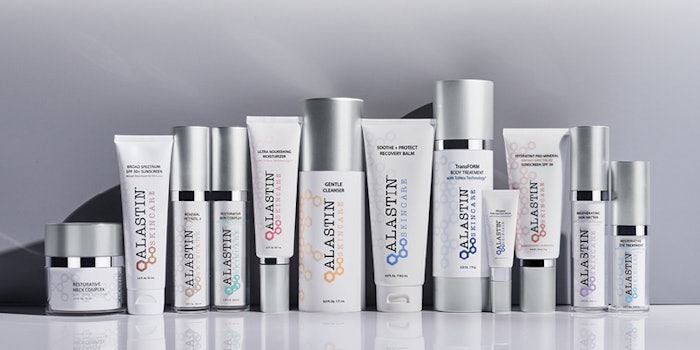 How TriHex Technology® Closes the Procedure-Maintenance Loop
This breakthrough proprietary blend of peptides from ALASTIN Skincare® helps improve procedural results and maintain youthful-looking skin, all while deepening the relationship between provider and patient.
"As providers, we often focus on a single encounter: A patient comes in for a procedure, they go home, and then it's out of sight out of mind," explains Amelia K. Hausauer, MD, FAAD, Director of Dermatology for Aesthetx in Campbell, California. "We have to change that framework. It's a missed opportunity if you're not talking about how to get better results, how to enhance results, and how to maintain them."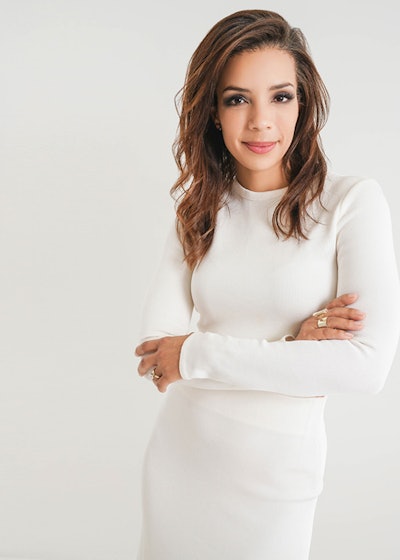 From Dr. Hausauer's perspective, that's where TriHex Technology® from ALASTIN Skincare® becomes a critical piece of the process. A proprietary blend of peptides and active ingredients, TriHex Technology is specifically engineered to work with the skin to clear out old elastin and collagen proteins that have been damaged by sun exposure and aging, while supporting the skin's natural ability to produce new collagen and elastin. The technology is a critical component in both ALASTIN's periprocedural and restorative daily skincare products, creating a holistic approach to healthier-looking skin —and bridging the gap between the in-office aesthetic treatment experience and the at-home regimen.
Making the Most of Every Procedure
Kamakshi R. Zeidler, MD, FACS, Founder and Director of Plastic Surgery at Aesthetx in Campbell, CA, says that TriHex Technology plays an important role in minimally invasive procedures like microdermabrasion, microneedling, and CoolSculpting, as well as surgical procedures, including face-lifts, breast augmentation, and body surgery.
For laser resurfacing procedures, Dr. Zeidler recommends ALASTIN Regenerating Skin Nectar with TriHex Technology two weeks ahead of the treatment as well as two to four weeks after (incorporating ALASTIN Soothe + Protect Recovery Balm if the skin is broken). For the body, she advises patients to follow a similar regimen using TransFORM Body Treatment with TriHex Technology two weeks pre-surgical procedure and six months following—"although really, in my view, they should stay on it forever."
"The first time I actually used Nectar after profound microneedling, I could not even believe it," says Dr. Zeidler. "I saw the patient three days after the procedure and was shocked. I asked the patient, 'Where is your bruising and your swelling?' It was pretty incredible." She explains that both pre- and post-treatment application is equally beneficial. "I explain it to patients as jumpstarting the skin so it's ready to deal with trauma and to clear out the damage," she says. "That skin is boosted and ready, and then the edema and bruising clear much more quickly."
With a focus on injectables, Dr. Hausauer also incorporates ALASTIN's INhance Post-Injection Serum with TriHex Technology. "It helps during the post-injection period to break down the red blood cells in the skin and help your body process them out more effectively," she explains.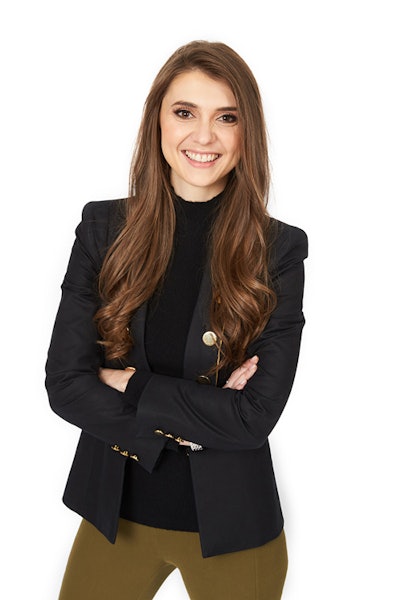 The Daily Skin Care Continuum
Although the procedures they focus on differ, both Dr. Hausauer and Dr. Zeidler say that ALASTIN's periprocedural skincare creates a seamless transition to daily skincare formulated with TriHex Technology, thereby helping patients maintain results, become more invested in their regimen, and allowing for a deeper and more meaningful provider-patient relationship.
Once patients have recovered from a procedure, both physicians recommend Restorative Skin Complex and Ultra Nourishing Moisturizer for the face, as well as TransFORM Body Treatment for the body. More targeted options include Restorative Eye Treatment and Restorative Neck Complex. (All products listed above are formulated with TriHex Technology).
"It's like a wheel: You do a procedure, you heal from a procedure with your Regenerating Skin Nectar and your Soothe+ Protect Balm, you maintain the procedure with Restorative Skin Complex, and you come back and repeat," says Dr. Hausauer. "The more you do this, and the more diligent you are, the more of a home run you're going to have." She adds, "We know there's a constant breakdown of collagen and elastin, because we are constantly being assaulted by the sun, pollution, and environmental exposures in addition to the internal aging process, so (to combat this) we want to bring the patient on that continuum through skincare."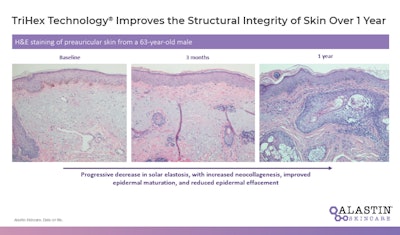 Dr. Hausauer says that what makes ALASTIN daily skincare products formulated with TriHex Technology a no-brainer is the added benefits. "Restorative Skin Complex has that TriHex backbone, but it also does double duty. It supports fat tissue so you have this more pillowy skin and it has antioxidants," she says. "Our lives are busy, so it's important to have these products that do multiple things."
Looking Ahead
Dr. Zeidler explains that while TriHex Technology has been a gamechanger for her surgical practice, she sees the opportunity for an additional periprocedural product. "The ALASTIN family has great things for the face, but what I'm really excited about is that equivalent—something that clears signs of inflammation, particularly edema and bruising at the surgical sites where we need a heavy-duty workhorse product. Having something that is designed just for surgery would be great for the body.
For more information, visit Alastin.com.
Disclaimer:
The above paid-for content was produced by and posted on behalf of the Sponsor. Content provided is generated solely by the Sponsor or its affiliates, and it is the Sponsor's responsi­bility for the accuracy, completeness and validity of all information included. MedEsthetics takes steps to ensure that you will not confuse sponsored content with content produced by MedEsthetics and governed by its editorial policy.