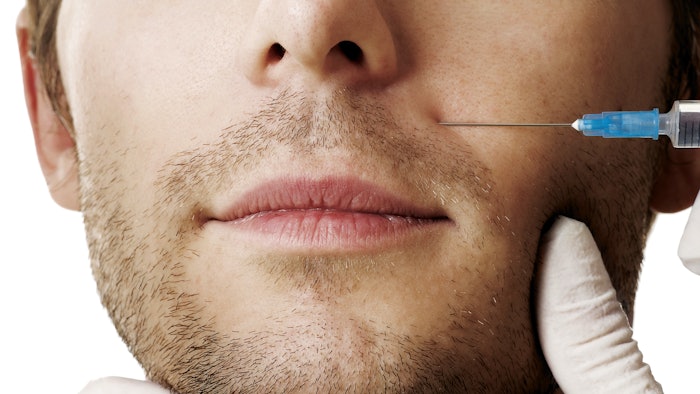 Botulinum toxins now have more than two decades of history in aesthetic medicine. Over the years, the indications (both on and off label) have expanded significantly, and practitioners are finetuning their neuromodulator treatments in terms of dosage, injection techniques and reconstitution volumes to offer better, more personalized outcomes.
Dosage and Reconstitution
In recent years, high dose microfocused (HDMF) botulinum toxin injections—which use higher dosage and lower reconstitution volumes to increase longevity of results—and "microbotox," which involves using lower doses with high reconstitution volumes, have been popular areas of research.
"In general, I have gone from a 2 ½ cc dilution for Botox, for example, to a 1 cc dilution," says Kian Karimi, MD, FACS, Rejuva Medical Aesthetics, Los Angeles. The benefits of using a more concentrated toxin include less pain for the patient "because you're not injecting so much volume," says Dr. Karimi. "You're also targeting muscle groups more precisely. The only downside is that it does require amazing dexterity to push these very small amounts of toxin."
But, there are certain areas where he likes to use the more diluted toxin. "It is an art form. Sometimes we use lighter brushstrokes and sometimes we want heavier brushstrokes," he says.
Joel L. Cohen, MD, of AboutSkin Dermatology and DermSurgery in Lone Tree, Colorado, also varies the reconstitution volume based on indication. "For areas like the forehead or the perioral area or in the platysma, I tend to use a higher reconstitution volume," he says. "If you use a higher reconstitution volume in the forehead, you get a broader field of effect, so you can more uniformly affect the musculature if you're trying to just soften it."
The forehead is one of the most challenging areas to treat with botulinum toxins due to the relationship between the frontalis muscle and brow positioning. "You have to balance softening the forehead wrinkles with what's happening with the eyebrows, whether they're going to be elevated or dropped or flattened, and everyone's frontalis can be different," says Dr. Karimi. "That's why the forehead is the most challenging area to master when doing neurotoxin injections."
He uses the on-label reconstitution for the neuromodulator and "showers" the forehead with very small units—"almost a half a unit at a time, and I do anywhere from 10 to 12 injection points," says Dr. Karimi.
As people age, they are more dependent on the frontalis muscle to elevate their eyebrows, so your dosage may vary over time and, in some cases, botulinum toxins should be put aside in favor of surgery or other nonsurgical modalities.
"As patients get older and more dependent on the frontalis to keep their lids and brows in position, I may actually stop injecting with neuromodulators," says Dr. Cohen. "I will attenuate the dose until they get to a point where even three to four units of Botox or nine to 10 units of Dysport feels like too much."
At this point, he recommends a blepharoplasty and or a brow lift. "Then afterward we can often go back to injecting a little bit in the forehead because that brow positioning is now in a more correct space," says Dr. Cohen.
For patients who do not want surgery, he may inject filler into the forehead to create some volume and lift for the brow or to soften etched lines. "We also do a lot of resurfacing, and we may try Ultherapy as well. It is approved for lifting the brows and, in some people, I've seen some nice improvement," he says.
One strategy that has been used to prevent lowering of the lids and brows is moving the injections up. Dr. Cohen cautions against this approach. "If you aim higher to keep some of that muscle right above the brow intact, when the patient is animating, it looks awkward to see a lot of muscle movement right above the brow and no movement above that," he says.
Continue reading our Digital Magazine for more insight on longevity, brand characteristics, preventing complications and more...
Inga Hansen is the managing editor of MedEsthetics.