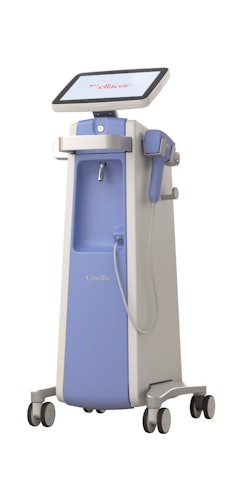 In July, the U.S. Food and Drug Administration (FDA) cleared the ellacor system with Micro-Coring technology from Cytrellis for the treatment of moderate-to-severe wrinkles in the mid-to-lower face. Developed by Rox Anderson, MD, PhD, director of the Wellman Center for Photomedicine at Massachusetts General Hospital, the minimally invasive device removes micro-sized portions of excess skin without surgery or thermal energy.
"Rox's inspiration was the ablative fractional laser—which is wonderful but also very expensive and has down time—and the punch biopsy," says Jill Waibel, MD, founder of the Miami Dermatology and Laser Institute in Miami and clinical investigator for the ellacor system. "Through animal studies, he learned that if you remove pieces of skin 40 to 70 micrometers in diameter, you will not have a scar and you get biomechanical closure immediately."
Dr. Waibel has been working with Cytrellis through four prototypes of the device, and her practice was one of four sites to take part in the clinical trials used to secure FDA clearance of the device. "The FDA approval is for wrinkles. In my opinion, this truly is the first skin-tightening device," she says.
The handpiece features four needles that can remove 81 skin "cores" per click at a depth of 4 mm. "The suction pulls out those cores of skin. Within 30 to 120 seconds, the holes are totally closed," says Dr. Waibel.
She plans to use the device in her practice for the jowling that occurs due to age-related bone and fat loss. "If we start this with our younger patients at 35 or 40 years old, they are not going to need a facelift," she says. "In middle-aged patients, we're going to use it to stave off a facelift. For women who have had a facelift and don't want a second one, we're going to be able to use it on them as well."
Continue reading about the ellacor treatment in our Digital Magazine...
Inga Hansen is the managing editor of MedEsthetics.