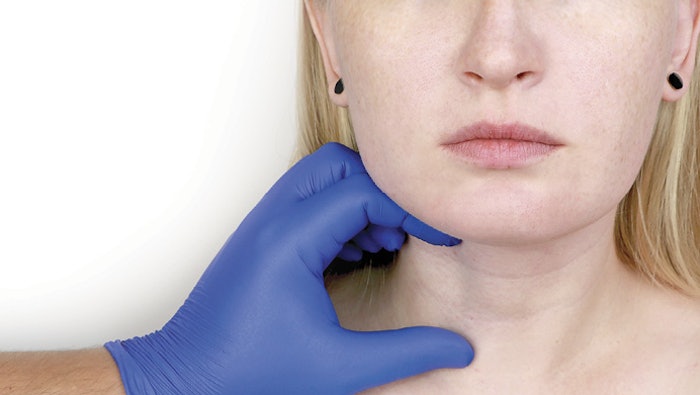 Jowls, crepey skin on the neck and décolleté and visible platysmal banding have been the bane of aging women for years. The increase in video conferencing through the pandemic, which allowed people to view themselves for extended periods from often unflattering angles has only increased consumers' consternation with the appearance of their lower faces and necks.
"The so-called 'Zoom boom' has resulted in a lot of people seeing their jawline and neck on camera a lot more, and the more you see it, the more it might bother you," says Richard Westreich, MD, a facial plastic surgeon at New Face NY in New York City. "So, there has been a huge increase in demand for neck treatments, across all ages."
The neck is one of the first things that brings individuals to medical cosmetic practices as they age, says Esther Yoonah Kim, MD, a plastic surgeon with the Advanced Institute for Plastic Surgery in Temecula, California. "The neck skin can start to sag early, in your mid- to late-30s. Now, we have people in their 20s who want to get treated for their double chin and people in their 30s who aren't happy about their sagging neck skin," she says.
The neck and decollete can be complex areas to treat surgically because the skin is thin and full of large blood vessels. It is also necessary to hide scars from invasive treatments behind the neck or ear, which makes the treatment area difficult to access. "To get rid of loose skin there, you are not cutting directly into the neck, you're cutting behind the ear and dissecting down to the cheek," says Nicholas Jones, MD, plastic surgeon and founder of Nip & Tuck Plastic Surgery in Atlanta. "That's why you can get into problems with bleeding, because you're sort of digging in a hole."
Fortunately, there are increasingly effective nonsurgical options that can be used alone or in combination to provide visible improvement for most patients.
Patient Selection
Noninvasive or minimally invasive treatments work best on younger, more elastic skin, since modalities, such as radiofrequency, laser and ultrasound rely on the body's healing process to tighten skin, reduce wrinkles and improve skin tone. But older patients in their 50s and even 60s or 70s might be satisfied with the results of noninvasive treatments, depending on their expectations, says Dr. Westreich.
"We all want the least invasive treatments possible that are going to work," he says. "And we have a lot of tools, from the fully noninvasive radiofrequency (RF) devices, such as InMode's Forma and Evoke to minimally invasive RF probes, such as the FaceTite, and surgery. Each of these modalities can potentially be used to address the same problem. The key is understanding what your patients want—some want full satisfaction without having to go through five treatment sessions, but others are happy with 50% or 70% if they can avoid surgery."
Continue reading our Digital Magazine for a breakdown on the neck and decollete treatments you should incorporate into your practice...
Virginia Pelley is a freelance writer based in Tampa, FL.