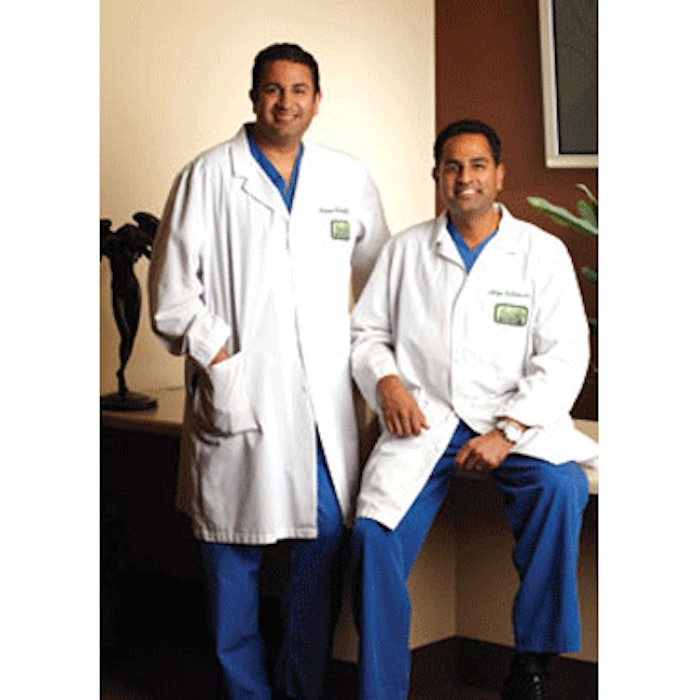 Facelift, filler or laser? At Beautologie Cosmetic Surgery and Laser Center in Bakersfield, California, patients can have it all. They may consult with plastic surgeon Darshan Shah, MD, about the pros and cons of plastic surgery. Then meet with Darshan's younger brother, Milan Shah, MD, about laser treatments, injectables and chemical peels.
"Patients are offered all options, so they can be 100% secure in the decision they make," says Milan, who runs Beautologie's medspa. "There is no 'one-size-fits-all'—there are always alternatives."
Over a span of less than 10 years, Beautologie has grown to become a bustling cosmetic practice with three California locations. Its variety of surgical and nonsurgical offerings, along with a focus on customer service and community involvement, is the secret to the company's success, say the Shah brothers.
"When people think of improving their appearance—whether they want surgery or a skin treatment—they think of us," says Darshan. "We are one-stop shop for everything aesthetic."
Joining Forces
Though the Shah brothers agree that their combined practices turned out to be a perfect fit, they didn't originally set out to launch a practice together.
"My brother and I were pretty much apart throughout medical school and college. We were all over the place," says Milan. "But we both did our residencies in Bakersfield at Kern Medical Center, and the town kind of grew on us. Bakersfield is a large town and the community is tight-knit, so it's a great place to build a practice."
Near the end of his residency, Milan began to take an interest in aesthetic medicine. "My background is general surgery and medicine, but I liked that aesthetic medicine involves so much patient interaction; yet I could still do procedures. So I decided to focus on that."
Meanwhile, older brother Darshan, who had received his board certification in general surgery, went to the Mayo Clinic to train in plastic and reconstructive surgery. In 2002, he returned to Bakersfield to launch a small plastic surgery practice.
"I started by myself, renting office space," he says. "Then Milan graduated from residency and was looking around for a position. I needed help. So in 2004 my brother joined me, taking over the nonsurgical portion of the practice."
The partnership—with Dr. Milan Shah offering a wide range of nonsurgical aesthetic and laser procedures, and Dr. Darshan Shah continuing the surgical practice—was an instant fit.
"We each specialize in what we love to do," says Darshan. "I don't do Botox. He doesn't do surgery."
Photography by Cory Sorensen
[PAGEBREAK]
An Upward Trajectory
From that relatively modest start, the practice has grown steadily. "We developed a lot of community, business and personal contacts, and we have a great patient base," says Milan.
In 2005, the practice began hiring additional plastic surgeons and changed its corporate name from Dr. Shah and Associates to Beautologie.
Now, with six physicians and more than 50 employees, Beautologie has opened additional locations in Malibu and Fresno, California, each with a full-time, on-site physician. "And we are definitely not done growing," says Darshan.
All Beautologie locations offer breast, body and facial cosmetic surgery, plus a medspa menu including Botox Cosmetic, dermal fillers, endermologie, laser hair removal, skin resurfacing, vein removal, skin care, chemical peels and spray tanning. "We are always looking for the best way to make ourselves better for our patients and staff," says Milan. "At all our centers we offer the latest in laser medicine from the newest light-based, laser and radiofrequency devices to cutting-edge treatments like PRP injections and minimally invasive facelifts."
"We are also launching a weight-loss clinic with a nutritionist, trainer and medical therapy as needed," adds Darshan. "This will nicely complement our lipo and tummy-tuck procedures."
Getting the Word Out
Savvy marketing has been key to Beautologie's success. "We use all outlets," says Milan. "TV, radio, print, billboards, Google, direct mail. We have an in-house marketing manager."
But brother Darshan notes that as Beautologie has become better known in the communities in which it's located, paid advertising has become less important. "In the last two or three years, more patients come to us from word of mouth, so we have to advertise less and less," he says.
Beautologie also boasts a robust, attention-getting website complete with videos, articles, a before-and-after photo gallery, clips from local TV shows and newscasts featuring the doctors, patient testimonials, information on fees and financing, a doctor's blog, and a "Morphing Tool" that lets patients see how they might look after a procedure.
The brothers also have become known through their heavy involvement in charitable organizations, such as the March of Dimes, Operation Smile, the American Cancer Society's Relay for Life, Little League, local homeless shelters and their own pro bono tattoo removal clinic. "We really get out there," says Milan. "We give back as much as we can and we are happy to do it."
In 2009, the brothers launched a volunteer clinic called Beautologie Helps, which offers free reconstructive procedures for deserving low-income Bakersfield residents. "We select people who have some sort of disfigurement, whether from a car accident, previous surgery or genetics," says Milan.
[PAGEBREAK]
Such good deeds have not gone unnoticed and offer bottom-line business benefits. "By getting to know people personally, we develop trust in the community," says Darshan. "It's a very indirect form of marketing, but people do think of us first."
A Long-Term Approach
At the core of Beautologie's success, says Milan, is the practice's combined surgical/nonsurgical approach and topnotch customer service.
"All too often, doctors offer only what they have in their arsenal—even if there might be a better option out there," he says. "But we have a full arena of treatments available, from microdermabrasion to full facelift."
During an initial in-depth consultation, patients are presented with all options, including benefits, contraindications and price points. Some patients, who may initially ask for a surgical facelift, instead realize they are better suited for a much simpler nonsurgical "liquid facelift," encompassing volume fillers, wrinkle relaxers and skin tightening. "Patients see wonderful results that will last a couple years, with a price point that's usually less than $3,500," Milan says.
Conversely, some skincare patients seek more dramatic results and end up choosing plastic surgery. "A patient wanting Botox today may want a facelift in the future," says Milan. "Facelift patients usually want to get started on a skincare regime. Patients who originally came in for breast augmentation are now seeing me for Botox."
In fact, the practice boasts a 70% patient retention rate. "It's all in the relationship-building," says Darshan, who has implemented patient surveys and employs a full-time quality assurance director to ensure patient satisfaction. He also developed and markets his own patient-relationship management software program called "Follow That Patient," which tracks the patient experience before, during and after each procedure.
"Followup is key," says Milan. "It's not about doing a quick Botox and then done. It's not about offering a Groupon to get 100 laser hair removal patients. It's not about making a quick buck. It's about giving each patient your very best: We call patients the next day; we send them Christmas cards. We don't let go."
[PAGEBREAK]
Growing Pains
Though the brothers describe the company's success as a "blessing," they admit it has its challenges, especially with three locations and more to come. The fast growth represents a "huge investment" in office infrastructure. "I continually invest in the business—office space, computers, telephones," says Darshan.
Managing the practice has become increasingly complex. "With so many staff members, we need different levels of organizational structure," says Darshan. "When it was just three or four employees, I could talk to each person myself. But as we hire more employees, it's very, very difficult to be a doctor and also to manage everything. So we need good managers to run each office." Through trial and error, he's found that his best managers are "home grown" employees who have been with the practice for some time, starting near the bottom and working their way up.
"We've made a huge jump from being a mom-and-pop shop, though we still want that patient connection you get with a mom-and-pop shop," adds Darshan.
To ensure the staff works as a cohesive unit, Beautologie holds weekly staff seminars and regular role-playing workshops; provides ongoing training on products and equipment; and hosts biannual retreats for continuing education credits. "We have to make sure the offices are on the same page and everyone stays in constant communication," says Milan.
The bottom line is that "we want to run not just a doctor's practice, but a successful business," he says. "And it helps that we really do have a great doctor-doctor and brother-brother relationship."
"But we are so busy that we rarely see each other at the office," says Darshan. "We are more likely to see each other outside of the office—and then we don't talk about work. That's family time."
Maryann Hammers is a freelance writer specializing in the medical, beauty and spa industries.