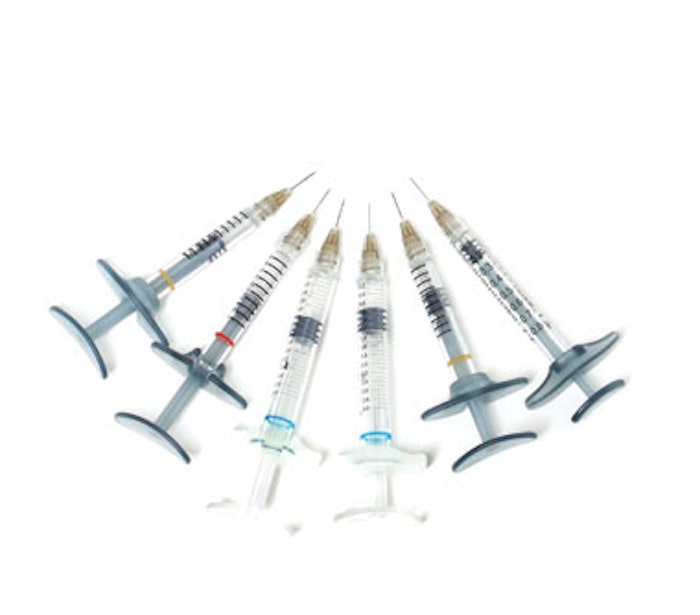 Injectables account for more than half of the minimally invasive procedures performed today. Before Restylane (Medicis, restylaneusa.com), the first non-animal-based hyaluronic acid (HA) dermal filler, was introduced in the United States in 2003, botulinum toxin was the most popular injectable in aesthetic medicine. Today, Botox has taken a backseat in growth to HA injections, which have increased to more than 1.3 million procedures per year.
As the demand for fillers has increased, so too has the number of available materials. Finding the right dermal filler is a little like choosing the right brush if you're a painter or selecting the best clay for your project if you're a sculptor. A free-flowing hyaluronic acid gel may be the perfect tool for painting a plumper lip, while a thicker filler with a higher molecular weight may serve you best for adding definition to the chin or cheekbones.
Choosing Your Tools
While today's HA fillers are all non-animal sourced and stabilized, they do have some important differences, including the manner in which the molecules are cross-linked, the particle size and their affinity to bind water (hydrophilic properties). These distinctions determine a filler's G prime, its hardness or resistance to deformation. Picture squirting out the contents of a tube of toothpaste. If the paste retains its shape without flattening, the material reflects a high G prime; a runny liquid that rapidly loses its peak formation has a low G prime.
Restylane and Perlane (Medicis, restylaneusa.com) demonstrate stiffer qualities than other currently available HA fillers in the United States, which translates to a higher lift capacity, according to Joel L. Cohen, MD, medical director of AboutSkin Dermatology and DermSurgery, Englewood, Colorado, and a published author on fillers and complications. The stiffer quality of these fillers provides not only lift but also structural support. They are, therefore, more suited for creating a cheekbone, increasing chin projection or temple lifting.
Other fillers, like Belotero Balance (Merz Aesthetics, belotero.com) and Juvederm (Allergen, juvederm.com), are softer materials that are ideal for filling lips, nasolaboial folds and finer lines.
Juvederm, one of the more hydrophilic fillers, is a popular tool for imparting a soft shape around the lips but is not as well suited for treatment around the eyes, where Dr. Cohen notes that swelling and edema could occur as a result of the filler's hydrophilic properties. He suggests that Restylane, which is not quite as hydrophilic, might work better for treating the tear troughs and the nasojugal folds. Each physician has his or her own favorites. Dr. Cohen will often use Juvederm Ultra Plus in nasolabial folds to create a "nice, natural correction that doesn't tend to ridge" like some of the stiffer fillers. For the lips, he likes Juvederm Ultra with Restylane along the vermillion border if a bit more projection is desired.
image © Istockphoto.com
[PAGEBREAK]
Rebecca Fitzgerald, MD, a Los Angeles-based dermatologist specializing in fillers, compares choosing fillers to a chef selecting ingredients for a particular recipe. "But, really, all of the hyaluronic acid fillers can be used anywhere," she says.
David Applebaum, MD, FACS, a plastic surgeon based in Boca Raton, Florida, likes Juvederm Ultra Plus and Perlane for creating lift in the cheek area or to soften a nasolabial fold. He often uses a layering technique, drawing on the subtleties of each filler's nuances. For instance, he'll inject Perlane deeper in the fold and Restylane, a better choice for the superficial layers, in the crease of the fold. Dr. Applebaum also uses Perlane for the cheek hollows, marionette lines and the corners of the mouth.
For defining the vermillion border around the lips or filling fine lines, Dr. Applebaum says both Restylane and Juvederm are good choices. While many physicians prefer the softness of Juvederm for filling the lip, he prefers the "crispness" of Restylane.
Typically, HA fillers can last anywhere from six to 12 months. Expect fillers to dissipate more quickly in areas subject to more motion, such as the lips, where they generally last five to eight months. In more stationary areas, such as cheekbones, effects can last up to 12 months. In the periorbital area, treatments with HA fillers have been reported to last as long as two to three years.
Collagen-Stimulating Volumizers
While HA fillers are a top choice for specific indications, such as fine lines and icepick acne scars, collagen-stimulating fillers, such as Radiesse (Merz Aesthetics, radiesse.com) and Sculptra (Valeant Aesthetics, sculptraaesthetic.com), can help create volume across a larger region with results extending to 24 months or longer. Another key difference between volume fillers and HA fillers is the plane of injection. "When you talk about volume filling in the infraorbital area, it should be done deep and along the periosteum. When we're injecting the temples, it is similarly done deep onto the periosteum," says Dr. Cohen.
Volumizing products work well for restoring structure in areas where skeletal shifts take place, such as the mid-face and the cheekbones. "If I want to put a little volume everywhere in the face, I use Sculptra," says Dr. Fitzgerald. "If I want to place a 'liquid injectable implant' in the cheek or chin, I use Radiesse." Radiesse diluted to a thinner consistency with lidocaine is also a favorite for filling the backs of the hands, where tendons and blood vessels are often visible through thinned skin.
Dr. Cohen likes to use Perlane and sometimes Juvederm Ultra Plus in the décolleté area. He'll often combine treatments, such as an IPL for photodamage and lentigines, an er:YAG laser for textural irregularities and fine lines, and fillers for volume restoration. Heavy-breasted patients are often good candidates for fillers in the décolleté, he says, due to the gravimetric forces pulling down and contributing to volume loss over time. Often an HA filler with 2ccs or more will help recontour that area. "I'll wait six to eight weeks and then repeat with a little more filler and another laser session," he says.
Both Radiesse and Sculptra consist of biodegradable microspheres that metabolize slowly over time. Radiesse metabolizes over the course of about a year, while the results of Sculptra can last for two years or longer before breaking down, says Dr. Fitzgerald.
Unlike HA fillers that come in gel form, Sculptra comes in powder form and is mixed with water. Prior to application, the material needs to be reconstituted properly before it can be used effectively to volumize wide surface areas. A few days after the material is injected, the site of injection will resume its pre-treated shape as the water is absorbed, says Dr. Applebaum. Then, over the course of the next six to eight weeks, Sculptra will stimulate the tissue to make its own collagen.
"So now your body is generating the collagen, the particles disappear, and you're not left with any foreign material," Dr. Applebaum notes.
[pagebreak]
If patients need significant volume restoration, you may need to plan two to four injection sessions six to eight weeks apart, while young patients needing just a little volume restoration may get a great result with only one treatment. For best results, Dr. Applebaum suggests "undertreating" areas to monitor how much the individual's body will stimulate its own collagen before reapplying the material. "Results are going to be more gradual, and the patient will have more longevity," he notes.
Artefill (Suneva Medical, artefill.com) is another filler option for those looking for a truly permanent result. Derek Jones, MD, associate professor of dermatology at UCLA and founder and medical director of Skin Care & Laser Physicians of Beverly Hills, California, sometimes applies Artefill to deep nasolabial folds and acne scars, though due to its nonreversibility, he uses it only for specific indications. Dr. Applebaum also cautions practitioners to look at the long-term effects of this permanent product and carefully gauge how it will react with aging skin.
Managing Complications
The first commercially available collagen came from bovine sources, which required skin testing weeks prior to facial injection to avoid allergic reaction. With modern HA fillers, the potential for allergic reactions is very low, says Dr. Applebaum, and no skin testing is necessary. That said, injecting fillers can yield potentially significant complications if not managed properly.
The most common complications are bruising and swelling at the injection site, which can last up to a week. To reduce bleeding and bruising, ask patients if they are taking any anticoagulant medications or supplements, including ibuprofen, aspirin, fish oil, omega-3, vitamin E and herbal supplements, including ginkgo biloba, as these may induce more bleeding, says Dr. Fitzgerald.
Another common problem is injecting too much of a product or injecting into the wrong plane. HA fillers are somewhat forgiving in that you can use the enzyme hyaluronidase to dissolve the HA when patients are not pleased with the results. This not true with non-HA fillers, such as Radiesse, Artefill and Sculptra.
Dr. Applebaum also cautions against applying products too superficially, which can create a Tyndall effect—a grayish or purplish hue under the skin—especially on fair-skinned patients. According to Dr. Jones, one exception to this rule is Belotero Balance, which can be injected superficially without causing this discoloration. The most important concern with filler injections is the rare, yet possible, issue of vascular compromise that can be manifested by pain, blanching or a purple reticulated pattern on the skin, says Dr. Cohen.
This complication results from injecting a filler directly into a blood vessel, causing occlusion or possibly from injecting too much product around a blood vessel, causing compression that pinches off the blood flow. The risk of vascular compromise is higher in the glabella and the alar groove, he adds.
Extra caution should be used in these areas. "The glabella is the injection site commonly believed to be at greater risk, as small-caliber vessels branch from the supratrochlear arteries to supply this watershed region with minimal collateral circulation," Dr. Cohen reported in "Understanding, Avoiding, and Managing Dermal Filler Complications," published in the June 2008 issue of Dermatologic Surgery.
Precautions can help avoid tissue necrosis. "In the glabella, I tend to inject quite shallow and use small volumes of product in two or more sessions," Dr. Cohen says. "You need to have a high degree of suspicion; if you suspect there's a vascular issue, you need to see that patient immediately," says Dr. Applebaum.
Dr. Cohen stresses that distinguishing between bruising and vascular compromise is very important. In the case of a vascular issue, cold compresses can be one of the worst responses. Instead, encouraging blood flow to the area with several steps may help prevent necrosis. Dr. Cohen has written about using nitropaste to try to facilitate vasodilation, as well as utilizing hyaluronidase to try to dissolve some of the HA—if the product is an HA filler—that is seemingly impinging on a vessel.
[pagebreak]
A 2012 review article in Dermatologic Surgery co-authored by Cohen ("Systematic review of clinical trials of small- and large-gel-particle hyaluronic acid injectable fillers for aesthetic soft tissue augmentation", February 2013) reported that mean blood flow readings were 365% higher at transdermal nitroglycerin patch sites vs. placebo.
Taking swift action can make all the difference in saving the skin tissue. "You can have tissue dying within minutes, hours or days," says Dr. Applebaum. Massaging the area, especially if an HA filler was used, can potentially dislodge a blocked vessel. Another helpful aid may be hyperbaric oxygen treatment sessions for vascular compromise, he adds. These consequences are less indicative of the materials used than the injection techniques.
"Most complications have to do with technicalities of injecting through the skin into the deeper layers," says Dr. Fitzgerald, who adds that paying close attention to the patient's anatomy will go far in preventing such adverse events.
The pressure and speed of the injection may also be a factor in another rare complication that can result in blindness in certain higher risk areas, such as the glabella, alar groove or periorbital region. "Anything you inject rapidly with a good deal of force into an artery is going to flow upstream against the systolic pressure, possibly reaching the central retinal artery to result in blindness," says Dr. Fitzgerald. A slower injection technique will also help decrease bruising and swelling, she notes.
It is hoped that using blunt-tipped cannulas instead of needles may help decrease the risk as well as result in less bleeding and bruising. In a small observational study, published in the April 2010 issue of Orbit, Berros, et al, reported that using cannulas for periorbital injections with Restylane led to fewer irregularities, inflammatory reactions and hematomas.
The Future Of Fillers
Though dermal fillers have been part of cosmetic medicine for almost 30 years now, there are still some truly innovative materials entering the market. Voluma (Allergan, allergan.com), an HA filler that has been approved for use in Canada and Europe for years, may soon offer U.S. patients effects that last 18 months or more and a high G prime for more lift and fill with less product. If approved as submitted to the FDA, Voluma will be the first filler to carry an FDA approval for the indication of mid-face volumizing related to aging. Another plus: like all HA fillers, Voluma is reversible with hyaluronidase. Dr. Cohen and others are encouraged by early findings of Voluma in peer-reviewed data demonstrating optimal lifting capacity and flow characteristics.
Also look for Expression (Enhancement Medical, enhancementmedical.com), an HA filler that is currently approved for treatment of nasal airway obstruction. Used off-label as a filler, this injectable offers several potential benefits, including less observed Tyndall effect, less swelling, and homogenous sized and shaped molecules, says Dr. Applebaum.
As new fillers continue to come to market, the trend toward specialized products that treat specific concerns and regions of the face continues to grow. In the future, physicians can look forward to a growing variety of materials that smooth, volumize and fill the skin with fewer complications and longer results than ever before.
Andrea Sercu is a freelance writer based in the San Francisco Bay Area.