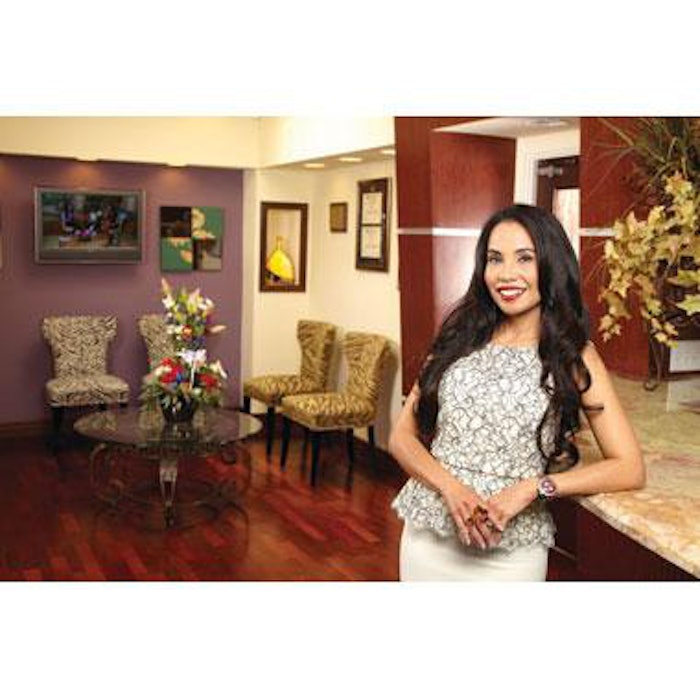 Cosmetic dermatologist Tess Mauricio, MD, originally planned to pursue a career in psychiatry. Her goal was simple: to make people happier. "If we don't feel OK on the inside, then nothing is OK," she says.
Then something funny happened: During her dermatology rotation, she discovered she was able to achieve her goal of elevating patients' moods by addressing their skincare concerns. "By improving the skin, I can improve a person's quality of life," she says. "Through today's amazing techniques and technologies, I can help boost my patients' self-esteem and self-confidence. I realized that dermatology is my true calling."
Ten years later, Dr. Mauricio—or "Dr. Tess," as her patients call her—has built a mini-empire. She is the founder of five private practices located throughout Southern California, including four "M Beauty by Dr. Tess" clinics; hosts "The Doctor Tess" television show; and is currently developing her own product line.
She attributes her success to a combination of factors: She offers the latest technology, products and services; differentiates her practices through specialization; has developed a keen marketing sense; and has a good support system. Most importantly, she and her staff keep patients' happiness at the top of their minds.
From Two Rooms to Five Locations
After completing her dermatology residency at the University of California, San Diego, Dr. Mauricio joined a group dermatology practice but quickly became disillusioned. "I wanted to practice medicine my way," she says. "I wanted to spend time with patients. I wanted to approach dermatology holistically."
She chose to leave the group practice and leased two rooms from her own family doctor, an internist. Her plan was to run a small, part-time practice, assisted by her sister, an RN. The practice had just one phone: her sister's cell phone. Within a few months, her patient base outgrew those two rented rooms, and she opened her own office in San Diego.
Today, just eight years later, she rotates among five locations, each dedicated to cosmetic dermatology—her practices do not offer reimbursable medical procedures—and staffed by physician extenders, physician assistants and registered nurses.
The key to building a successful business, Dr. Mauricio quickly realized, is figuring out what you're good at and focusing on your strengths. In her case, she chose medical aesthetic treatments for skin of color. As a Filipina, she has personally experienced the challenges of treating darker skin types. "As a student, I volunteered for a spider vein removal. It was the most painful experience ever. He really zapped me. I ran to the bathroom with large blisters and scars," she says.
Then and there, Dr. Mauricio made it her quest to offer effective and safe cosmetic treatments for all skin types. "It's trickier, and you have to have the right technology," she explains. "The settings and protocols are different. But I have become known for offering safe, effective hair removal and skin rejuvenation for everyone."
Photography by Cory Sorensen
[pagebreak]
In too many cases, she says, doctors "turn away patients with skin of color. If they use the technology they have available, they either get no results or else they burn the patient."
This sub-specialty has become a source of personal satisfaction and a powerful brand-building tool—all of her practices are located in multicultural regions. "My practice is at least 50% skin of color," she says.
A Knack for Marketing
As she expanded her private practices, Dr. Mauricio discovered that she has a knack for marketing. One of her most successful strategies has been the creation of antiaging treatment packages that combine several skin rejuvenation services. Her most recent introduction is the "Time Machine" package, which includes fractional resurfacing, PRP, microneedling and, depending on the patient, dermal fillers and neurotoxins.
True to her entrepreneurial spirit, Dr. Mauricio has trademarked the Time Machine package. "I'm giving workshops on the package and offering licenses to other doctors, who can offer it as a turnkey program to their patients," she says.
Though she prides herself on offering the latest treatment modalities, Dr. Mauricio doesn't waste money blithely acquiring every new technology that hits the market. "I first ask myself, 'Will it really create good results for patients?'" she says. "Before I buy a new technology, I make sure that it will add to my business, not cannibalize what I already have. If it will let me expand my offerings by treating new conditions or doing something I couldn't do before, then it may make sense. I think of the ROI—not just procedurally, but as a business concept."
Dr. Mauricio's practices also include retail products, which have become an important revenue stream and patient satisfaction tool. By incorporating homecare and cosmetic products, such as the Lifeline Stem Cell Skin Care line, Latisse and Clarisonic, she keeps patients connected to her, even when the treatment is done. "Some physicians may be skittish about selling products, but patients really want a recommendation," she says. "They want you to package their skincare regimen for them, and they want you tell them what will work."
She is also in the process of launching her own hydroquinone-free anti-pigmentation kit to reduce inflammation and hyperpigmentation for patients with darker skin types.
Targeted Messaging
From media appearances and paid advertising to a robust social media presence and email blasts, Dr. Mauricio uses her marketing savvy to create targeted marketing campaigns. She is both the host and executive producer of "The Doctor Tess Show," a reality TV show with a medical spin. "Through that show, which airs on the Filipino channel, I get patients from all over the world," says Dr. Mauricio.
When planning her marketing strategy for each of her five offices, she considers the demographics of the specific area. "We can't assume that what works in one clinic will work in all of them. Our clinics that serve a lot of older patients get better responses to newspaper ads or TV. Email blasts work in more sophisticated areas," she says. "And in some of my offices, we've found that picking up the phone and making a personal call is the best way to get people to make appointments."
[pagebreak]
For example, her National City location primarily serves Asian and Filipino patients. "Many of them are older and just starting to use computers," Dr. Mauricio says. "They don't have email; they're not on Facebook. So we put newspaper ads in the local ethnic media. The patients walk into our office, holding the newspapers. We also attend and make appearances at local events and concerts with celebrities from their native countries."
At her Scripps Ranch location, on the other hand, she relies on email blasts and social media. "That population is more technology-savvy," she says.
A Family Affair
With five locations, 19 employees and a TV show, how does Dr. Mauricio keep all the balls in the air? "I have a great support system," she says. "I work with my family—I'm the oldest of four siblings, and we all work together: Both my youngest sister, Angela, and my brother, Richard, are RNs, and Richard also has an MBA. He gave up his job as an administrator for Public Health Nursing in San Diego County to join the practice and help me with the business side of things. My other sister, Cheryl, does our accounting and handles HR. So all my siblings work together. I'm married to my medical school classmate, James Lee, MD, an anesthesiologist, who also works in the business.
"If it weren't for my family, I wouldn't have been able to open five offices. There's no way I would be able to keep track of things like inventory or finances by myself. Every doctor who hopes to expand needs good people," she says.
But there's a slight downside to so much family togetherness. "Every family gathering turns into a conference or business meeting," she says.
The real bottom line, however, remains her patients' happiness. "For doctors in the aesthetic industry, growing a practice is a totally different ballgame. You and your staff have to have a different mindset," she says. "Your patients are the ones who will grow your revenue and allow you to expand, so I think of my patients first and deliver on my promises to them.
"My patients are smiling, grateful and happy to pay. They look good outside, so they feel good inside. My patients joke with me, 'Now I can stop seeing my psychologist. I am happy now.'"
Maryann Hammers is a freelance writer, specializing in the medical, beauty and spa industries.