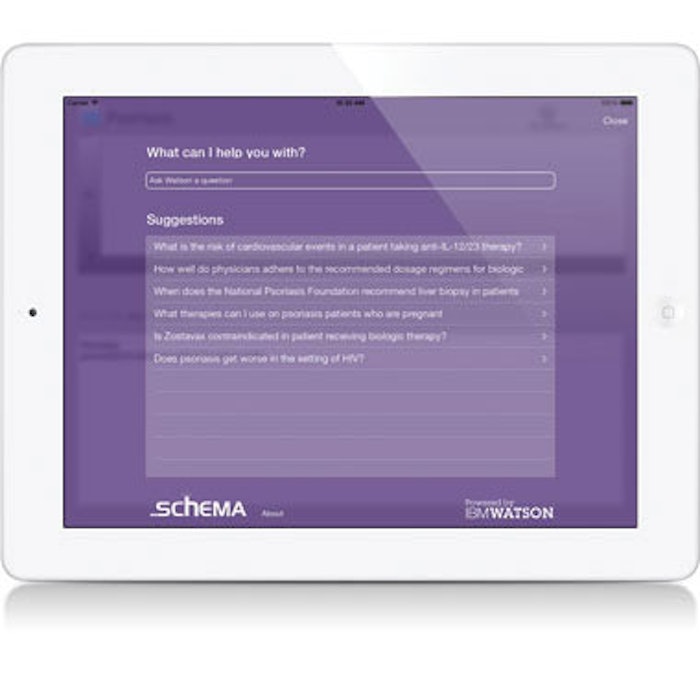 Electronic health record developer Modernizing Medicine (modmed.com) is working with the IBM Watson ecosystem—an Artificial-Intelligence (AI) platform that records, analyzes and restructures database information—and using it in conjunction with its Electronic Medical Assistant (EMA) software to support best practices and the use of evidence-based medicine.
Through a new app, schEMA, which is a native iPad app that can also be accessed via a web browser, users can access an immense amount of information culled by IBM Watson. Providers ask schEMA questions—which can be keyed in or entered using a speech-to-text function—and articles and data are mined for the best quality information that is then sent to the physician in paragraph form.
"SchEMA leverages the Watson technology within the electronic medical record (EMR) to take information, parse through it and provide a relevant response," says Tim Sayed, MD, FACS, medical director for EMA Plastic Surgery at Modernizing Medicine. "Physicians can use it like a library resource—it's immediate help right at their fingertips."
Modernizing Medicine has already developed a prototype and is currently in licensing negotiations with various medical publications in order to collect the best, most relevant and most recent research and content.
This is the first time this technology is being applied to health care. The menu-driven app is able to understand what it's being asked and filter through large amounts of data to: provide an answer; track outcomes; give clinical decision support (including how other providers treat certain conditions); and adapt to user input, essentially customizing itself to each practice.
"The ultimate goal is to improve both the quality of care and the way we communicate," says Dr. Sayed. "If I'm treating a rare condition I've never seen or have only treated once or twice before, I can get decision support within the system, in real time and with simultaneous documentation."
This not only improves practitioners' workflow, it also boosts the overall quality of patient care. "There's no more need to stay after hours or even stop what I'm doing in order to research something," says Dr. Sayed. "It saves time and money, and it also allows physicians to uphold the best quality standards by optimizing delivery and offering better, more complete information on evidence-based medicine."
Additionally, it may function as a patient attraction tool for those who seek out providers on the cutting edge of cosmetic health care. "With the Internet and social media, patients today are more informed and savvier than ever, and there is already a lot of competition in the medical aesthetics industry," says Dr. Sayed. "Using and being connected with cutting edge technology really sets you up in this competitive landscape."
Modernizing Medicine's next steps for schEMA are to continue to pursue licensing agreements—not only to grow and expand the databases but also to update them regularly with the most recent research. "Doctors have such limited time that it's hard to stay up to date on new or best practices," says Dr. Sayed. "SchEMA coalesces all of the information for them—it's helpful and quick, and also right at the point-of-care."
Laura Beliz is the associate editor of MedEsthetics.
Image courtesy of Modernizing Medicine