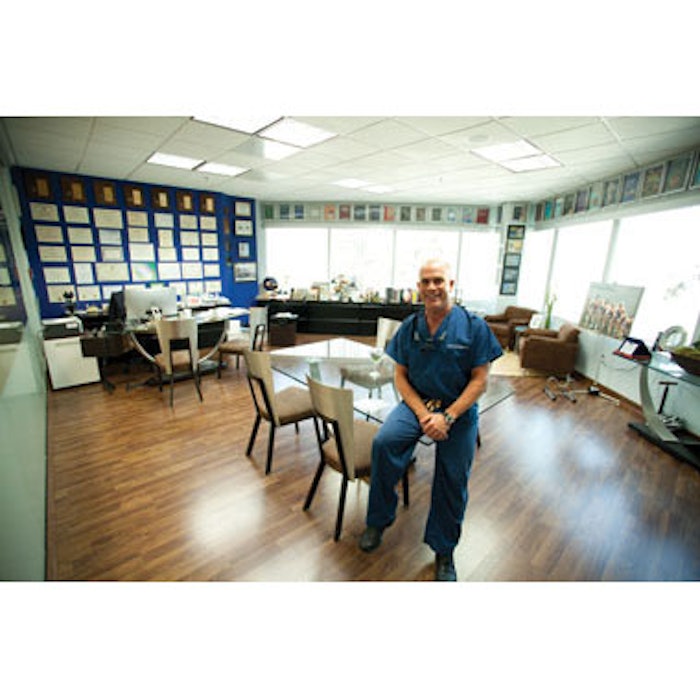 When you enter the offices of the Goldman, Butterwick, Fitzpatrick, Groff & Fabi Cosmetic Laser Dermatology Center in San Diego, California, you will be greeted with smiles from both patients and staff—and it's not just because managing partner Mitchel P. Goldman, MD, treats his staff of 46 to a Hawaiian vacation every other year, or because he offers free pediatric scar treatment. "It goes back to the very beginning of why I wanted to become a doctor. I just really love helping people, and I love it when patients are happy," he says. "I might get sued by the Lego company for lifting their theme song, but our philosophy is the same—everything is awesome here."
The practice—which offers everything from vein treatments to noninvasive body sculpting and aesthetic laser and injectable treatments—has become one of the most popular high-end dermatology practices in the state.
The Road to Dermatology
The son of an engineer, Dr. Goldman had a deep interest in science from a young age. As a pre-teen, he began spending time with a family practitioner who was a close friend of his father's. "I would literally hang out at the doctor's office with him and watch him see patients, and I just loved the idea of helping people. It really resonated with me," says Dr. Goldman. "Since I was about 10, I never thought I would do anything else. I just wanted to be a doctor."
Always a sharp student, Dr. Goldman graduated Summa Cum Laude with a BA in biology from Boston University and an MD from the Stanford University School of Medicine. But he had a tough time figuring out what kind of doctor he wanted to be.
"Like most medical students, when you get into medical school, you want to walk on water and save the world. When I started out, I wanted to be a cardiovascular surgeon," he recalls. "Then I wanted to be an endocrinologist because I had a great endocrinology professor. Then I wanted to be a pediatrician, until the little babies peed all over me. Then I wanted to be an oncologist."
One day, Dr. Goldman looked around the hospital and noticed that the happiest people were orthopedic surgeons and dermatologists, and something clicked. He knew what he wanted to do. Luckily, he found the perfect mentor at Stanford to show him the way—Susan Weinkle, MD, former president of the Women's Dermatology Society and the American Society for Dermatologic Surgery (ASDS).
"She was the chief resident in dermatology when I was a third-year medical student, and she was an incredible role model," says Dr. Goldman. "She would prance around the clinic—always with a smile on her face, always doing really cool surgical procedures. Then, I did a rotation with Dr. Steve Mandy at the University of Miami, and that's what really clinched it for me."
Photo by Cory Sorensen
[pagebreak]
It was an exciting time for dermatology. Lasers were just being introduced and new therapies for psoriasis were just coming out. "There was a lot more to skin disease than in the old days, where you were just putting different kinds of pastes on. It was becoming a true science, and that's what really drew me to it," he says.
Dr. Goldman completed his studies with a medical internship at the University of California, San Diego, and a dermatology residency in the Department of Medicine at UCLA.
Disillusionment with Academia
Though Dr. Goldman considers himself to be very academically bent—he began publishing as a resident—he became disillusioned with academic medicine because it was restrictive and often didn't encourage innovation.
"Everything had to be approved, and if you didn't have a chairman who had as much 'futuristic thinking' as you did, or was more close-minded, you couldn't do the project that you wanted," he says. "A classic example was when I started doing research in my residency on sclerotherapy treatment of veins. My chairman was very against that and thought it was a useless, meaningless type of treatment. I had to fight them in order to actually do experiments, and to publish; only later did they realize that it was something of importance."
After this experience, Dr. Goldman followed the advice of a professor who told him, "You don't have to be an academic. Go out in private practice. You can make as much money as you want, and you can do as much research as you want."
In 1986, Dr. Goldman had the good fortune to meet Richard E. Fitzpatrick, MD, who had just purchased two lasers—an argon and a CO2—and was experimenting with different ways of using the lasers to treat a variety of skin and vascular problems.
"We hit it off and I decided that I was going to join this guy," he says. "That started what became a 28-year collaboration in developing a variety of laser-, light- and energy-based systems to treat a variety of cutaneous diseases."
Throughout it all, Dr. Goldman never lost his academic spirit. He has published 16 medical textbooks, more than 300 articles, and has given over a thousand lectures all across the world.
"I've maintained my academic bent, but I've done it my way. I've done it without having to get things approved by other people," he says. "When Dr. Fitzpatrick and I were together, we would feed off each other. We didn't care about putting money in the bank. Every time we got any extra money, we would buy another laser or do another study, and we would self-fund all of it."
Photo by Cory Sorensen
[pagebreak]
The Power of Two
Both Dr. Goldman and Dr. Fitzpatrick were visionaries, and the initial challenge of their partnership was convincing the industry to build what they envisioned. "For instance, the pulsed dye laser was one of the very first lasers we ever purchased, and it took a little bit of dealing to convince the company at that time, Candela, to lengthen the pulse duration to treat bigger blood vessels. Of course, they ended up doing that," Dr. Goldman says. "When we developed the Q-switched alexandrite laser, it was the same thing. It took 20 years to convince the industry to shorten the pulse from nanosecond to picosecond pulses."
The same was true when they developed the UltraPulse CO2 laser. The doctors had to convince Coherent Medical to build a prototype, and that was the catalyst for resurfacing and fractional lasers.
"Another was the 1320 nanometer laser. I had to convince the company to make the laser beam go into a fiber, so I could use it to seal off varicose veins, and also use it to melt fat and improve the appearance of cellulite under the skin," he says. "So many times engineers have told me, 'It's impossible,' but I prove to them time and again that it's not. I've been very lucky, because almost every single time, my ideas have turned out to be correct, and even more importantly, the engineers have figured out a way to get it done."
A Crash Course in Marketing
Dr. Goldman laughs when asked about what he learned about practice marketing at Stanford, noting that they don't teach anything about business in medical school. "You basically need to make every possible mistake that you can before you get it right. It's almost like throwing spaghetti at the wall and seeing what sticks," he says. "Over the last 28 years we have tried almost every possible way to market, and we've evolved to what we think is the most efficient and satisfying strategy."
Early on, the practice did a lot of charitable outreach, including hosting booths at local charity events. While it made them feel really good, it never brought in patients to any significant degree. The same was true with print ads—while Dr. Goldman notes that it was cool to see their photos in print, business never picked up.
"For us, the best method has always turned out to be word of mouth. If you do really good work on a patient, that patient is going to tell a lot of other people, and it just snowballs. That's how we have gotten so busy," he says. "So, I think the best way we market our practice is by treating our patients right, not overbooking and having enough staff."
Medical to Cosmetic
In the beginning, Dr. Goldman was, as he says, "a real dermatologist," seeing everything from warts to acne to eczema to psoriasis to bullous disease. Back then, the average patient time was five minutes or less. Today, he spends an average of 15 minutes with patients, while his staff spends an additional 15 minutes or so with them.
"As our practice became more and more sub-specialized into cosmetics, those patients required more time than just meeting, making a diagnosis, giving them a prescription and sending them out of the door. So we developed a culture in the practice where we spend more time with patients," he says.
Photo by Cory Sorensen
[pagebreak]
In an industry with so many doctors doing the same thing, Dr. Goldman knows it's important to distinguish himself and the practice. "It's about experience—the lack of bruising, the lack of pain, the ancillary services that we also provide, but you have to always try to make it a little bit better so it becomes a more personalized, more individualized service," he says. "When you get into the cosmetic realm, especially if you're one of the higher-end practices, you have to make it an experience. You have to make patients really want to be at your office."
Training the Next Generation
Teaching is important to Dr. Goldman, and the practice has always hosted residents in-house. Seventeen years ago, Dr. Goldman and Dr. Fitzpatrick established a fellowship training program—initially under the American Academy of Cosmetic Surgery (AACS), and for the last two years under the ASDS.
Dr. Goldman's advice to dermatology residents is to "be true to yourself."
"If treating bullous pemphigoid is what makes you really happy, that's what you should do. You need to live where you want to spend the rest of your life and you need to be happy. That means you should develop your practice in a way that's going to make you happy," he says. "For me, being a dermatologist is not work. It is who I am. It's what I want to be. It's what I strive to be. Getting up in the morning is never work to me. I'm as happy doing this as I am going on a cruise."
The Loss of A Partner and Friend
Dr. Goldman and the staff and patients at Cosmetic Laser Dermatology suffered a tremendous loss this summer with the passing of Dr. Fitzpatrick, following a 12-year battle with cancer. While Dr. Goldman has always served as managing partner of the facility, he credits his partner with bringing enthusiasm and innovation to the practice.
"He was always thinking of new ways to do things, up until the very, very end. He always kept everything exciting," Dr. Goldman says. "He would always challenge me and those around him to improve. His greatest gift was never being satisfied with the way things are, and always wanting to improve them. Hopefully, I can continue that."
Keith Loria is a freelance writer based in Oaktown, VA.
Photo by Cory Sorensen