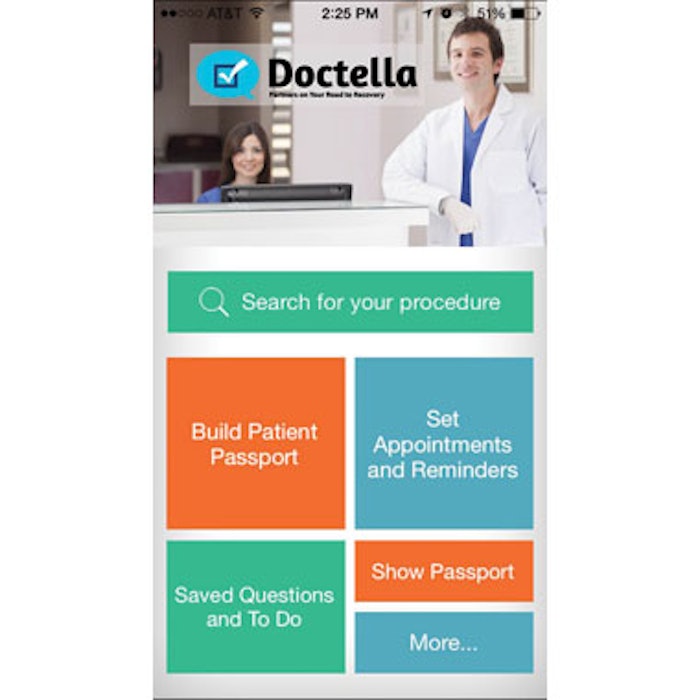 Patients have been using their smartphones to search for doctors and amass information on health issues for some time. Now physicians are getting involved by offering apps that help streamline communication and improve patient care.
How many people are taking advantage of these technologies? A recent study (JMIR Publications, October 2014) from Hannover Medical School in Hannover, Germany, shows that more than one-third of patients surveyed are using health-related mobile applications. Digital marketing agency The Acquity Group's latest Mobile Commerce Audit (acquitygroup.com) reveals that there are currently more than 10,000 health-related apps. There's even a website, happtique.com, established to help healthcare professionals identify the best apps for their patients.
One of the newest apps finding a place in cosmetic practices is Doctella from Patient Doctor Technologies, a company that focuses on eliminating medical errors using its patent-pending electronic patient-family engagement (EPFE) process. EPFE is based on the concept of checklists, similar to those used by healthcare providers to improve patient care. A procedure-specific checklist can be used as is or customized by the physician. The app was created by experts from Johns Hopkins, including Peter Pronovost, MD, author of Safe Patients, Smart Hospitals: How One Doctor's Checklist Can Help Us Change Health Care from the Inside Out.
Doctella helps patients understand and prepare for their procedures by providing lists of questions specifically tuned for individual surgeries and procedures, such as brow lifts, chemical peels and Botox as well as postprocedure recovery instructions, including a "Call Your Doc If" section for potential adverse events.
"This streamlines patient contacts and lessens later calls from patients asking questions they forgot to cover during consultations," says Paul M. Glat, MD, a plastic and reconstructive surgeon with offices in Philadelphia and Bala Cynwyd, Pennsylvania, who introduced the Doctella app to his patients about six months ago. Every patient in his practice is given access to the app, though currently about 30% actually use it. "We expect this percentage to improve over time through ongoing patient education. Patients who do use it tell me they feel more informed and better prepared for surgery," he says.
There is no charge to patients for the Doctella app. Physician payments start at $20 per month and go up to $50.
"There are lots of apps out there offering guidance to patients, but most are generic, and some that involve lots of different opinions can actually bog down the communication process," says Dr. Glat. "Doctella offers more direct information for my patients, allowing me to add information specific to my practice. It is the most complete and unique patient communication app available for plastic surgeons."
Doctella is only one of many apps that may be of interest to dermatologists and plastic surgeons. Here are a few more you might want to investigate.
AppwoRx has a secure, HIPAA-compliant photographic record-keeping system that allows patients to upload photos of body parts to physicians.
Doximity connects doctors with their colleagues via a HIPAA-secure app.
Epic offers electronic records that doctors and patients can view remotely.
Mango Health helps patients monitor medications to avoid dangerous combinations and allows them to schedule reminders to alert them when medication is scheduled.
MedXCom records, stores and transcribes cell phone conversations between doctors and patients, and does so in compliance with HIPAA privacy laws.
Pokidok allows patients to compare medical services and pricing.
Linda W. Lewis is a contributing editor of MedEsthetics.
Image courtesy of Doctella.