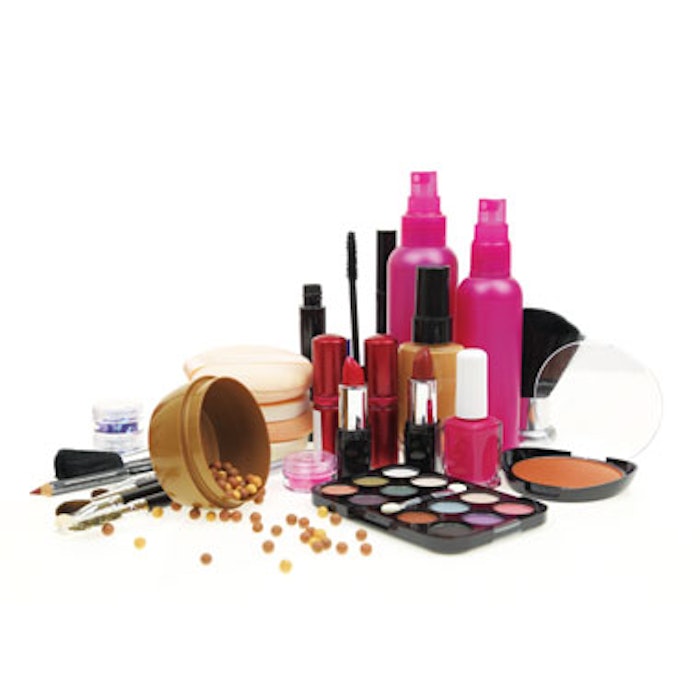 Medical aesthetics is increasingly becoming a multi-service market where providers address all manner of skin conditions through a variety of complementary procedures. In today's environment, practice owners must consider how to offer patients a complete aesthetic package that leaves them feeling confident and happy. To that end, many practices and medspas have found that adding makeup services, such as postprocedure touch-ups, camouflage for specific skin conditions, makeup artists for special events, and permanent makeup and pigmentation procedures, is a surefire way to satisfy patients and keep them coming back.
Postprocedure Camouflage
Many noninvasive and minimally invasive cosmetic procedures can leave patients' skin red, bruised or sensitive in the days following treatment. Providing postprocedure makeup to cover these blemishes ensures that patients leave the office confident, comfortable and ready to return to their daily activities.
"Mineral makeup can be used to cover and calm injection sites and redness from laser and chemical treatments, and to cover postsurgical redness, bruising and scarring. Many medical spas even finish their treatments with an application of mineral makeup as part of their facial protocol," says Hannah Hatcher, global educator and makeup artist for jane iredale – THE SKINCARE MAKEUP. "The benefit is that the patient leaves with much-needed sun protection and looks beautiful at the same time."
Dermatologist Lorrie Klein, MD, offers BeautyBar MD, a skincare and makeup destination adjacent to her practice, OC Dermatology in Laguna Niguel, California. She regularly refers patients to BeautyBar consultants immediately after a procedure for a touch-up. "I cover up their bruising if they have any, and then I also teach them how to apply the cover-up before they leave," says Amanda Tejnani, BeautyBar MD consultant.
Tejnani points out that it's common for patients to rush to a drug store or department store for makeup to cover up after a treatment. Providing that service in-office saves patients the discomfort of being in public with bruising or less-than-ideal skin. "If we don't provide that for them, it's almost a disservice, because people come here to feel confident," she says. "They shouldn't leave feeling embarrassed about the way that their skin looks."
When it comes to thicker concealer that provides more coverage, it is important to show patients how to apply it. "My job is to teach them how to do it before they leave. It's about making patients feel confident and giving them a makeup lesson as well," says Tejnani.
Hatcher agrees that post-treatment makeup application should be part of the complete aesthetic package and says it's a service that on-the-go patients will appreciate. "We are living in the age of the lunchtime peel or laser—most women, however, do not want to leave their doctor's office or spa completely bare-faced," she says. "Makeup applications and retail sales can really grow your business. If you're not touching up the patient's makeup after a treatment, you can be sure she is applying her own before continuing on with her day, and that's an opportunity missed for you."
Consistent Skin Care
Offering cosmetics that are gentle and provide SPF protection can help to boost retail sales and ensure that patients are using formulas that complement your treatments without further irritating ongoing skin conditions.
Image copyright Getty Images.
[pagebreak]
Mineral cosmetics are popular with cosmetic practices and medspas because they are an extension of a total skincare regimen, notes Hatcher. "Many skincare regimens include procedures that require some camouflage immediately after, and many dermatologists recommend mineral makeup for patients with chemical sensitivities," she says. "It's also recommended for acne and rosacea patients because it is anti-inflammatory, gives effective coverage and provides broad-spectrum sun protection."
Marcy Street, MD, offers her patients custom mineral-based makeup that is blended in-house at her practice, Doctor's Approach Dermatology, Med Spa and Laser Center in Okemos, Michigan. "We can create everything from liquid and powder foundations, concealers, lip sticks, stains and glosses; to eye shadows, blushes and bronzers," says Dr. Street. "Our makeup line is so versatile we can actually customize the formula for oily, dry or aging skin as well."
Professional services, such as makeup application and custom blending, can be a powerful draw for patients who want to look their best. "Quite often patients will bring us old makeup that has been a favorite shade for years and is being discontinued. We can re-create it and keep that specific look alive for them," says Dr. Street. "We are able to accommodate all types of cases—brides and kids going to prom, people who have suffered burns, transgender patients and patients who have very specific, unique shades of cosmetics in mind."
Makeup services also work well as standalone offerings. "The cosmetics help bridge the gap for patients who are not open to certain procedures but are trying to conceal a specific skin condition," says Dr. Street.
Offering custom-blended cosmetics has brought attention to Dr. Street's practice and boosted its reputation. "We're offering an exclusive service that is not commonly found," she says. "Some of our staff members have also been able to draw attention to the practice at trade shows with their talent and creativity."
Permanent Makeup
Another option popular in cosmetic practices is permanent makeup, also known as dermapigmentation or micropigmentation, a technique in which tattoos are used to simulate makeup or enhance skin coloring.
"We do permanent makeup for eyeliner, eyebrows and lips," says Ann Yacullo, master medical aesthetician and certified permanent makeup artist at Marina Plastic Surgery in Marina Del Rey, California. "Patients like this because they wake up and they don't feel like they have to run to the bathroom and put on a full face of makeup."
For eyebrows, Yacullo uses a hair stroke method that simulates the look of natural hair, and she is able to use different shades to get the most natural-looking color. "If somebody's got black hair, we go with a dark brown or black. If somebody's blonde we try to match whatever their natural color may be," she says.
She finds that for lips, "a lot of younger women like to just wear lip gloss, so I'll do a nice soft pink on the inside of the lip line," says Yacullo. "Their lip gloss will look really natural, and they will have a hint of color."
Permanent makeup can be particularly beneficial in plastic surgery practices for areola pigmentation after breast surgery or to minimize the appearance of certain scars.
Mastectomy patients often undergo areola pigmentation or treatment of areola scarring as part of the reconstruction process. The procedure can help these patients heal emotionally and "feel more feminine," says Yacullo. Patients who have a melanoma or a mole removed may experience hypopigmentation. "For this type of scar, we blend their skin—it's really just like fading and bringing that scar back to the regular skin color that they have," she says.
Image copyright Getty Images.
[pagebreak]
The Bottom Line
Dr. Street recommends that practices considering makeup services first assess the demand for this type of service and then carefully research suppliers. "Do a lot of research when choosing a supplier to make sure you're getting quality products and great customer service and support," she says.
Knowing everything about a cosmetic line will also come in handy when introducing it to patients. "Patients must understand that the ingredients within their skincare and makeup regimens are clean and healthy for their skin, and they should also know which ingredients they should avoid—this is where you and your makeup line come into play, providing an opportunity to create awareness and demand for your offerings," says Hatcher.
She points out that staff should be knowledgeable about makeup services and your retail lines, so they can recommend products based on personal experience. "Your entire staff should try the products themselves," says Hatcher. "We recommend what we wear, and your staff's personal testimonies can differentiate your offerings on a new level."
Yacullo notes that, in addition to social media promotions, much of the marketing will be internal. "We have pamphlets around the office, and books with before and after photos in the lobby area," she says. "A patient might come in for Botox and mention to one of the physicians assistants that she's not happy that her eyebrows have faded out, and they will refer her to us. We get a lot of referrals from the provider."
Hatcher recommends promoting makeup services throughout the facility and highlighting them on your full service menu. "Have a full display available for patients in the waiting area. This will create curiosity and encourage them to try it on—makeup applications and retail purchases provide instant gratification," she says.
When promoting a new line at OC Dermatology, Dr. Klein puts specials in the practice's monthly newsletter to create awareness, says Tejnani. "For our new Colorscience line, if patients buy a regimen, they get a travel kit for free. That's just to bring it on board," she says. "We'll also do a master class on the brand, and we have one of the line's makeup artists coming in, so we're booking appointments for that as well."
Hatcher agrees that specials and discounts are a great way to get patients interested in makeup services. "Offer a complimentary touch-up; it can often lead to a full-service application," she says.
Providers should pay attention to how they present the service, however. "Avoid verbiage such as 'makeover,' as this can make the patient perceive the service as time consuming, or it might make them feel like they are being sold to," Hatcher advises. "The best way to position makeup services is to offer a 'touch-up.'"
Other ways to promote your makeup services include hosting special events and posting before and after photos to the practice website. "Marketing for custom makeup can be a lot of fun—we've done makeup events and parties in the past that have been a great way to get the word out," says Dr. Street. "And using social media to show creative before and after photos works wonders."
Laura Beliz is the associate editor of MedEsthetics.
Image copyright Getty Images.