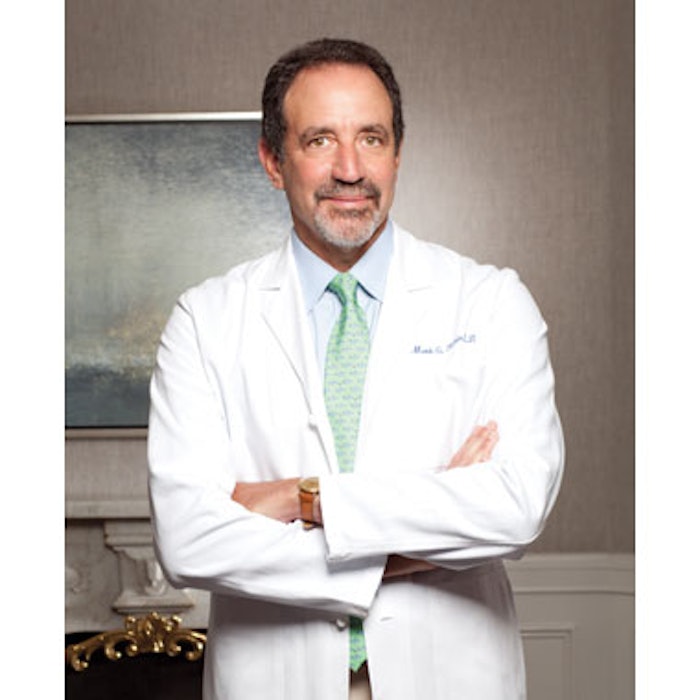 When New Jersey-born Mark G. Rubin, MD, was growing up, medicine was part of the family. As a child, he assumed he would follow in the footsteps of his father and grandfather and become a physician. But the lure of the ocean almost kept him away.
"I certainly was dabbling with pre-med in college at Colgate. I had a strong interest in medicine and considered going into it my whole life," he says. "But I liked oceanography a lot. I graduated with a degree in Marine Science and had a hard time deciding whether I was going to do that or pursue medicine."
Fortunately for the world of dermatology, Dr. Rubin was prone to seasickness. As the oceanographic cruises took their toll on his stomach, his decision became clear.
He decided to attend medical school at Jefferson Medical College in Philadelphia, and it wasn't long before he became intrigued by the field of dermatology. "I liked the idea that you didn't have to do a lot of tests to figure out what was wrong with a patient. By listening to the history and examining the patient, most of the time you could figure out what the problem was," says Dr. Rubin. "Plus, at the time, there were a lot of minor dermatology procedures—like biopsies or mole removals—that were just fun to do. It wasn't all cerebral, like an internist who just ordered tests and sat in an office, and it wasn't all about just doing a procedure all day long like surgery. I liked that balance."
The Road to 90210
After completing his residency in 1981, Dr. Rubin joined an existing practice. Once there, he learned quickly that he had strong ideas about the way things should be run—ideas that differed from those of his colleagues.
"I worked with a couple of other physicians initially before I opened my own practice, and it always made me feel like I wasn't the captain of my own destiny," he says. "I came to the understanding that I needed to run my own practice for me to really be happy about how things were going to work."
He spent his first decade in practice in Solana Beach, California, but a fortuitous meeting with plastic surgeon, Frank Kamer, MD, during a faculty dinner in Europe brought him to the Lasky Clinic in Beverly Hills, California. "Dr. Kamer invited me to come up and join his clinic as a dermatologist working with several plastic surgeons, which at the time was a pretty unique idea," Dr. Rubin says. "It was a really exciting opportunity to learn from plastic surgeons and teach them at the same time."
Being part of the world-renowned clinic made it easier to start a new practice—the Lasky Skin Center—in the highly competitive Beverly Hills area, as the clinic had a strong in-house referral system and would send many nonsurgical patients to him.
Through the Years
When Dr. Rubin first entered clinical practice, there wasn't a lot to the field of cosmetic dermatology; it was basically chemical peels and skin care, which happened to be his first love in the field. "That was the majority of what we did, and the collagen-based fillers were just becoming available at that time as well," he says. "There weren't many skincare products at that time, and people were just starting to understand that taking care of your skin every day could actually improve your skin quality over time."
Over the next decade, several laser systems were developed, including resurfacing lasers, which began to replace the broad use of chemical peels. They were joined by a variety of non-collagen fillers, then neurotoxins burst on to the scene. Today, Dr. Rubin's practice specializes in nonsurgical skin rejuvenation and offers fillers, neurotoxin injections and skin care.
Photo by Cory Sorensen.
[pagebreak]
"I also own a laser center in conjunction with several of the plastic surgeons from the Lasky Clinic. Our laser center is very busy, but it's not me personally administering procedures anymore. My patients' treatments are still performed under my guidance, but I am just not the person holding the laser," he says.
While he concedes it sounds pompous when people talk about the artistry of cosmetic dermatology, Dr. Rubin notes that the wide array of nonsurgical therapies now available to cosmetic patients requires complex and thoughtful consideration on the part of the physician. Though keeping up to date with the growing options can be overwhelming, he is thrilled that these new tools allow him to provide patients with results that are far better than what he could deliver just a few years ago.
"Patients typically come in and are interested in improving some aspect of the aging in their face with fillers—it is common to use anywhere from two to four different brands or types of fillers on the same patient to address their concerns," he says. "It may not be that anything is that new—the idea of putting a putty into a dent to fill it is basically all a filler is— but now that we have all these different varieties of putties with their own characteristics and different personalities, we can do so much more, and we can be much more artistic and give the patients much better results."
The VIP Experience
When your zip code is synonymous with luxury, it's important to have an office that appeals to a higher-end clientele. To that end, Dr. Rubin has created an environment that is both elegant and welcoming. "We happen to be in an older, onestory building in a fairly residential part of Beverly Hills," he says. "There's a fireplace in the waiting room, and it really feels more like a living room. We have a very low-key, lowvolume office so the whole setting fits that."
Dermatologist Nancy Samolitis, MD, works with Dr. Rubin at the Lasky Skin Center two days a week, and he also employs three medical assistants, an office manager and a front office receptionist.
Back when he was at the Lasky Clinic with Dr. Kamer, marketing was deliberately not employed, and Dr. Rubin follows that to this day. He believes his practice has aged as he has, so while those in their 20s or 30s may be checking out his Yelp score, the majority of his patients are older and have the same conservative feel as he.
"We get our patients from other patient referrals; word of mouth has been very successful for us. We've really never done anything beyond that," he says. "We've had patients over the years who say, 'I'm so glad I don't get a newsletter from you.' A lot of our patients still look at advertising as being a negative."
Rather than focus on staying in touch with patients, Dr. Rubin strives to create such a memorable experience that when they have a cosmetic dermatology need again, his patients will automatically think of coming back.
"A big part of it is trying to make patients feel special and like their time here means something to us—that we're happy that they're with us. I try and treat them like they are a member of my family when sitting in that chair," he says. "In cosmetic dermatology, you are only as good as the last treatment you provided to that patient—you always have to be on your 'A' game. We address all our patients' needs while they're here. We make sure that when they walk out of the office, they feel like somebody heard them and made the effort to make them happy."
The office policy is to go the extra mile and consider everything. For example if someone's parking meter is going to expire, one of the staff will take care of it for them; or if a patient has a special event and an appointment isn't available, Dr. Rubin will make every effort to stay late or come in early to accommodate them.
Photo by Cory Sorensen.
[pagebreak]
"We also don't use physician extenders for injections in the office. I'm in a highly competitive area in Beverly Hills, and I want to control exactly what happens to each patient. This way, there's no doubt in my mind that patients have received the absolute best treatment that I can deliver to them," he says. "I'm the one who's responsible for the final result. I believe that every patient is an opportunity to create an advocate for me. If they have a great experience and are happy, they will tell people about me. When it comes to advertising, their faces are my billboards."
Beyond the Office
As one of the country's foremost experts on skin rejuvenation, Dr. Rubin has written numerous papers, book chapters and several textbooks on the subject. He is an international lecturer and has presented his ideas and research to physicians in more than 10 countries.
In addition to his work with patients, Dr. Rubin has been actively involved in clinical research projects, working in the fields of wound healing, skincare products, chemical peels, lasers, injectable dermal fillers and neurotoxins. "Research has always been very important to me. I have enjoyed it because cosmetic dermatology was in its infancy when I got started. Every new thing that came out was explosively fascinating, so being involved in the initial research was fun and stimulating," he says. "Teaching and sharing that information with other physicians keeps your energy level up because you're excited about what's new, and you have to stay up to date because you never know what questions you will be asked."
Dr. Rubin is an assistant clinical professor of dermatology at the University of California, San Diego, and is a member of the volunteer faculty as well. He's been teaching dermatology residents for more than 20 years. He also lectures a few times a year to dermatology residents at the University of Southern California and Vanderbilt University.
Outside of work, Dr. Rubin's passion is saltwater fly-fishing, and when he can manage a few days off, that's where he can usually be found. "Living in Southern California, I am able to just go down to Baja Mexico and fish," he says. "I do a little bit of volunteer dermatology work in the East Cape of Baja, so often I'll fish while I'm down there as well."
He admits that it can be hard to find that work-play balance with his myriad responsibilities. "When you have a full-time clinical practice, do research, publish papers and travel to teach, it makes it very challenging to maintain your personal life at the same time," he says. "I've survived it."
Keith Loria is a freelance writer based in Oaktown, VA.
Photo by Cory Sorensen.