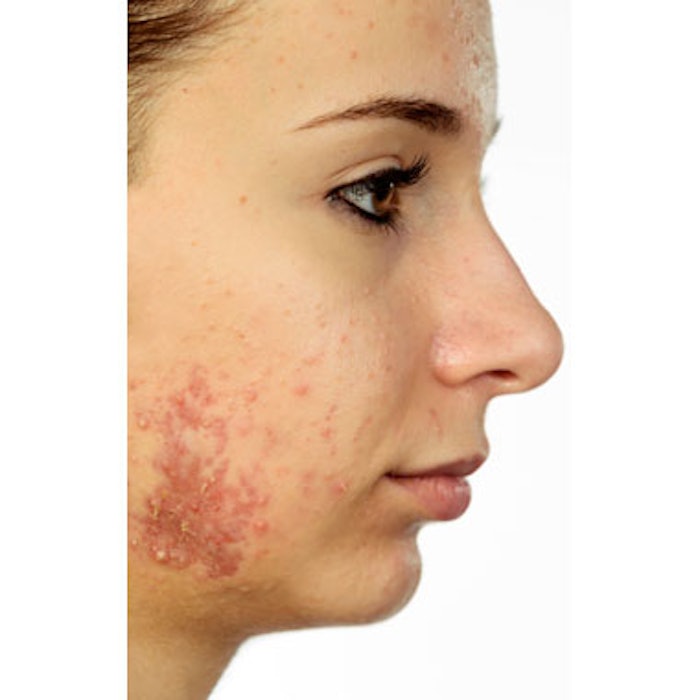 Epiduo Forte Gel, 0.3%/2.5% (adapalene and benzoyl peroxide, Galderma), recently approved for the treatment of moderate to severe acne vulgaris, has been found to be statistically superior to vehicle in treating patients with severe inflammatory acne.
A pivotal multicenter, randomized, double-blind, parallel-group, 12-week study evaluated the topical by targeting a high proportion of patients with severe inflammatory acne (50%) along with a high number of baseline lesions (109-114 lesions on average across groups) and no more than two nodules. A total of 252 patients with severe inflammatory acne were randomized into three treatment groups: 0.3% A/BPO, 0.1% A/BPO or vehicle.
Co-primary efficacy endpoints were: percentage of subjects rated "clear" or "almost clear," defined as ≥ 3-grade Investigator's Global Assessment (IGA) improvement at week 12; and change in inflammatory (IN) and non-inflammatory (NIN) lesion counts from baseline to week 12. Secondary efficacy endpoints were percent changes in IN and NIN lesion counts. Safety endpoints were incidence of adverse events (AEs) and local tolerability signs/symptoms.
At week 12, the 0.3% A/BPO group's results were superior to vehicle in terms of success rate and lesion count reduction and had a similar safety profile as 0.1% A/BPO, though only 0.3% A/BPO achieved significantly greater efficacy over vehicle with a treatment difference of 20.1%. Both 0.3% A/BPO and 0.1% A/BPO were well tolerated.
The study was published in the Journal of Drugs in Dermatology (JDD, December 2015).
Photo copyright Getty Images.