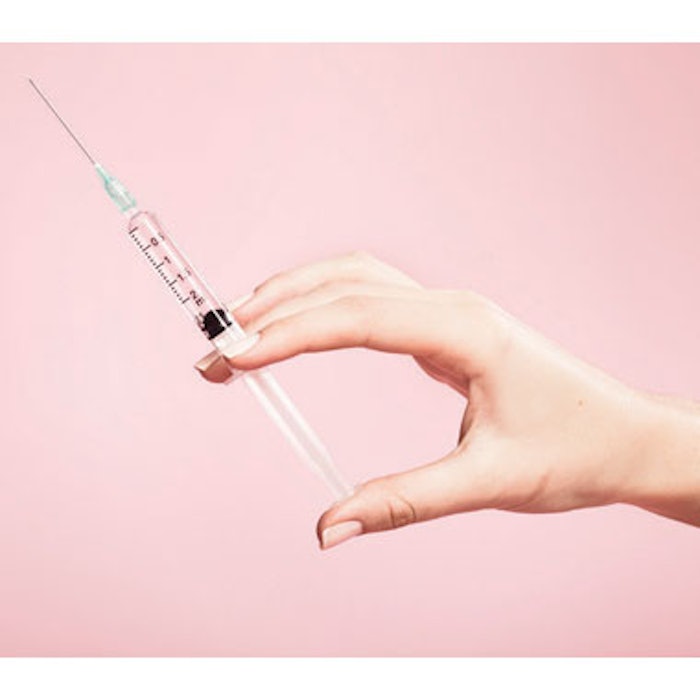 A recent study from researchers at Ondokuz Mayis University, Samsun, Turkey, published in Plastic and Reconstructive Surgery (January 2016), concluded that combination treatment with botulinum toxin type A (BTX-A) and hyaluronic acid (HA) fillers slowed the degradation of the filler.
"Those of us working in aesthetic medicine often couple neurotoxin and HA dermal fillers in the same appointment," says Steven Fagien, MD, an oculoplastic surgeon based in Boca Raton, Florida. "Our experience has shown us that patients benefit from combining the two treatments. Effects are synergistic and additive. Many of us have written about these effects over the years."
Jean and Alastair Carruthers, MD, were the first to present data supporting these clinical observations over a decade ago (Dermatol Surg; 2003; 29: 802–809). In December 2013, researchers from the department of dermatology at Northwestern University further documented the positive effects of combining these two injectables with a randomized, split-face study of 20 subjects comparing the safety and effectiveness of treatment of forehead and glabellar lines with BTX-A alone versus BTX-A and HA filler. They concluded that "Combination treatment may provide a slightly better cumulative benefit and also increase the persistence of effect."
Of the most recent study from Turkey, Dr. Fagien says, "This small, experimental study corroborates what we see in our practices. The working hypothesis is that by reducing movement through the use of a neurotoxin we stabilize the hyaluronic acid implant, which allows the effects of the HA to last longer—but I don't think this is the whole story.
"We do know that filler injected into areas where there is more movement, like around the mouth, does not last as long," he continues, "but there is more to it than the reduction of movement. The effects of both BTX-A and HA go far beyond their original intent. In addition to denervation, BTX-A has an effect on glands, the skin in general and wound healing, and HA does more than just add volume. It stimulates elastogenesis, providing effects that last much longer than originally believed. A University of Michigan study showed that HA injections stimulated fibroblasts to produce Type I collagen in aging skin (J Invest Derm; 2013; 133: 658–667). And not all HA fillers are the same; each product works a little differently. There is a lot more we need to know about the biological effects of HA."
"I use botulinum toxin to help minimize underlying musculature contractions in a few specific areas where fillers might be placed, such as the glabella or perioral area," says dermatologist Joel L. Cohen, MD, director of AboutSkin Dermatology and DermSurgery in Englewood, Colorado. "I also sometimes use BTX-A before repairing some skin cancer defects in the forehead or glabella—and sometimes the lateral canthus, especially if the defect is large, tight or in a highly dynamic spot where chemo-immobilization may help. There are studies to support both of these uses, and newer studies suggest BTX-A may offer other effects, such as on cytokines and chemokines to help decrease scarring."
The number of BTX-A and HA injections has exploded over the past 15 years, and dozens of new products have been made available to aesthetic practices. Practitioners are increasingly aware of the synergistic effects of combined treatments, but little research is being done to help them determine which are best for specific indications.
"For facial rejuvenation, monotherapy makes no sense at all," says Dr. Fagien. "Practitioners can't use just one modality. My colleagues were shocked when I suggested recently that neurotoxin use would drop over the next few years, but my reasoning is that we will use less than we once did because we have more options. We once used neurotoxins everywhere on the face because it was the one tool we knew would produce an effect. But less movement is not always the best goal. Instead of denervation, it may be better to fortify the skin so that animation produces fewer dynamic wrinkles. More research is needed on how best to do this."
Linda W. Lewis is the contributing editor of MedEsthetics.
Photo copyright Getty Images.