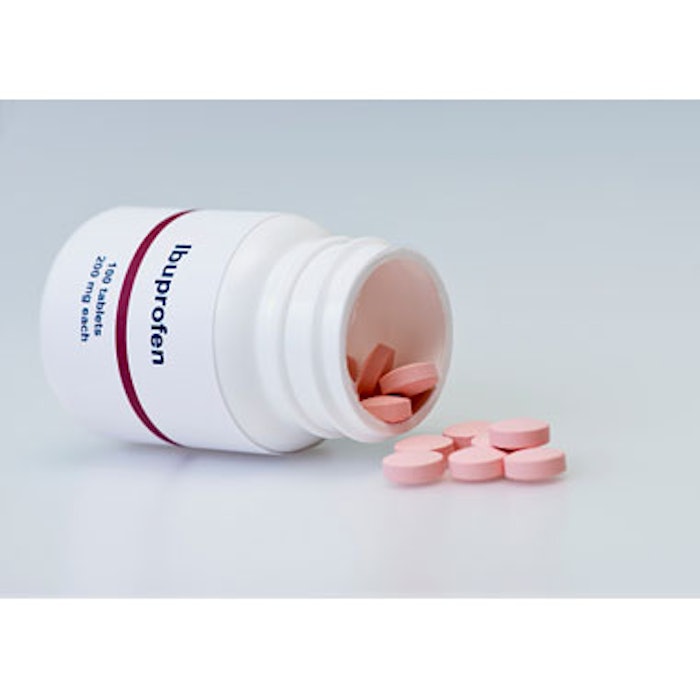 A research review in Plastic and Reconstructive Surgery (April 2016) suggests that ibuprofen does not increase the risk of bleeding after plastic surgery procedures.
Researchers Brian P. Kelley, MD, et al, performed a systematic review and meta-analysis using MEDLINE (PubMed), EMBASE and the Cochrane Collaboration Library for primary research articles comparing ibuprofen with other pain medications for patients undergoing plastic surgery-related operations. They selected four primary randomized controlled trials—in which 443 patients were randomly assigned to ibuprofen or other medications—for full analysis. All studies started ibuprofen either before or immediately after surgery, and continued for at least one week. Procedures included cosmetic facial surgery, breast cancer surgery, hernia repair, and skin cancer surgery and reconstruction. All studies used the same dose of ibuprofen (400mg every four hours). Comparison treatments included acetaminophen, acetaminophen plus codeine or ketorolac.
According to the assembled data, 7% of patients assigned to ibuprofen and 11% assigned to comparison drugs reported dissatisfaction with their pain treatment. (The difference was not significant.) The researchers also found that Ibuprofen and other treatments were similar in terms of bleeding risk, as rates of "surgically significant postoperative bleeding" were 3.5% with ibuprofen and 4.1% with other treatments. A further analysis focused on the comparison between ibuprofen and acetaminophen plus codeine and no significant difference in pain control or bleeding risk was apparent.
"Further large studies will be necessary to elucidate this issue further, but ibuprofen is a safe postoperative analgesic in patients undergoing common plastic surgery soft-tissue procedures," the researchers wrote.
Photo copyright Getty Images.