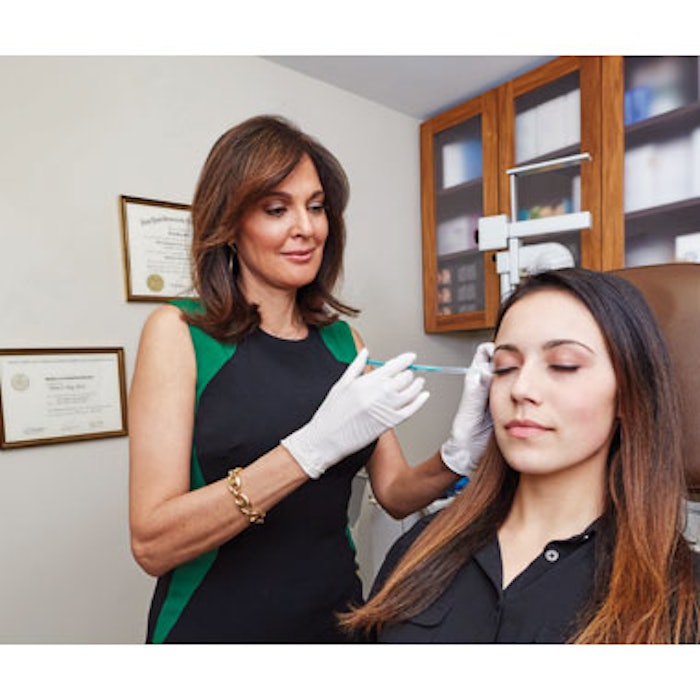 How do you juggle a bustling dermatology practice, a hectic teaching schedule, publishing and a family, all while building a reputation as the media's go-to expert for dermatology and aesthetic medicine? For Doris Day, MD—a board certified dermatologist who specializes in laser, cosmetic and surgical dermatology, and founder of Day Dermatology & Aesthetics on the Upper East Side in New York City—it's all about balance.
"I have two kids and a husband; I consult, sit on advisory boards, participate in clinical trials, teach, write and have a radio show. I like having a lot going on all at once," she says. "It gives me energy. I love everything I do and I keep trying to be better at it—to be smarter and more creative, and to make sure that I take the best care of my patients. And that's a never-ending process."
All In The Family
Dr. Day lives in the very same building in which she grew up, the building where her anesthesiologist father—and earliest mentor—kept his medical offices. She remembers her father as "a true old-time healer. He looked at the whole person and really tried to understand and heal his patients," she says. "He took an interest in their lives and in their overall well-being."
As a teenager, she worked in her father's practice as his secretary and biller. "I would often speak with his patients who told me how much they loved him. He would tell me that you don't treat according to textbooks, you treat according to what the patient needs," says Dr. Day. "You need to understand them and they need to have confidence in you, so you will have that connection. He could do that."
Dr. Day's path to dermatology was a circuitous one that started with an early, devastating family tragedy. "I lost my sister to cancer when I was in my late teens. It had such an impact: personal suffering, loss and guilt. I felt helpless and I didn't want to feel that way," she says. "I wanted to understand the process of illness and recovery—I thought maybe if I understood it better I wouldn't feel so bad. I also wanted to write about what people go through, really examine hospice care and the quality of life and dignity over the length of one's life, so that people could understand all the things that I didn't."
This desire to educate and connect led Dr. Day to pursue a career as a medical journalist before attending medical school. She completed her undergraduate work at Columbia University then graduated from NYU with a master's degree in journalism and science writing. Her work as a journalist coincided with the HIV/AIDS epidemic in the 1980s. One of the presenting signs of this much-misunderstood epidemic was Kaposi's sarcoma, which opened her eyes to the role of dermatologists in health care.
The Deepest Medical Field
Dr. Day realized that dermatology is perhaps the deepest of all medical fields because the skin is a powerful reflection of a person's overall health and well-being. "As an internist, I could tell someone to eat less salt because it would lower blood pressure and reduce the risk of stroke, and the patient might just shrug it off," she says. "But as a dermatologist, if I tell a patient that her eyes won't be as puffy if she cuts down on salt, she'll say 'OK!'"
Through this diagnostic angle, Dr. Day tries to help patients improve their overall health—whether through smoking cessation, increased exercise, or better sleep and diet—by explaining that it will make their skin look better. "I could make so many more diagnoses through the skin than I could as an internist, and I have my patients' involvement. They are as invested in their care as I am because we have a common path," she says. "I can get them to quit smoking, go to a therapist or do whatever it takes to get better, and when they see the difference in their skin we rejoice in that. It's very rewarding."
Photo by Keith Barraclough.
[pagebreak]
After earning her medical degree at SUNY Downstate Medical Center in New York City and finishing her residency in dermatology at Cornell University Medical College (with the title of chief resident), Dr. Day opened a private practice in 1998, the same year that she became a clinical associate professor of dermatology at NYU Langone Medical Center.
The use of Botox for cosmetic concerns followed by waves of dermal fillers and aesthetic devices occurred just as she was entering the field, and it created new opportunities to participate in clinical trials. "It's an ongoing, endless learning cycle.
We're still in the infancy of what we'll be able to do," she says. "But we are at a point where we can almost say that if you start young enough and do things slowly and gently, you'll never need to have surgery to always look your best."
Dr. Day refers to this philosophy as "syringe therapy," which allows a patient to tweak her imperfections as they appear so she won't have to resort to big procedures later on. "I don't think that aging is a losing proposition," she says. "You can be more beautiful as you get older. Look at Raquel Welch and Sophia Loren. I aspire to that, and I aspire to help people look more beautiful and appreciate their own natural beauty. When I treat somebody in her 30s, I'm seeing her in her 60s and thinking about what I can do for her now that will help make her the most beautiful in her 40s, 50s, 60s and beyond."
Embracing Media & Academia
Dr. Day has become a sought-after media expert, featured in magazines such as W, Glamour, InStyle and Allure, and on TV shows such as Good Morning America, The View and Dr. Oz, to name a few. While she humbly explains that part of her success in the media is due to luck, show producers, viewers and readers alike respect her ability to communicate in a language that is understandable. She has also learned that she can make herself more valuable to producers by providing everything they need to educate their viewers. When Dr. Day makes TV appearances, she comes equipped with devices, patients, before and after photos and key talking points. "I make it easy for them, so they keep calling me back for more," she says, explaining that her goal is not to sell anything but rather to teach the audience about a condition or treatment so they can talk to their own dermatologists to learn more.
"There are more than enough patients for everybody. If we provide great information, get people interested and help patients look their best, it makes all of us look good," she says. "I try to celebrate what we do and what we know, and give precise, clear information in as few words as possible. Plus, it helps to have the name Doris Day."
In addition to educating the public, Dr. Day is training— and learning from—the next generation of dermatologists in her role as an associate clinical professor. "It keeps me on my toes and helps me stay current," she says. "It's also a nice break from the practice and it always helps to give back."
She encourages her students not to take the profession for granted nor should they allow others to take them for granted. "People do not really understand the amount of work it takes you to get you where you are," she says. "They'll ask you to do things and not reward you for them in the way you deserve to be rewarded. So really know your own value and what you deserve."
The Challenge Of Practice Management
Despite being a mother and an educator, Dr. Day confesses that managing a practice is among her most challenging tasks. Echoing the sentiment of many physicians, she notes that practice and employee management are areas in which doctors have the least amount of training. "As a mom and someone who's always been in a position of nurturing and providing for others, it can be difficult to manage others effectively," she says. "It's hard to have high expectations of others, to know that what you're asking is reasonable and to learn how to create boundaries. I have to find the right balance of people who can work together, show up on time, take care of patients and represent my brand, my practice and my vision in the way that I need. I have full control over how I do things, but not over other people. Practice management means accepting human nature and understanding what you can ask of another person."
Moving forward, Dr. Day aspires to stay at the cutting edge of the field in both awareness of the latest procedures and the development of new products and treatments. "It's really about looking at things differently and making sure that we expand our fund of knowledge as we seek new ways to help patients look their best," she says. "It's about making aging a beautiful and enjoyable process where we minimize the risks and optimize the outcomes. It is an exciting time to be getting older."
Shelley Moench-Kelly, MBA, is a Vermont-based writer and editor.
Photo by Keith Barraclough.