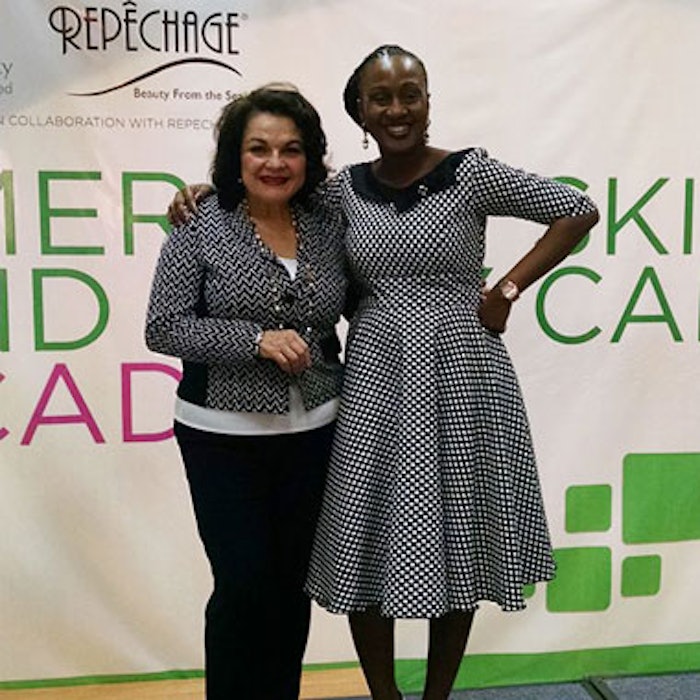 In collaboration with Allure Spa in the City, Repêchage CEO and founder Lydia Sarfati joined Dzigbordi K. Dosoo, CEO and founder of Allure Africa, in Ghana on May 16-May 20 for a hands-on workshop at the American Skin and Body Care Academy, where skincare specialists were introduced to the company's in-office Fusion Express Bar and Spa Masks and at-home products.
The Repêchage Fusion Express Bar and Spa Masks with Nutriceutical Organic Actives were launched stateside on May 2, 2016 at the Repêchage 18th Annual International Conference. The spa treatment features Laminaria digitata seaweed and organic actives with antioxidant and anti-inflammatory benefits to restore, smooth and hydrate skin. Two homecare products compliment the treatment: Repêchage Fusion All Natural Face Moisturizer and Repêchage Fusion All Natural Face and Body Wash.
During the five-day course, attendees learned about signature Repêchage methods and practices developed by Sarfati; were provided insight into various Repêchage treatments and protocols, such as the Lydia Sarfati Signature Massage; and received a demonstration and hands-on workshop with massage techniques, and Repêchage signature facial and body treatments.
"Although it can be exhausting, my passion to help other industry professionals inspires me to continue traveling around the world and take part first-hand in our educational programs!" said Sarfati. "In our field, hands-on training and continuous education is paramount to our success, and I want to help provide professionals with the tools to be successful."