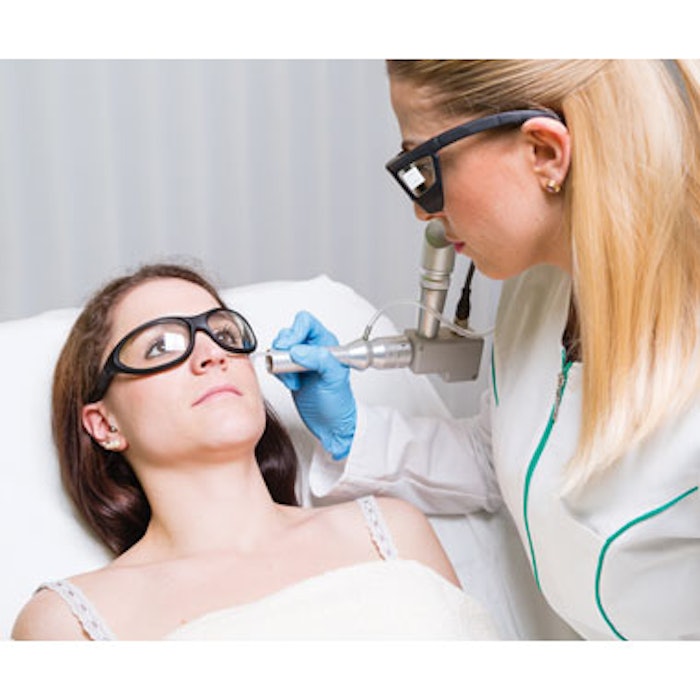 Post-inflammatory hyperpigmentation (PIH) is one of the most common adverse events seen in patients who undergo laser or chemical peel resurfacing. The cutaneous inflammation caused by the heat and/or epidermal injury leads to an overproduction of melanin. Providers can reduce the risk of PIH by recognizing high-risk patients and prescribing comprehensive pre- and postprocedure skincare regimens.
At-Risk Patients
Tess Mauricio, MD, FAAD, board certified dermatologist and founder of M Beauty by Dr. Tess clinics in Beverly Hills, San Diego, National City and Glendale, California, has found that fair-skinned Asian patients, specifically Chinese, Korean and Japanese patients, experience the worst cases of PIH. "These patients tend to have hyperactive melanocytes when inflammation occurs, resulting in a highly noticeable contrast of hyperpigmented areas of PIH," she says.
Patients with darker skin types III and higher are also at high risk for developing PIH, as are those who get a lot of sun exposure after a laser treatment, e.g., residents of Southern California. "Ultraviolet rays can perpetuate the redness that occurs after a laser treatment, and this prolonged redness can increase one's risk of PIH," says Sabrina G. Fabi, MD, FAAD, FAACS, board certified dermatologist with Cosmetic Laser Dermatology in San Diego.
The aesthetic procedures most likely to cause PIH in these patient groups include aggressive light-based treatments—such as lasers, intense pulsed light (IPL) and fractional radiofrequency (RF)—liquid nitrogen, electrocautery and chemical peels. Even energy-based treatments and chemical peels aimed at treating pigmentation concerns, such as melasma and lentigos, can put patients at risk of PIH.
Valerie D. Callender, MD, FAAD, medical director of Callender Dermatology & Cosmetic Center in Glenn Dale, Maryland, advises physicians and skincare specialists to "use caution when performing aesthetic procedures on patients with skin of color and perform test spots to determine the risk of PIH in this population before beginning treatment."
Pretreatment Protocols
To reduce the risk of PIH, physicians often start patients on pretreatment skincare regimens designed to inhibit the pigmentation process. Dr. Fabi, for example, pretreats darker-skinned patients with a class I topical steroid two to three days before an ablative laser procedure. "The reasoning is that it will theoretically decrease the inflammation after the laser procedure, thereby decreasing the risk of PIH," she says.
Robert Weiss, MD, FAAD, FACPh, director of Maryland Dermatology Laser Skin & Vein Institute in Baltimore, recommends a pretreatment combination of retinoids and hydroquinone anywhere from 4% to 8% with very mild topical cortisone. "The increased turnover induced by retinoids combined with the blocking of new pigment production is a powerful combination," he says. Dr. Weiss typically pretreats patients for at least four weeks prior to laser treatments.
Sun protection is a key component of both pre- and post-care because exposure to ultraviolet radiation—both UVA and UVB—stimulates melanogenesis in the skin. "I tell patients to use a sunscreen containing zinc oxide or titanium dioxide, and to reapply it every few hours (or more frequently if they are sweating, swimming or toweling off)," says Joel L. Cohen, MD, director of AboutSkin Dermatology in Greenwood Village and Lone Tree, Colorado.
Dr. Callender will oftentimes start patients of color on a pretreatment regimen consisting of broad-spectrum sunscreen SPF 30+ along with a topical hydroquinone (4% or higher) at least four weeks before an aesthetic procedure to inhibit tyrosinase, the enzyme responsible for melanogenesis. She has patients discontinue topical retinoids three to five days before a procedure, in order to avoid skin irritation or severe exfoliation that may occur postprocedure and exacerbate PIH.
Photo copyright Getty Images.
[pagebreak]
In addition to reducing the activity of melanocytes, pretreatment regimens also help physicians gauge patient compliance, which may then determine the aggressiveness of the in-office treatment. Dr. Fabi starts patients with existing pigment problems, such as melasma—which increases their risk for rebound pigmentation—on a topical lightening regimen and physical sunblock. "This is not necessarily because it will prevent rebound pigmentation, but because I can then monitor and ensure that they are compliant with topicals before performing a laser procedure that will require them to be compliant afterwards," she explains. "If they aren't compliant with pretreatment, then they probably won't be with post-laser care either, and they aren't ideal candidates for laser treatment."
Post-Treatment Protocols
Patients at risk of PIH benefit from postprocedure care that reduces inflammation and keeps melanocyte activity low as their skin heals. Dr. Weiss advises continuing the application of hydroquinone during the healing phase, typically starting five days after treatment and continuing for two months. He provides patients with an SPF of at least 50. "We currently recommend sunscreens—including new products from SkinCeuticals and SkinMedica—that not only block ultraviolet rays, but also infrared rays (IR)," he says, noting that ultraviolet-A and IR are responsible for stimulating new pigment, so preventing these from reaching the skin is critical in the healing phase.
In addition to topical sun protection and skin lightening products, Dr. Mauricio recommends oral antioxidant supplementation such as Helioplus—which is her own formulation of antioxidants including glutathione, polypodium leucotomos extract, green tea, resveratrol, and vitamins and minerals—both pre- and post-treatment. These ingredients support skin health and may boost its defenses against the damaging effects of sunlight, especially in the days immediately after treatment when patients cannot apply sunscreen to their healing skin.
In addition to having patients use hydroquinone products and sun protection, Dr. Cohen recommends long-term, non-hydroquinone pigment correction products, especially if the patient is at high risk of PIH or if there is early evidence of PIH. He also advises patients to use topical steroids for a few weeks following treatment to reduce inflammation.
Dr. Callender has found that anti-inflammatory topicals, such as a mid-potency corticosteroid cream or ointment, along with sun avoidance work well for three to five days postprocedure. "Inflammation can result in PIH, so treating skin early on with a topical agent that reduces inflammation, such as a topical corticosteroid, will hopefully help to avoid PIH," she says.
Providing Home Care
For Dr. Fabi, post-op care is as important as the procedures she performs. "If we don't provide instructions to guide patients on how to apply postprocedure products, it's just as bad as not recommending any at all," she says. Typically, Dr. Fabi writes down instructions and follows up with a phone call the next day to make sure the patient understands the directions and to answer any questions. She places a second follow-up call two to four weeks after the procedure to ensure that things are going smoothly and the patient isn't experiencing any irritation from the products that may negatively impact their results. "This allows for early intervention of any untoward side effects they may be experiencing and gives us an opportunity to make sure patients are happy with their results," she says. "If they are not, we have them come back immediately."
Dr. Weiss' practice has post-care products available for purchase and provides a written instruction sheet on how to use them. His postprocedure kits include sunscreen, a vitamin C topical and a pigment-lightening agent such as hydroquinone.
Dr. Callender's post-op instructions include using a gentle skin cleanser, emollients (especially in the winter months), sun protection and sun avoidance, and healing ointments (such as those from CeraVe and Aveeno) or Aquaphor immediately postprocedure. Patients are instructed to avoid skin trauma, such as picking or scrubbing skin, and using chemical exfoliants or products that contain abrasive ingredients.
Photo copyright Getty Images.
[pagebreak]
Beneficial Topicals
Depending on the procedure, Dr. Fabi recommends a variety of different topicals. She often suggests patients use Alastin Skin Nectar two weeks before laser resurfacing and immediately after treatment, coupled with a healing ointment. "I've used it myself and it's elegant; it actually washes off with a gentle cleanser and does not induce acneiform lesions that are common after a fractionated CO2 session," she says.
If a patient is being treated for pigment issues, Dr. Fabi prescribes a physical sun block with antioxidants (such as SkinMedica's Total Defense + Repair), hydroquinone pads and a hydroquinone-free lightening agent twice a day.
After targeting redness with IPL or a pulsed dye laser, Dr. Fabi will start patients on SkinCeuticals Metacell Renewal Cream and a physical sunblock containing antioxidants. (Dr. Callender notes that IPL should not be used on patients with darker skin types V and VI due to the increased risk of cutaneous injury and dyspigmentation.)
One of Dr. Mauricio's favorite post-care products is Jan Marini's Bioshield Rapid Recovery Complex, which immediately cools the skin, offers silicone occlusion to expedite healing, and delivers hydrating ingredients, including dimethicone, palmitoyl oligopeptides and sodium hyaluronate. "Anything that we can do to decrease immediate inflammation and shorten the number of recovery days will decrease the risk of PIH," she says.
Dr. Callender employs cosmeceuticals that contain hydroquinone-free skin lightening agents, such as azelaic acid, kojic acid and vitamin C, for long-term maintenance therapy.
Addressing PIH
If a patient does experience PIH following laser resurfacing or a chemical peel, it is important to let them know that this is temporary. "PIH can cause significant emotional and psychological distress to patients; practitioners have to be sensitive when dealing with patients who have PIH," says Dr. Mauricio.
When PIH occurs, Dr. Weiss reassures his patients that most of the time it will clear spontaneously with the topical regimen that they are already using for post-care. However, if a PIH reaction appears very vigorous, he will treat the excess pigment with a Q-switched 1064nm laser at low fluence or the PicoSure (Cynosure) picosecond 755nm alexandrite laser at a very low fluence setting.
Dr. Fabi finds that patients need encouragement as well as regular follow-up appointments to ensure they are using their lightening agents and being diligent in reapplying their sunblock.
Dr. Cohen's No. 1 recommendation is to avoid sun exposure. When PIH occurs after a procedure, he prescribes a high-SPF physical sunblock and topical hydroquinone for about three to four months, as well as topical steroids for a few (or more) weeks. He also continues patients on their non-hydroquinone products, as they are synergistic in helping to clear pigmentation. In more severe cases, Dr. Cohen may also initiate a nonablative fractional laser procedure or peel to help speed clearance.
Physicians who offer makeup services can also discuss cosmetic camouflage techniques to conceal dyschromia. "PIH is emotionally and psychologically devastating,"
says Dr. Callendar. "Any recommendations that can relieve a patient's stress level will directly impact their quality of life."
Karen Appold is a freelance writer based in Pennsylvania.
Photo copyright Getty Images.