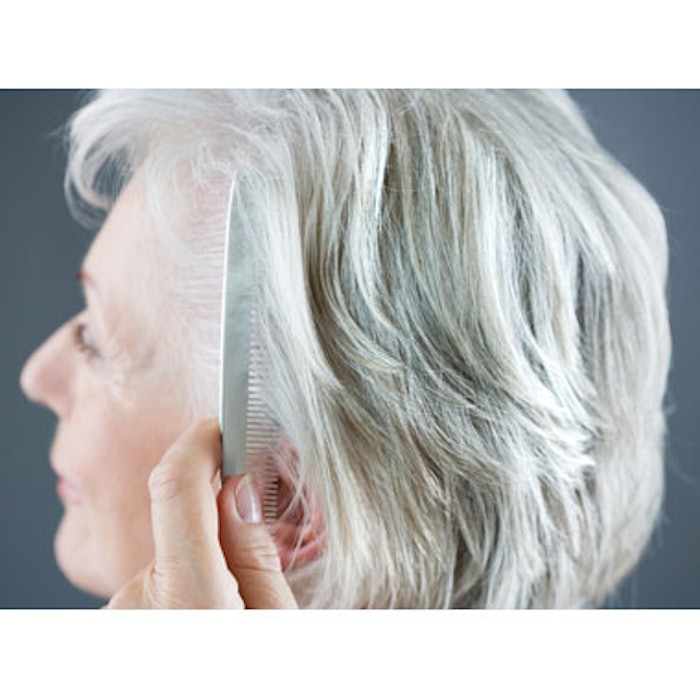 Two recent studies have reported both positive and negative results with the use of platelet-rich plasma (PRP) for the treatment of alopecia.
One, published in Dermatologic Therapy (September/October 2016), examined the efficacy of PRP versus topical minoxidil 5% in the treatment of alopecia areata by clinical evaluation and trichoscopic examination. Ninety patients were allocated into three groups; the first was treated with topical minoxidil 5% solution, the second with PRP injections and the third with placebo. Diagnosis and follow-up were done by serial digital camera photography of lesions and dermoscopic scan before and every month after treatment for three months. Subjects treated with minoxidil 5% and PRP both experienced significant hair growth over placebo (p  <  0.05). Patients treated with PRP had an earlier response in the form of hair regrowth and reduction in short vellus hair and dystrophic hair, unlike patients treated with minoxidil and control (p  <  0.05). The researchers concluded that PRP is more effective in the treatment of alopecia areata than topical minoxidil.
The other pilot study, published in Dermatologic Surgery (November 2016), investigated the effect of PRP scalp injections in patients with female androgenic alopecia. The double-blind, multicenter, placebo-controlled study compared the effect of PRP with that of saline placebo as scalp injection. Endpoints were hair count and hair mass index (HMI), along with patient-opinion survey responses. They reported that 13.3% of the treatment subjects (vs. 0% of placebo subjects) experienced substantial improvement in hair loss, rate of hair loss, hair thickness and ease of managing/styling hair; and 26.7% (vs. 18.2% of the placebo group) reported that their hair felt coarser or heavier after the treatment. However, hair count and HMI did not statistically significantly differ between the study and placebo groups. The researchers concluded that patient survey results suggested a therapeutic advantage of PRP as perceived by patients, but not according to hair count or HMI.
Photo copyright Getty Images.