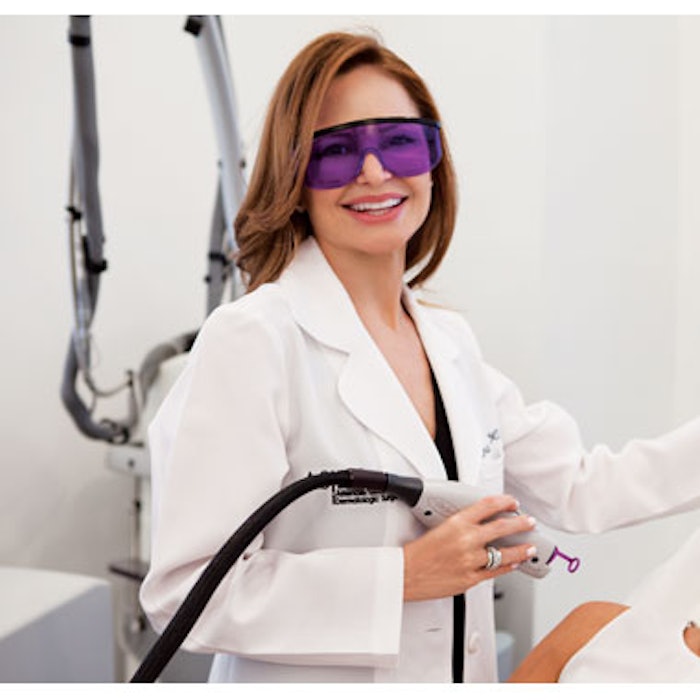 From a young age, Monica L. Halem, MD, FAAD, knew she wanted to go into medicine. She worked summers for her father, who was a dentist. "He wanted me to be a dentist too, and he was going to call the business 'Dr. Halem and Father,'" she laughs. "I decided at a certain point that I didn't want to be a dentist, but I did want to become a doctor."
She attended the University of Miami School of Medicine with the goal of becoming a trauma surgeon. "I fell in love with surgery. On free weekends, while all my friends were at South Beach, I was at the trauma center. I used to ride around with fire rescue and air rescue—it was my love," says Dr. Halem. "I got into the surgery program and did a residency in general surgery. But towards the end of residency—when I was on call 24/7—I realized that I needed to take a break and see whether there was something else that was of interest to me."
Discovering Dermatology
Dr. Halem had no exposure to dermatology during medical school or her general surgery residency, but her mother asked several times, "Why don't you check out dermatology?" "I kept answering, 'Mom, I'm a surgeon!'" she says. "I didn't even know dermatologists did surgery."
In 2003 she met Leslie Baumann, MD, a Miami-based cosmetic dermatologist who inspired her to take a closer look at the field. "I realized it was the perfect specialty for me," says Dr. Halem. "I found the aesthetic component really appealing, and I could be as surgical as I wanted; it was just the best of everything, so I made the switch."
After completing a research fellowship in cosmetic dermatology as well as a dermatology residency at the University of Miami Department of Dermatology & Cutaneous Surgery, Dr. Halem attended the University of California, San Francisco (UCSF) for a cosmetic, laser and Mohs surgery fellowship. "I saw that you could really change people's lives. To help a patient and improve their skin—whether on the medical, surgical or cosmetic end—is really gratifying and impactful," she says.
After graduating from UCSF, it was time to fulfill another childhood dream. "I had wanted to move to New York City ever since I was a little girl," says Dr. Halem. "So when I finished my fellowship, I applied for a position as a Mohs cosmetic surgeon at Columbia University; I got it and moved to New York."
Four years later, her entrepreneurial spirit pushed her toward private practice. "I wanted to run the show and practice medicine the way I wanted. I wanted to really spend time with my patients," she says.
A Leap of Faith
Dr. Halem's childhood dreams also guided her practice location. "When I was young and we visited the city, I would see all the doctor's offices on Fifth Avenue by Central Park, and I wanted to have an office there someday too," she says.
In 2012, she opened Monica Halem MD PC, which specializes in cosmetic laser and dermatologic surgery. "I was four weeks pregnant with my first daughter—it was a crazy time! But I took a huge leap of faith and found a space on Fifth Avenue," she says. "I was worried my receptionist and I would be sitting here waiting for the phones to ring. But so far it's been great: The practice has been growing and we have a wonderful facility."
Photo by Michael Weschler.
[pagebreak]
Dr. Halem wanted the office to reflect its high-end location, so she decorated it in a modern Parisian style. "It's elegant and comfortable, with Frank Sinatra playing—it's very Fifth Avenue!" she says. "Patients tell me they love coming to my waiting room area because it's so relaxing. We always have coffee, and we have bagels on the days we do surgeries. It's very inviting."
She employs two front desk staffers, an office manager, two medical assistants and a Mohs technician. "I'm very particular about how I want my patients treated and how I want the office run. Building a good quality team has been the biggest challenge. I won't hire somebody just because I need to fill a position; I want to create a culture that's in line with my core values of integrity, loyalty and taking care of people," she says. "I want employees who really care about me and about the growth of the practice—it makes a huge difference. It's taken a while but I now have the right team. We all go out together once a month and we really try to employ those core values in the practice."
Inspiring Loyalty
Dr. Halem's approach to patient care is one of empathy; she doesn't hesitate to go above and beyond for her patients. "Every patient gets my email address, and home and cell phone numbers—I am here to help them in any way. It's about caring for the person, not just their skin but their overall well-being," she says. "I'm very available to people, and that connection in the treatment room is important as well. I make eye contact and really try to connect with them on a personal level, not just patient-doctor.
"The other thing I really like to do is educate," she continues. "I take the time to inform patients, whether it's about their malignancy or how to address the aging face and rejuvenation options. I don't just look at a line here or a line there; I take the time to teach them what it is that causes aging and how we can address all the different aspects. It helps cement the relationship overall."
A core aspect of Dr. Halem's patient care philosophy is honesty regarding skin care and treatment options. She is extremely selective when it comes to implementing new technologies. "It's very easy to jump on the bandwagon with every new device, but a lot of times the marketing gets ahead of the science. Patients will call to ask about a new device or treatment, but if I'm not convinced, I will not bring it into my practice," she says. "I wait at least a year so I can see if it works. I go to conferences, I look at before-and-afters—not from the companies but from individual physicians—I talk to physicians and I talk to patients who've had it done. I really take my time; my patients can rest assured that if a procedure is offered here, it's going to work."
Dr. Halem applies this strategy to skincare products as well. She looks to peer-reviewed journals to learn which ingredients and products offer the best efficacy. She used this knowledge to develop her own science-based skincare line, MONICAHALEMMD, which has five main components: glycolic acid, vitamin C, peptides, vitamin A and a sunscreen with zinc. "I only recommend a product if it has science and studies behind it that show it actually makes a difference," she says. "The products I recommend are the same ones I have in my own cabinet."
Dr. Halem's surgical background has helped her become a sought-after injector among both patients and colleagues. "My surgical training really enhanced my anatomical knowledge and my aesthetic eye," she says. "It's remarkable what you can do with fillers just by assessing the patient's face, identifying where they've aged and lost volume, and revolumizing with fillers."
Her goal with facial rejuvenation is to create a natural look. "I do not like overdone, so I err on the side of caution and tell my patients that I can always add more," she says. "I also do what I call 'Botox-Lite,' where I inject just a little bit of toxin so they still have movement, but they don't etch the line in as hard."
Dr. Halem's high standards and natural-looking results have led to a steady flow of new patients. "If you take care of people, know your field and do a great job, your practice will grow," she says.
Photo by Michael Weschler.
[pagebreak]
Giving Back
In addition to word of mouth, Monica Halem MD PC receives community exposure through Dr. Halem's academic and charitable pursuits. She is a clinical assistant professor of dermatology at the Icahn School of Medicine at Mount Sinai in New York City, and she regularly gives lectures and donates to charity. Her favorite organizations are Meals on Wheels; Women in Need (Win), which aids homeless women and children; and Puppies Behind Bars, which helps raise Labradors as service dogs for veterans. "I'm grateful for where I am, and I love to give back," she says.
Her patients benefit from her giving nature as well. Though Dr. Halem now has two daughters—a toddler and an infant—she struggled with fertility issues. "I went through a hard time trying to have my daughters, and it was not easy," she says.
So it is not uncommon for Dr. Halem to help guide her patients through their own fertility issues. She helps them navigate the process, and uses her expertise to provide support during difficult times. "They can call me and say, 'This is what's happening. This is what I'm doing. What do you think?' and I am 100% there. I will advocate for them; I will make phone calls," she says. "The simple action of giving a patient my cell phone number is so minor yet it means so much to them.
"My experiences have made me feel so grateful. I'm a single mom running my own business—I'm in love with what I do in dermatology and I'm grateful for my daughters," says Dr. Halem. "If my experience or skills can help others in any way, I am there for them."
Laura Beliz is the associate editor of MedEsthetics.
Photo by Michael Weschler.