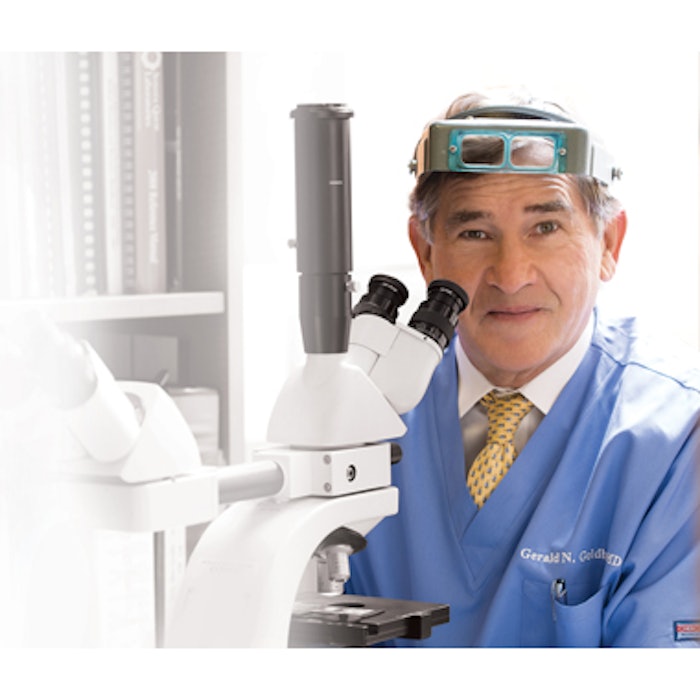 Gerald Goldberg, MD, suffered with acne as an adolescent. The resulting scars he carried as an adult piqued his interest in working with children with port wine stains and other disfiguring birth marks—and became the foundation for his future career in medicine. "Because of my own scars, I am sensitive to people with scarring and other malformations, so I was attracted to the area of port wine stains in babies and children," he says. "I did my first vascular cases on port wine stains, which was one of the first areas where we were using lasers, so I got into laser medicine early in my career, and that's been my niche since 1984."
Today, Dr. Goldberg, medical director of Pima Dermatology in Tucson, Arizona, and clinical professor of dermatology and pediatrics at the University of Arizona, is considered one of the country's foremost experts in dermatologic laser surgery. In 2017, he received the Leon Goldman, MD, Memorial Award for excellence in laser medicine from the American Society for Lasers in Medicine and Surgery.
Despite the early emphasis on pediatric laser procedures, his practice has expanded to offer an extensive array of dermatological medical, surgical and cosmetic services to patients of all ages. "Dermatology is the best [specialty], because it combines a wide variety of concerns and requires problem-solving, surgical skills, aesthetics and lasers. It's never boring," he says. "In my private practice, I see babies and I see 100-year-olds. In some cases I'm seeing the children of the kids I took care of in my first three years of practice, which is kind of amazing."
The Path to Medicine
In high school, Dr. Goldberg decided that medicine would be his career goal. When he was in 10th grade, his friend's father—a cardiac surgeon—invited the boys to view one of his surgeries. "Seeing that chest surgery really turned me around, and I knew this was something I wanted to pursue," says Dr. Goldberg.
He majored in psychology at Princeton University and attended medical school at State University of New York (SUNY) Upstate Medical University in Syracuse. "They had a strong pediatrics program, and I gravitated toward that," he says.
He completed a pediatric residency and dermatology fellowship at the University of Arizona. "In my second year of pediatrics, I decided I didn't want to do general and preventive pediatrics all my life. I wanted to do more specialized work," he says.
After completing his residency, Dr. Goldberg went into private practice with Robert Friedman, MD, and in 1986, the two became partners and launched Pima Dermatology.
Practice Growth
When Dr. Friedman retired in 2002, Dr. Goldberg hired a physician's assistant and a nurse practitioner to assist him in the practice. As Pima grew, he brought on a practice partner, Matthew Beal, MD, who specializes in cutaneous oncology, laser surgery and psoriasis, and another dermatologist, Sarah Schram, MD, a Mohs surgeon who also performs laser and cosmetic procedures. The three doctors and staff of 25—including two PAs and three cosmetic assistants—work in a 7,500-square-foot facility that has an additional 2,500 square feet of space that Dr. Goldberg plans to build out as a laser and aesthetic center. Along with the facility expansion are plans to bring on another physician and another mid-level cosmetic provider.
"You have economy of scale with a larger practice, so we made the decision to be a little larger rather than smaller," he says. "Our range of services and providers makes us more capable and enhances our accessibility to patients, because they can get in more promptly to see a provider."
Dr. Goldberg performs the majority of laser treatments. "I tend to do the more aggressive and/or higher risk/higher reward treatments. I do virtually all of the CO2 fractional and full-field ablative laser treatments. My colleagues do the erbium laser treatments, and we all do some vascular days."
He also works with the pediatric patients and splits up the cosmetic work, including neurotoxins, fillers and low-impact laser and light treatments, with the other providers.
The practice currently offers more than 17 laser tech-nologies, a VISIA Complexion Analysis system and a Mohs lab onsite. Additional services include narrow-band UVB phototherapy and an AAAHC-accredited surgical unit with fully equipped operating rooms and pre- and post-op recovery areas. There's also a cosmetic sales and service area with a cosmetic consultant.
Marketing Techniques
Part of the practice's ongoing success is due to Dr. Goldberg's ability to adapt to the changing environment. Pima Dermatology does little print advertising, but has a robust website that brings in a steady flow of new patients. The staff takes part in community outreach activities, including a local book festival that attracts more than 100,000 people to Tucson each year, and local theater and arts events.
Patients also come from unexpected sources. One of Dr. Goldberg's favorite procedures is re-sculpting the noses of patients who suffer from rhinophyma. Some years ago, a company that makes training videos for physicians taped one of his corrective surgeries. "Two years later I got a phone call from a woman whose father needed corrective surgery. I asked her how she found me, and she replied that she saw our video on YouTube!
"The most important thing is to provide excellent care so that patients leave with smiles on their faces and good, positive experiences. That's the best way to build a good reputation in the community," Dr. Goldberg says. He also counts doctor referrals as a viable—but not primary source of—new patients. "I've been around for many years. The older doctors have mostly retired, and the younger docs don't know very much about me, and that's why we're bringing in some younger blood. Dr. Beal and Dr. Schram can connect with the younger docs and give the practice a new wave of physician referrals."
With all procedures, Dr. Goldberg stresses the importance of sticking with the patient until you get it right. "I try to under-promise and over-deliver," he says. "I sit with the patient and ask 'What bothers you?' and I won't charge the patient until we get it right. If I can't get them where they want to be, I'll send them to someone who can."
Practice Challenges
Mirroring the sentiments of many physician-owners, Dr. Goldberg notes that his biggest practice management challenge has been "human resources, by far." In order to allow the providers to focus on care and keep staff turnover low, the practice has a large administrative staff, including a practice administrator and administrative associate to take care of human resources and help manage the day-to-day staff concerns, as well as a business operations manager, operations director and cosmetic department director.
"You need the right administrator. Someone who is really skilled in HR and has a knack for identifying problems, nipping them in the bud, and bringing people together to find positive resolutions to conflict. That's what we have, and it is a very unique skill set," he says. "We have very high overhead but our staff satisfaction is very good, which helps me sleep like a baby at night."
The practice offers team-building and morale-boosting activities, such as movie nights, team dinners, pool parties and fun runs, but maintaining a strong team requires more than team-building and social activities. "Identify problems early and correct them. When you need to fire someone, do it," says Dr. Goldberg. "You don't want to have people around who are a drag on your operation.".
Merging Private and Professional Passions
Dr. Goldberg is thrilled that both his son and daughter have followed him into the medical field. "My daughter is a doctor in public health and my son is a dermatologist—that tells you something about how much I love my career," he says.
In addition to dermatology and laser surgery, he is enamored with photography. "I am a photo nut. My real passion is photography," he says. "I take all kinds of photographs, not only lesions and patterns of lesions but patterns of nature. It's really fascinating for me." The practice has a database of more than 150,000 digital images, and Dr. Goldberg's landscapes are displayed throughout the office.
In recent years, he has cut back to three days a week at the practice so he can enjoy life a little more. He takes part in medical missions in Honduras and relishes the time he spends with his grandchildren—one toddler on the West coast and one on the East. But retiring completely is a question that has yet to be answered.
With more than three decades in practice, he still revels in the reactions of patients who've been revitalized with cosmetic procedures and children who've been relieved of port wine stains and other disfigurements. "Just to see them flourish…I'm seeing some of them as adults now, and it's just great to see how it has changed their lives," he says. "How do you walk away from that after 35 years? It's hard. As long as I still have the desire I'm going to keep doing this. If I can maintain a waiting room full of patients with these kinds of challenges, bring it on!"
Shelley Moench-Kelly, MBA, is a freelance writer based in Newport, VT.
Photography by Rick Peterson