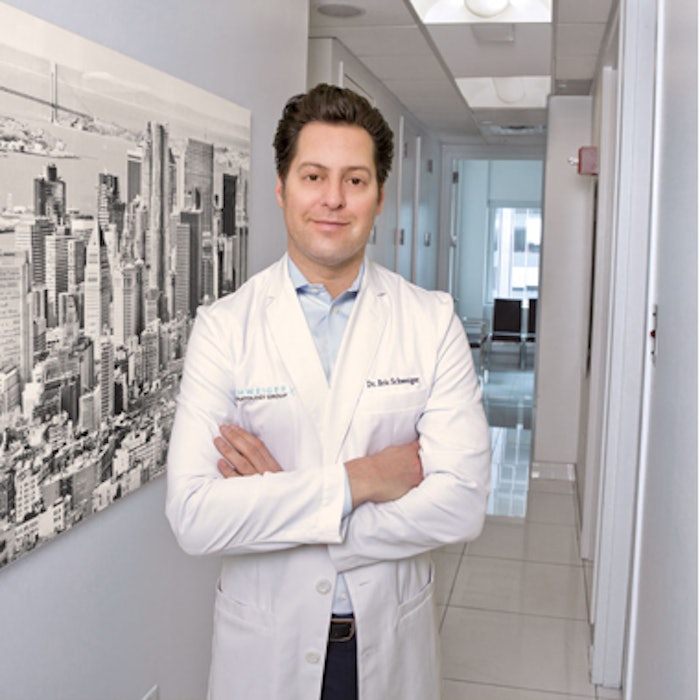 When New York City-based dermatologist Eric Schweiger, MD, opened a private practice in midtown Manhattan in 2010, he had no idea it would one day become the first of 40 Schweiger Dermatology Group locations, treating more than 325,000 patients in the last year alone. He credits his fast growth to his patient-centric philosophy, his deep understanding of New York City patients and an entrepreneurial outlook.
"There was no grand plan to have 40 offices," he says. "It was about putting one foot in front of the other, finding good providers and evolving with time. My mindset was to create the ultimate patient experience. That means letting patients be seen when they want to be seen, making sure they have a good experience at every touchpoint and focusing on all aspects of dermatology."
The son of a physician, Dr. Schweiger knew at an early age he wanted a career in medicine. He received his medical degree at the Albert Einstein College of Medicine in New York and flirted for a bit with pursuing psychiatry, but the treatment variety and patient diversity in dermatology won him over.
"I found dermatology during medical school, and I liked that it married medical and cosmetic procedures as well as noninvasive and surgical and that there were young patients and old patients," he says. "I could do a full skin exam on one patient and excise a skin cancer on the next patient's back. Thirty minutes later I might be injecting Botox or doing a laser treatment."
He continued his training at New York University and served as chief dermatology resident at the University of Kansas Medical Center.
After completing his residency in 2008, Dr. Schweiger went to work at a dermatology group practice in New York City before stepping out on his own. "After residency, I had large amount of medical school debt and even had to get a guarantor on my first apartment," he says. "After two years of working hard, I saved a little money and decided I wanted to open my own practice."
The Doctor-Entrepreneur
He found what he felt was the "perfect location" in midtown Manhattan. With six exam rooms, the office on East 55th Street was larger than he needed, but he took the leap and it quickly paid off. "This was at a time when patients first started looking for doctors online, and most practices really didn't know how to target them," he says. "I read SEO for Dummies and wrote all the web content myself. Pretty soon, we were No. 1 on Google for all the key words in dermatology and the patients started to come."
He catered to his patients with convenient hours. "In New York, everyone wants to be seen at the beginning of the day, end of the day, or during their lunch hours," he says. "I realized that it was OK to hire new doctors to meet that demand even if the practice was not 100 percent booked."
He also decided to accept all insurance plans—even those with fairly low reimbursement rates—because it
allowed him to accept all prospective patients and physician referrals.
In 2012, he opened a second office. A year later, two more, and in 2014 he saw a sea change coming that provided an opportunity for more substantial growth.
Dr. Schweiger began to notice two distinct groups of dermatologists: those in the second half of their careers looking to reduce their hours and step back from their practices, and those fresh out of residency who were ready to begin their careers. "I saw an opportunity to buy practices from the doctors who no longer wished to deal with the business side of the practice and staff them with new doctors," he says.
Embracing Practice Administration
As his practice grew, Dr. Schweiger soon realized he enjoyed the business side of dermatology just as much as the patient care. "I became very passionate about the administrative part of the business," he says. He began reading business management books and sought out mentors, including dermatologist Robert Bernstein, MD, a successful private practice owner in New York City, and Roger Medel, CEO of Mednex. "He founded the company in 1979 and it's now a $5 billion public company," says Dr. Schweiger.
In September 2017, Schweiger Dermatology Group opened a corporate headquarters in Queens, New York. Now CEO, Dr. Schweiger assembled a team of administrators to assist him in running the facilities. "I spend a lot of time with these direct-report team members, reviewing our finances, marketing and operations," he says. "We investigate new areas for expansion, including new services we may want to offer."
Physician referrals are now the main source of new patients, along with internet marketing and patient word-of-mouth. Each Tuesday, Dr. Schweiger and his team scan the online review sites to better understand what patients are experiencing and discuss ways to improve care.
"We keep up with current trends and add new educational content to the website," he says. "We do site visits, communications and training. I don't want people to think of us as being 40 different offices, but as one practice that has 40 different locations."
He visits all the offices quarterly to meet with the staff and providers, and the company hosts an annual staff meeting where all doctors and employees review the past year and discuss goals for the upcoming year.
Dr. Schweiger also continues to see patients once a week. "I really like seeing patients, but I also really like building the business," he says. "So I enjoy that one day a week. I also pride myself on hiring good doctors and making sure that patient satisfaction is high. My role as an administrator is just as important as that of a provider, it's just different."
One of the challenges of managing so many offices is maintaining consistency while still embracing each location's uniqueness. "The offices are different. If you go to our midtown Manhattan or Mattituck, New York, or Freehold, New Jersey, locations, you are going to see different patients, different providers and a different mix of services. Some practices do more cosmetics, others specialize in skin cancer or have a large acne patient base," he says. "The mission of delivering the ultimate patient experience bonds us together."
Even while on vacation or traveling, Dr. Schweiger continues to oversee his practice. "I do not separate work from vacation. Twice a year, I take 10 days off to travel and experience a new culture," he says. "Still, whenever I can get a Wi-Fi connection, I check in to make sure everything is OK. I think having a good a work/life balance is great if you can achieve it. But for me, I have an enjoyable life without ever fully checking out of the business."
Keith Loria is a freelance writer based in Oakton, Virginia.
Photography by Keith Barraclough