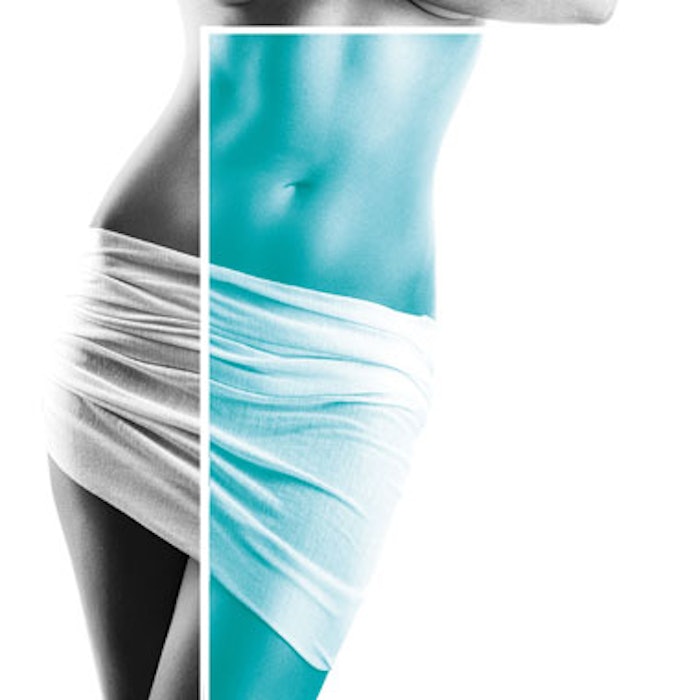 A recent report from Axiom Market Research and Consulting Group forecasts 8 percent growth in body contouring procedures in the next five years, with the greatest rise occurring in noninvasive and minimally invasive techniques. This is not surprising to many practitioners who have witnessed the soaring popularity of CoolSculpting (cryolipolysis), the first noninvasive fat-reduction device approved by the U.S. Food and Drug Administration back in 2010. During the ensuing years, an array of competitive devices has joined the market, using not only freezing but also targeted heat from lasers, radiofrequency (RF) and high-intensity focused ultrasound (HIFU) to destroy unwanted pockets of fat.
One of the challenges in identifying the best fat reducing and body contouring technology is that these systems tend to offer comparable results. "We were involved in the initial trials with CoolSculpting 12 to 15 years ago," says Robert A. Weiss, MD, of Maryland Dermatology, Laser and Vein Institute, Hunt Valley, Maryland. "We were seeing a 24 to 25 percent fat reduction then. Everything introduced since, whether the energy source was radiofrequency (RF), laser or ultrasound, markets a 25 percent fat reduction. We just had a presentation of a new RF device this week and, yep, it offered 25 percent fat reduction."
"There are a number of things that work, including CoolSculpting, RF and laser devices such as SculpSure (Cynosure) but no gold standard procedure if you define that as something a majority of practitioners would call the best available treatment," says Emil Tanghetti, MD, Center for Dermatology and Laser Surgery, Sacramento.
Comparing the Options
With no gold standard treatment, which of these devices are right for your patient base? "In our practice we have a number of body-contouring tools and use them based on the patient's specific needs," says dermatologist Bruce Katz, MD, who has offices in Manhattan and Woodside, New York. "We divide these treatments into three areas: fat removal, skin tightening and cellulite reduction, and three approaches: surgical, minimally invasive and noninvasive. For fat removal, the gold standard is liposuction. With noninvasive procedures, we see modest results at best. CoolSculpting was the leader in noninvasive body contouring and is still one of the most popular treatments. Ultrasound offered an alternative, but no better outcomes. SculpSure (Cynosure) was a real innovation because the thermal-based treatment not only removes fat but also visibly tightens skin."
SculpSure, the first FDA-cleared laser treatment for noninvasive body contouring and submental contouring, is FDA-cleared for individuals with BMIs up to 43. Procedures take about 25 minutes and patients typically see improvement within several weeks but, as with cryolipolysis, multiple sessions are usually required for significant improvement.
Dr. Tanghetti likes SculpSure's versatility. "SculpSure's four applicators easily adapt to a variety of body shapes and sizes. We have two devices, which gives us access to eight applicators. With these we can cover a good portion of the body in one session. The ability to use multiple applicators at once speeds up treatments and offers efficacy with safety," he says.
The body part Dr. Tanghetti is addressing often determines the procedure he recommends. "For under-chin fat—which has become a big deal in our practice—you have several options, including Kybella, SculpSure, which has an applicator that adapts well to the area under the chin, or the CoolSculpt Mini," he says. "Kybella brought in a lot of new patients. Unfortunately, many were disappointed because of side effects, such as swelling, and the need for multiple treatments. Both SculpSure and the CoolSculpt Mini have fewer side effects and offer good or better results with fewer treatments."
Other important considerations are equipment cost, per-treatment costs and staff time required. "One reason CoolSculpting has been so successful, in addition to being the first in its category, is that it requires far less staff time than most other devices," says Dr. Weiss. "The only device that requires less time than CoolSculpting is the Vanquish ME (BTL Aesthetics), which has a single panel that delivers selective RF energy to larger areas, heating and destroying fat cells. We use all of these technologies, depending on the patient's needs and wants. They all work 85 to 90 percent of the time. Everything works better for younger, fitter patients."
Dr. Weiss recommends CoolSculpting for patients who have enough fat to suction in the area to be treated. "If they do not have enough fat to suction, SculpSure can be used directly on the skin to achieve similar results. For overweight patients, we offer a series of three Vanquish ME treatments to debulk patients and then offer additional CoolSculpting or SculpSure treatments as needed," he says. "For patients who want no discomfort, we offer UltraShape. The per-treatment cost is higher because it must be operated by a PA-level staff person and requires hundreds of pulses, but some patients are willing to pay more to avoid the few minutes of discomfort they might feel during cryolipolysis or laser treatments."
UltraShape (Candela) uses high-intensity focused ultrasound (HIFU) to reduce localized fat deposits and improve body shape. The newest system integrates vacuum-assisted RF to enhance fat-cell destruction, expedite fat clearance and tighten skin.
Jason Emer, MD, a dermatologist serving Beverly Hills and Los Angeles, often combines noninvasive cryolipolysis spot treatments with a series of Vanquish ME treatments in a service he calls "Fire and Ice." "We have seen patients drop up to two pant sizes with a series of six weekly, 25-minute Vanquish treatments, in addition to the localized fat reduction treatments," he says.
He recently added to his practice TruSculpt iD, an RF-based system for body contouring from Cutera. "It delivers heat via up to six flat panels that can be positioned in multiple areas, allowing you to treat several pockets of fat in one 15-minute, hands-free treatment," says Dr. Emer. "Fat reduction is permanent, and the treatment also tightens skin. TruSculpt takes less time than CoolSculpting, and patients don't have the bruising, pain and swelling associated with cryolipolysis."
New Technologies
Emsculpt by BTL Aesthetics is the most recent innovation in noninvasive body contouring. "Emsculpt uses high-intensity focused electromagnetic energy (HIFEM) to not only take away fat but also to build muscle—something we could never do before," says Dr. Katz. "It produces supra-maximal muscle contractions—up to 20,000 muscle contractions in a 30-minute period, far more than you could do in the most intense workout. I was one of the original investigators of this device and various measurements showed thickening of current muscles, new muscle development and reduction in the fat layer. It is not a replacement for exercise but, for specific areas, it can work faster and better than exercise."
Dr. Weiss finds that the Emsculpt is especially good for patients over 50 with lax muscles. "We have found that with these patients removing fat doesn't always produce the shape they desire. Adding Emsculpt provides better abdominal contour, and with two panels, we get great results with buttocks," he says.
Unlike other noninvasive body contouring devices, Emsculpt does not destroy fat cells. Instead, BTL Aesthetics says results derive from about 15 percent metabolic fat burn and an average 16 percent increase in muscle mass. Patients begin to see results two to four weeks after four treatments. Results peak at about three months but may continue to improve for up to six months.
"Emsculpt is not for long-term tightening or contouring," cautions Dr. Emer. "It could be helpful for a few who want to jump-start an intense exercise regimen and for those who can afford ongoing maintenance treatments, but its effects fade just like the effects of exercise if you do not work out regularly. It can, however, be used to enhance other noninvasive body contouring technologies when used in combination."
Patricia Froes Meyer, PhD, professor of physiotherapy, with an emphasis on body shaping, at the Universidade Potiguar, Natal, Rio Grande do Norte, Brazil, is impressed with a new procedure called Contrast Cryolipolysis, which she and her colleagues presented in the September 2018 issue of the Journal of Cosmetic Dermatology. The procedure involves heating, then cooling, then heating the subcutaneous fat layer to destroy fat cells. Initial studies have shown 25 to 50 percent fat loss after one treatment.
Professor Meyer has continued to study this technique. She says it offers "superior results compared to conventional cryolipolysis." The procedure takes longer because of the need to preheat before cryolipolysis and reheat at the end.
Adjunct Treatments
Dr. Tanghetti predicts that future improvements will result from combining current treatment options. "For example, we use Tempsure Envi (Cynosure) as an adjunct to the deeper heating of SculpSure and see improved outcomes," he says. "Some newer devices combine multiple energy sources in one device, but we think it makes more sense to simply combine the tools we already have. The one thing I would like to see going forward with thermal-based body contouring devices is the ability to do real-time heat monitoring. Some RF devices offer forms of real-time monitoring but I haven't seen this with laser or cryolipolysis devices."
Other practitioners use mechanical, chemical and even topical adjuncts to improve the results patients get with noninvasive body contouring procedures.
"ZWave therapy after SculpSure and CoolSculpting treatments helps fat go away sooner. It can also be used as a standalone treatment for cellulite," says Dr. Katz. "We have even found that using it after tattoo removal treatments helps tattoo ink go away faster." The ZWave (Zimmer Aesthetics) uses radial shockwaves, also known as Radial Pulse Therapy (RPT), for skin tightening, cellulite reduction and general connective tissue tightening. The mechanical action of the shock waves increases the number of fat cells receiving a lethal dose of heat or cold. The device includes preset programs to address cellulite, stretch marks and scars, and for use in combination with noninvasive body contouring devices.
Dr. Emer has used the ZWave in the past but now prefers eVIVE pulse wave therapy from Eclipse as an enhancement treatment with noninvasive body contouring.
Dr. Kilmer recommends Alastin's new topical, TransFORM. "In a small, double-blind, placebo-controlled study in which we used several different body contouring devices, we found that using TransFORM postprocedure twice a day for five to six weeks enhanced fat loss on the treated side," she says. "We have a larger study underway to confirm these findings."
Dr. Weiss sees a simpler future for nonsurgical body contouring. "Eventually someone will come up with an injectable less expensive than Kybella to reduce fat, something that can be applied to larger areas," he says. "An efficient, effective injectable would make it unnecessary to purchase expensive equipment, which would certainly expand the use of noninvasive body contouring procedures."
Linda W. Lewis is the contributing editor of MedEsthetics.
Image copyright Getty Images