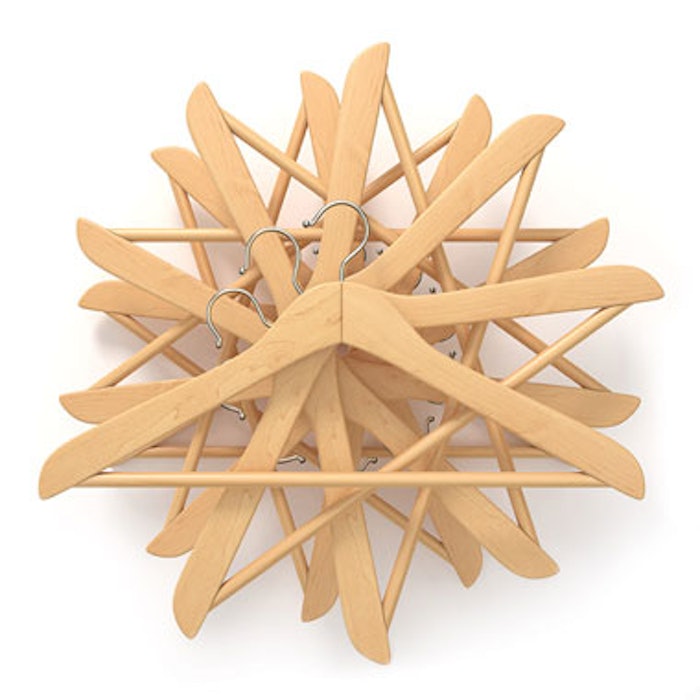 Medspas and aesthetic practices seeking innovative ways to better serve clients and generate local word of mouth may want to take a cue from the spa industry. Some of the country's top spas have been growing their retail revenue and attracting new clients by displaying clothing and accessories alongside their professional skincare products. UV protective hats and clothing that complement topical sun protection products and one-of-a-kind apparel from local designers are among the offerings that appeal to consumers who want to look their best.
"Fashion is big business, and shopping is an integral part of pampering yourself," says Nancy Griffin, principal at Contento Marketing, a strategic marketing firm for the spa and wellness industry. "With the right merchandise and sales strategy, apparel can set your boutique and the spa experience apart—and create profits."
At both The Spa at Pebble Beach in Pebble Beach, California, and The Spa at Fess Parker Wine Country Inn in Los Olivos, California, apparel has become the No. 1 retail category in their boutiques, accounting for 57 percent and 76 percent of retail profits, respectively. Meanwhile, the spa boutique at Miraval Arizona in Tucson has been increasing the availability of fashion items—which now account for about 30 percent of its retail—in recent years. "This has led to overall guest satisfaction and more revenue," says spa retail manager Valerie Lindquist.
Fashion Forward
When deciding what kind of apparel to carry, take a cue from your clients—whether they're sporting workout clothes or dressed to the nines in a tailored jacket and pearls, they'll be your best barometer. "I love to watch what our guests are wearing," says Lara Davidson, spa director at The Spa at Pebble Beach, which carries everything from athletic wear to flowy dresses.
The offerings should also reflect and reinforce your brand. "If you're a wellness spa, it can be a perfect product extension to carry athleisure or comfortable clothing in natural fibers," says Griffin. "If you're a medspa, you may want to stick with things like sun hats—especially if retail space is limited."
Since Miraval's boutique is located a short walk from the pool, it sells a wide selection of swimwear, cover-ups, sunglasses, hats and sandals. "We've also had success carrying gemstone jewelry with educational pieces—these tie into spa services and other programming around the resort with their different healing properties," says Lindquist. "Our luxurious robes and furry slippers are always a huge hit, too; although guests enjoy bringing home skincare and body products used in their treatments, they also want something for everyday wear that reminds them of their time here."
The spa boutique at Fess Parker caters to a lot of locals, so it strives to showcase emerging designers from the area, including Joah Brown activewear and Hammered Hoops jewelry. "Source brands that provide what your clients want, and are also appealing because of their differentiators," suggests spa manager Trish Hecker. "This not only gives clients a sense of discovery, it personalizes the boutique and makes it 'your' shop."
Working with the same group of designers also allows you to use a "fill-in" strategy when stocking new items. "This means we continuously mix and match our merchandise throughout our floor display and never have to wait for a line to clear. We simply fill in merchandise, as opposed to selling out a collection before bringing out the new," says Hunter Matela, spa manager at Glen Ivy Hot Springs in Corona, California.
When investigating lines to carry, make sure they include items that will complement clients' physiques. "We see all ages and body types, so it's important to provide swimsuits that will look good on everyone," says Matela. "In resort wear, we stick with items in a S/M/L/XL size run as opposed to numbered sizes to keep shopping and fit easy for our guests."
One-size-fits-all pieces including hats, scarves, sunglasses and wraps can be a hit as well. "There's a big market for impulse buys and gifts, and these items don't need to be tried on," explains Griffin.
Multiple price points can also work to your advantage. "Our sunglasses are $40, but we sell a $400 jacket and there are a lot of things in between—that way there's something for everyone," says Davidson.
Merchandising Wins
How you showcase apparel and accessories can make them move even faster. "You don't want sad racks that look junky or overrun. You want light, airy and curated," says Griffin.
The retail area at The Spa at Pebble Beach saw a 12 percent increase in clothing sales after introducing simple, streamlined display poles. "We have a very small space and having a multifunctional, changeable display is really helpful," says Davidson. "They're super easy to put together and move around, which makes seasonal swaps fast and keeps things looking fresh."
Similarly, mannequins can make a difference. "Whenever you put something on a mannequin, it definitely draws customers into the retail area," says Davidson, who has them strategically placed at the boutique entrance, as well as in the reception area and women's locker room. "We also have a mannequin next to the cashmere ponchos, and sell two or three of those every single day," she adds.
Don't just dress and forget them, though—change the looks regularly to play up new and/or seasonal merchandise. "We rotate our mannequins every other day, due to our high guest count, and anything displayed is likely to sell out within the day," says Matela.
Creative table displays can be a boon for business, too. "These are often the key to our best sales—by presenting a complete look, such as swimwear, cover-ups, hats, bags and gift items, the guest is drawn to the table," says Matela.
Starting Small
While variety is important, you don't have to go overboard on clothes that tie up money and storage. "Remember, you're not a department store—it's okay to start small," says Matela, who used to buy full collections, but learned the key to success is well curated mix-and-match pieces with visual continuity.
As with retail skincare products, you don't want to wind up with excess offerings that you end up having to discount, so work with vendors who are willing to work with you. "Most won't let you straight up send an item back, but if a shirt or jacket isn't moving at all, some will let you swap it out for something that might be more viable," says Davidson, who suggests asking about return policies up front.
Strong vendor relationships can also maximize your margins and offer added value to your guests. "Working closely with brands could mean a percentage off wholesale pricing, free shipping, free additional units added to orders, free units sent to staff or a gift with purchase," says Matela.
In her 18 years at The Spa at Pebble Beach, Davidson has seen retail profits from clothing nearly triple. "Generally, most clothing is a double markup, so margins are good," she says, adding that flexible pricing has also made an impact. "Eighteen years ago, you could charge what you felt was appropriate. Now you generally have to go with the MSRP because people will stand there and look it up on their phones," she explains.
That said, Matela uses the "times two, plus two formula" for apparel and swimwear. "In other words, we add $2 to the MSRP in these categories," she explains. "We also do our best to stay on the cutting edge by attending annual fashion trade shows like MAGIC and Swim Collective."
The amount a practice stands to make with apparel offerings will depend on its market, how many clients come through the door and how many items are available. "But there is a potential to make a lot of money," says Griffin.
Allison Young is a freelance writer based in Phoenix.
Image copyright iStock.com/djmilic