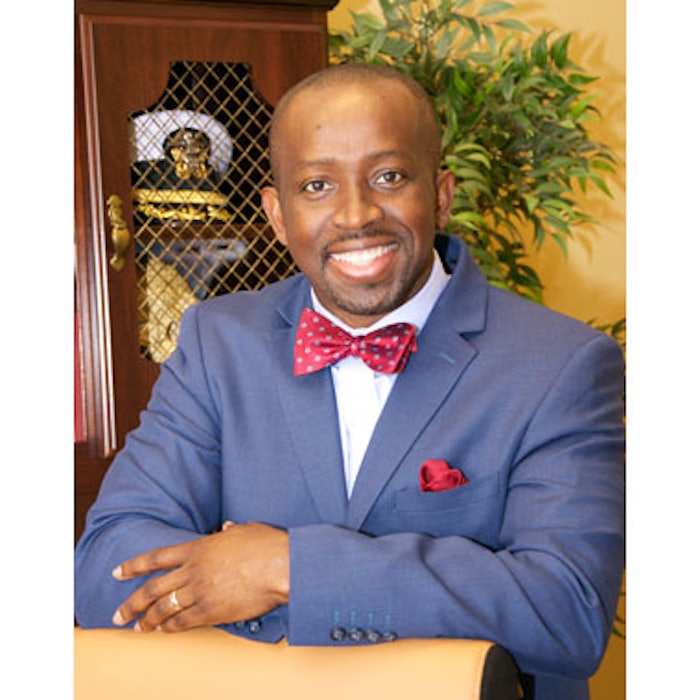 "Thank you for calling. How may we enhance your looks so you can enjoy your life?" This invitation greets patients when they call the offices of plastic surgeon Stanley Okoro, MD, also known as "The Bow Tie Doctor" due to his penchant for stylish bow ties that accent his suits and reflect his vibrant, ebullient nature. Dr. Okoro is the founder of Georgia Plastic & Reconstructive Surgery in Marietta, Georgia, founded in 2010, and Abuja Plastic Surgery in Nigeria, which currently has two locations and opened in 2012.
Born and raised in Nigeria, Dr. Okoro's father was a businessman, lawyer and philanthropist. There was no hospital in their village, so his father built one. "My father provided medical access to the villagers…to his people. He hired doctors from India, and I got to hang out with them," says Dr. Okoro. "I was just fascinated watching them work. One of them even removed my appendix, and I survived! I wanted to be like those doctors."
This year marks the 10th anniversary of Georgia Plastic & Reconstructive Surgery, and the practice is flourishing. It boasts 27 staff members in a 14,000-square-foot space that contains an on-site surgery center as well as the Amachi Medspa. Staff members strive to give every patient the "Georgia Plastic Surgery Experience," which begins with the first phone call and carries through the entire patient experience.
"We want to connect with every person who contacts or enters our practice on some level," says Dr. Okoro. "That is part of our greeting and consultation protocols—we are going to be honest and transparent with the patient at every transaction point." New patients receive a tour of the facility and undergo a thorough consultation with staff even before they meet with Dr. Okoro or Daniel Park, MD, the other plastic surgeon in the practice.
Dr. Okoro's current success has not come without obstacles. "As a child, I stuttered a lot. Sometimes I couldn't even form a complete sentence," he says. "My dad said that surgeons at that time (in the 1970s) had prestigious careers, and that they didn't have to speak that much. My parents told me I would do very well, since I could do surgery on patients without really ever having to speak to them."
It wasn't the only challenge Dr. Okoro had to tackle. "I had to work very, very hard to prove myself in the United States. I'm a Nigerian immigrant, and some people don't think [non-native Americans] are good enough," he says. "Someone once told me that I could never become a doctor because I was a foreigner; that I'd be better off working in a lab, and that nobody would hire me because I had an accent and because I was black. I had to work three times harder than my peers just to succeed. It was worth the struggle though. It makes me so much more appreciative of what I have achieved."
Persistence Pays Off
Dr. Okoro attended medical school at Meharry Medical College in Nashville, Tennessee, where he graduated with honors before completing a general surgery residency at Emory University in Atlanta. Following residency, he joined the United States Navy, where he served as chief of general surgery for four years.
It was during his general surgery training that Dr. Okoro discovered plastic surgery. "A breast cancer patient requested breast reconstruction, which I found fascinating," he says. "The attending physician invited me to observe the procedure, which was done by Dr. John Bostwick, the chief of plastic surgery at Emory University. His way of performing the TRAM flap reconstructive procedure was so fabulous. It was a work of art, and I thought 'This is the best thing since sliced bread!'"
He and Dr. Bostwick hit it off, and the older surgeon supported his desire to enter the field of plastic surgery. He even offered to train Dr. Okoro, but there was a problem. Dr. Okoro had already committed to working as a general surgeon in the Navy. "I called my recruiter and told him I wanted to be a plastic surgeon. The response was 'no,' because I'd signed a contract for general surgery, and the Navy didn't need me as a plastic surgeon, they needed me as a general surgeon," he recalls.
Dr. Okoro applied annually for five years before the Navy allowed him to pursue a plastic surgery residency, which he completed in three years at the University of Texas Health Science Center at San Antonio. Part of his "release" agreement was that he would return to the Navy after the residency. He practiced for two years (2008-2010) as chief of plastic surgery at the National Naval Medical Center in Bethesda, Maryland, and served a total of 12 years in the Navy. "I learned about leadership, discipline and servant leadership, where you serve people," he says. All important skills for a physician and private practice owner.
An Owner by Necessity
Dr. Okoro's post-Navy plans were to work for an established practice or in a hospital, but when he left the Navy in 2010, America was in the middle of a great recession. "I applied to many different hospitals, but nobody was hiring. I told my wife that I wanted to go back into the Navy. She encouraged me to open my own business. My wife is the reason we have the practice," he says.
In the beginning, he couldn't afford to hire anyone and, due to the recession, banks were not issuing loans for new businesses. So his wife joined the practice as his support staff. "The initial struggle was having enough business to support ourselves," says Dr. Okoro. "Atlanta is a popular location with a lot of well-known plastic surgeons. During the recession of 2010, fewer people were getting elective surgery. I did wound care and whatever else I had to do to feed my family."
As the recession eased and the practice grew, his biggest challenge became staff turnover. "You hire people, you invest resources to train them, and then they leave," says Dr. Okoro.
Over the years, he developed a strategy for finding the right candidates. "We've learned how to select new staff in a very special way; we call it the 'Georgia Plastic Surgery Way,'" he says. Candidates first go through a Skype interview. "We have a high-tech office, so if they can't figure out how to use Skype, we don't need to go further with the interviews," he says. "That's the first test."
Candidates who make it through the Skype interview then come in for a one-to-two hour face-to-face interview with the staff. The top applicants are invited back for a working interview, where they spend four-to-eight hours in the practice, interacting with the staff. After the working interviews are complete, the practice team gets together to select the best candidate. Why all the extra care? Dr. Okoro notes that some candidates may look great on paper, "but they don't treat people right. We've learned to hire for attitude. Skills we can teach," he says.
Taking the time to find the right candidates for the practice has paid off. "There's little to no drama in our office. My staff are wonderful. I wish they could all stay here, and we could all retire together," says Dr. Okoro.
A Seat at the Table
The field of plastic surgery is constantly changing, and Dr. Okoro is committed to keeping up with the changing services and business models. "I am very excited that there's so much new technology in the nonsurgical arena," he says. "I love procedures with minimal downtime. I think that 100 years from now, there probably will be gene therapy, and people will be shocked to know that surgery used to be invasive. That's exciting for me. I imagine a patient with an injury could donate a piece of himself and doctors will be able to manifest a new limb by genetic manipulation, for example."
The flow of noncore physicians into the cosmetic surgery and medical aesthetic field is another trend Dr. Okoro urges plastic surgeons to take seriously. "Insurance reimbursements are decreasing, and physicians are being forced to do what they need to do to feed their families. They're doing things that they are not traditionally trained for," he says. "They're going into medspas."
As professional societies seek to slow the growth of the medspa industry and differentiate themselves based on training and board certification, Dr. Okoro has chosen to embrace these changes, which, he notes, are also being driven by the millennial patient demographic. "The new generation of patients is doing things to maintain and prevent—I call it 'preventive aesthetics' or 'prejuvenation'—rather than waiting until they're older or in greater need of rejuvenation before seeking plastic surgery," he says. "Going forward, there will be less demand for facelifts and tummy tucks, and the role of the traditional plastic surgeon will change."
For the past three years, he has been a guest lecturer at the Medical Spa Show in Las Vegas. "I see what's happening and I want to be part of this change. If you're not at the table, you're on the menu. I choose to be at the table," he says.
He advises those new to plastic surgery to keep their overhead low, collaborate with other plastic surgeons and "Don't be greedy. Be open to this new shift to a nonsurgical medspa practice model," he says.
Paying It Forward
As the son of a philanthropist, helping others in need is an important part of Dr. Okoro's life and career. He heads the Georgia Plastic Foundation, a nonprofit, charitable organization that organizes medical missions to developing countries, and is the former executive director of Imo Medical Mission, which brings free medical and surgical care to patients in Imo State, Nigeria.
"I always wanted to give back to the community where I was born," he says. During a medical mission trip to Nigeria several years ago, he saw a newspaper ad by an Indian company soliciting plastic surgery services. "The company was recruiting people from Nigeria to go to India to have plastic surgery. That didn't sit well with me," he says.
He turned once again to his wife, who encouraged him to take action. In 2012, he launched Abuja Plastic Surgery to not only give back to the community where he came from, but to reduce medical tourism to India. "Patients who experienced complications were coming to me for help. That's how Abuja Plastic Surgery began," he says. "My practice in Georgia helps to fund the humanitarian missions that I do in Nigeria, and I do them twice a year, in April and December. It is absolutely the most rewarding work that I do."
Shelley Moench-Kelly, MBA, is a New York-based writer, ghostwriter and editor.