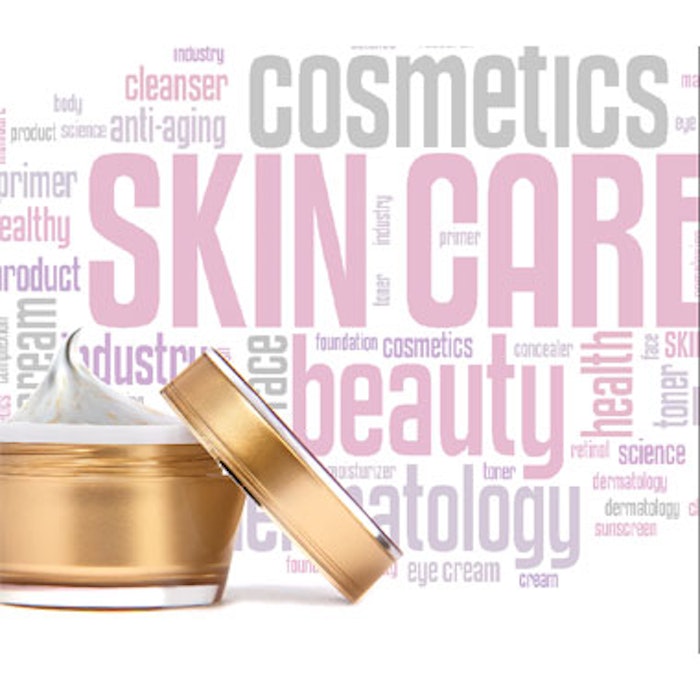 Retail skincare products offer several benefits to aesthetic patients and practices. They help patients protect the health of their skin and maintain the results of in-office treatments, while providing an additional source of ongoing revenue for the practice. The challenge is that with so many online and brick-and-mortar retailers offering high-end skin care, patients naturally shop for the best deals on their favorite brands. One way to both keep revenue within your business and ensure that patients are using products that offer the greatest benefits for their concerns is to carry a private label line. The process of launching your own skincare line may seem daunting, but it can be done at relatively low cost with a surprising amount of manufacturer support.
Pros and Cons
The No. 1 benefit of private labeling is exclusivity. "Patients can only purchase a private label product from the physician offering that line," says John Kulesza, founder and president of Young Pharmaceuticals, a skincare company that offers both branded and private label products. Additional benefits include the ability to build your brand through your private label line and offer cost savings on high quality products.
Jessie Cheung, MD, of the Dupage Dermatology & Laser Center in Willowbrook, Illinois, chose to create a private label line for her practice because it allowed her to develop unique formulations that she believes in. "The products contain the exact ingredients I want, and it allows me pass the savings on to my clients," she says. "In addition, these products can't be price-shopped on the internet."
Angelia Inscoe-Rankin, CEO of skincare manufacturer Induction Therapies, notes that because these lines are exclusive, physicians can set their own margins based on what their local markets will support, and the lines double as a marketing tool. "If a friend says my skin looks fantastic, I can give her my doctor's information right off the bottle," she says.
Private label products also increase loyalty and serve as an ongoing market piece for existing patients. "Every time the patient opens her medicine cabinet, she is reminded of your brand and your practice," says Kulesza.
The flip side of exclusivity is consumer uncertainty: It's natural for people to question something that's new and potentially unproven. They may gravitate toward recognizable, branded lines rather than take a chance on an exclusive one. "When a product shows up in Allure magazine as a celebrity favorite or is featured on a morning show, patients are going to pay extra attention and come into the office seeking that product," says Delaram Saidi, founder and principal of DS Group Consulting.
Branded product lines also offer a significant amount of marketing support to the practices that carry them, including product displays, testers, samples and marketing materials, as well as access to educators who will train staff on retail sales and individual product benefits and indications.
Therefore, it is crucial for practices considering private label to ask their suppliers what type of marketing and educational support is available and request ongoing training for staff, so they can educate patients on the active ingredients and help promote the in-office line, says Kulesza.
Many private label formulators have graphic designers on staff to help you develop your logo and offer collateral materials like sales sheets, shelf talkers and samples. "We also encourage practices to host an event and have either myself or one of my reps come in to help promote the new line," says Inscoe-Rankin. "It's the doctor's line, and we are presented as the company that helped formulate it."
In order to take advantage of the benefits offered by both private label and branded products, she recommends that practices carry one or two established name brand lines in addition to their own private products. "Because the patient trusts the name brand already, she will likely trust your line by association as well," says Inscoe-Rankin.
Image copyright Getty Images
[PAGEBREAK]
Existing vs. Custom Formulations
If you would like to add a private label line, you can offer either existing formulations with your own personalized packaging and logo, or formulate truly customized products.
The majority of Kulesza's customers select their products from his existing line. "Our products are only sold to physicians, so they know that the distribution is very limited," he says. "These are not products that a patient can easily obtain in a store or on the internet."
Adding your custom label to an existing product line is the most cost-effective option. "If the practice starts with a dozen skin cleansers or moisturizers, it can easily be done for less than $1,000," says Kulesza. "In most cases the order minimums are very small, plus there are new ways of labeling private label products through on-demand printing that are very economical and high quality. This technology has revolutionized the private label business."
The minimum order for Induction Therapies' private label products is 12 products. "A general line consists of a cleanser, an eye cream, a sunscreen, a moisturizer and a retinol, but there's so much more you can add," says Inscoe-Rankin, noting that most practices can launch a line of existing formulations for less than $2,000.
Customization allows you to create exclusive products based on your expertise, but it is significantly more expensive and time consuming. Dr. Cheung's private label line includes both existing and custom blends. "It will cost at least $10,000 just to get started with a few custom products," she says. "Often I will tweak existing formulations to improve the texture, weight, 'slip' and feel of the product. There is a lot of effort that goes into the design and packaging as well."
Saidi concurs that the biggest investment is often time: "time to research and find the right partner, and time to really develop the products with the right actives and delivery systems that are reflective of the MD's philosophy," she says.
Launching Your Line
As mentioned above, physicians who choose to create their own private label lines do need to take on the added responsibility of marketing those products and building the brand name. Kulesza recommends using lighted displays to highlight the products and keeping all shelving spotless with regular dusting and upkeep. "If you're worried about people putting things in their pockets, then put empties in the display," he says. "Present the line in a way that's exciting and makes the patient want to know more."
Dr. Cheung encourages staff members to use her line so they can share the benefits with patients. "Your clients are looking to you for guidance and will trust your advice, so invest in quality products that you are proud of and promote them," she says.
Saidi agrees: "Your greatest sales ambassadors are the staff. Training them on the benefits and having them personally use and believe in the line is key to building and sustaining sales," she says. Saidi also advises practice owners to invest in marketing materials, including customized displays, brochures and shelf talkers that explain the products, their benefits and why they are superior to other offerings.
Image copyright Getty Images
[pagebreak]
PRIVATE LABEL SUPPLIERS
If you are interested in launching your own private label, the following companies offer private label products and services.
Image copyright Getty Images
Shelley Moench-Kelly, MBA, is a freelance writer based in Newport, VT