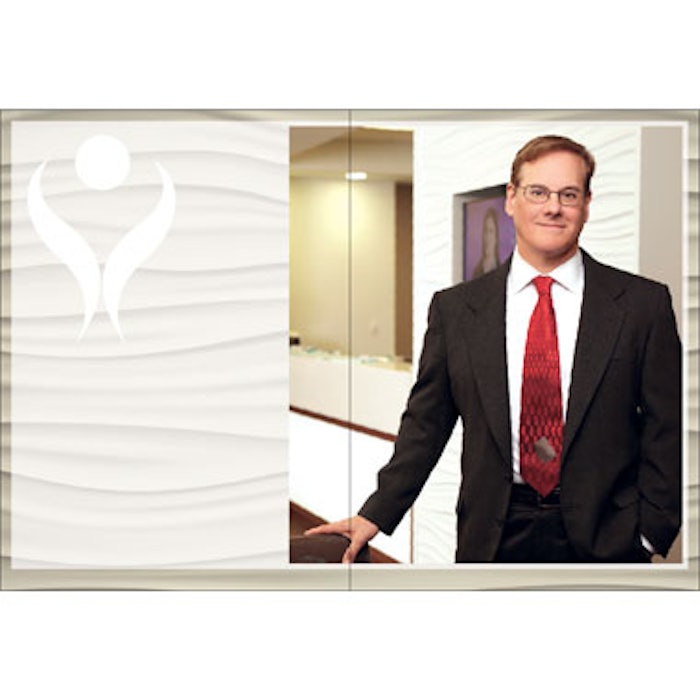 As a teenager, Edward Glassberg, MD, struggled with severe acne and was treated by a dermatologist for several years. The experience led him to consider a career in medicine. After graduating summa cum laude from the University of California, Los Angeles with a Bachelors of Science degree, he was accepted into the University of Southern California (USC) School of Medicine.
"I considered going into neurosurgery for a while, but I didn't love the idea of being married to the hospital and spending so many long hours there," he says. "In my third year of medical school, I started looking into office-based specialties and took a two-month rotation in the dermatology clinic. I fell in love with it."
One of the professors with whom he worked closely was Gary Lask, MD, a laser expert and Mohs micrographic surgeon. "I worked with him one summer and that developed into a long-term relationship. I ultimately ended up doing research with him in the laser field for a couple of years before my residency," says Dr. Glassberg. "I was exposed to a lot of cutting-edge laser technologies and was involved in research during the very early aspects of lasers in dermatology—in the mid-1980s and early 1990s."
Dr. Glassberg went on to conduct research on dermatologic laser applications at Thomas Jefferson University in Philadelphia and Harbor-UCLA Medical Center, where he also completed his residency in dermatology before finishing a formal fellowship in Mohs surgery.
A Friendship Turned Partnership
During his time at USC, Dr. Glassberg met Bryna Kane, MD, a dermatology resident in the Harbor-UCLA residency program. "We hit it off right away; six years later, she was my pediatric dermatology attending when I was a senior dermatology resident at Harbor-UCLA," he says.
He began working with Dr. Kane's private practice on and off during residency. "In my third year of residency, I began moonlighting for her practice when she was pregnant with her son. I also worked for her part time before and after my Mohs surgery fellowship," he says.
In the early 1990s, the two decided to join forces and open the Laser Skin Care Center/Dermatology Associates in Long Beach, California. "We knew that lasers had a promising future. There was a growing demand and not a lot of people offering them," says Dr. Glassberg. "When we started, it was just Dr. Kane and myself, one nurse and one front office person, and we were on a shoestring budget."
The biggest challenge for the fledgling practice was deciding exactly which lasers to add and acquiring the money to pay for them. "The cost can be prohibitive for all that technology. On top of opening a new practice, we had student loans. It's hard to take that big step and do everything you want from the get-go," says Dr. Glassberg. "Our strategy was to start with the three most versatile and in-demand lasers at the time—and we rented them."
They continued to work in their current practices to help bankroll the new business. Within two years, they were both able to leave their old positions and transition to Laser Skin Care full time. As the practice grew, Drs. Glassberg and Kane purchased the three original technologies and several more. Today, the practice has more than 15 different laser devices.
"When we started, there were maybe a half dozen lasers to choose from, but now it's a much harder thing to ponder because there are so many different aesthetic machines and devices," says Dr. Glassberg. "If you want a full complement of technologies, you could easily spend a couple of million dollars or more. My advice to others starting out is to focus on two or three machines, evaluate them and the patients' responses, and as time goes on and your cash flow improves, invest in others."
Finding Balance
Over the years, the practice expanded to its current 13,000-square-foot facility and now includes three partners—Dr. Glassberg, Dr. Kane and Joanna Chan, MD, a Harvard graduate, dermatologist and Mohs surgeon who joined the Laser Skin Care Center about five years ago—plus four associate physicians, two physician assistants, a registered nurse, an esthetician, two dermatopathologists and a dedicated support staff.
"Our aim is not to look like a Beverly Hills plastic surgery office with marble floors and $100,000 art on the walls, but we also do not want to look like a low-budget community clinic," says Dr. Glassberg. "It's elegant and classy but not over-the-top fancy. There are six-foot-wide hallways and lots of lighting; it's very inviting and warm. The staff is professional and friendly, and the nursing stations are open and accessible to the patient care areas. We want people to see this as a beautiful place but also a professional practice."
Photography by Cory Sorensen
[pagebreak]
Laser Skin Care offers medical dermatology services including comprehensive skin screenings, routine medical and surgical examinations, mole and wart removal, and skin cancer surgeries as well as a broad complement of cosmetic and aesthetic procedures.
Surprisingly, Dr. Glassberg never envisioned private practice as his endgame. For several years, he served as the head of dermatologic surgery at the Harbor-UCLA residency program. "At the time, I was working half the time at a private practice and half in academia. I was straddling the two until I ultimately decided I didn't love the environment and politics that went along with academics anymore," he says. "I went to a volunteer teaching assignment and devoted the rest of my time to private practice. I've been a clinical assistant professor at UCLA teaching on a limited basis since then."
Dr. Kane holds clinical teaching appointments at both UCLA and the University of California, Irvine, and the doctors continue to teach residents and fellow dermatologists within the office setting.
A Shift Toward Cosmetics
When the Laser Skin Care Center opened, it focused primarily on medical dermatology procedures with some aesthetic lasers and injectables. Over time, demand for cosmetic enhancements has grown significantly. "By no means were we primarily a cosmetic practice; general dermatology was our bread and butter," says Dr. Glassberg. "The cosmetic side of the practice really evolved as the number of patients interested in skin rejuvenation and minor cosmetic procedures grew."
The motto of the practice is to "treat patients like family," and it's a philosophy that has helped the Laser Skin Care Center grow. "We are very interested in building relationships and taking time to get to know our patients. I like to think of us as the Nordstrom of our specialty," says Dr. Glassberg. "We have a lot of loyalty to and from our staff, and that translates into loyalty with our patients. We are extremely thorough and academic in our approach to care and introducing new treatments."
Part of the Community
One of the principals that has always been near and dear to the doctors of the Laser Skin Care Center/Dermatology Associates is giving back to the Long Beach community. "When you're involved in a community for as long as we have been, you develop a presence and it's important to embrace that. There are over a million people here in Long Beach but in some ways, it's almost like a small town," says Dr. Glassberg. "We give back through charitable organizations and volunteer work; it gives us an opportunity to meet people and it lets them know that we care about our community. That good will attracts people to the practice."
To that end, the doctors created a program called "Erase the Past," which provides free tattoo removal treatments to former gang members. Patients get one free laser tattoo removal session for every five hours of community service they perform in the Long Beach area. They typically need 8 to 10 treatment sessions total.
"These are former gang members who want to re-enter society but they have these gang tattoos on their faces or arms," says Dr. Glassberg. "We've seen hundreds of patients—some get jobs or go to college. They come back and thank us, and that is really rewarding."
Counting Blessings
Looking back over his career, Dr. Glassberg is grateful for his exposure to the dermatology specialty. Though he works long hours at the practice, he's not tied down the way he would have been had he worked in a hospital. "Still, everyone wants to see you tomorrow so I'm always working through lunch, staying late and adding hours, and I do find it hard to cut back," he says.
In his off hours Dr. Glassberg spends time with his family—his wife Stephanie and their two teenage children. He tries to stay physically active by skiing, biking, swimming and hiking. "I think you need to stay physically active to stay sane," he says. "It allows me to decompress and refocus."
Dr. Glassberg is proud of his career trajectory and says he wouldn't have it any other way. "It was never my master plan to become a dermatologist and a practice owner. I was in the right place at the right time and got some incredible opportunities," he says. "Now, I can't picture myself doing anything else. The variety keeps it interesting. You get to work with all age groups—from pediatric to geriatric—and you're dealing with the whole body, not just a part of it. There's a lot of internal medicine as well as surgical skill involved."
He also enjoys the camaraderie that comes with working in a multi-physician practice, where the doctors are able to bounce ideas off of each other, discuss cases and help one another keep up with the latest research.
"We also have an in-house pathology lab, so we have specialists right there for feedback," says Dr. Glassberg. "We support each other, we interact and nothing is ever just routine. There is something wonderful about being in control of your own environment and your staffing, and having the ability to manage care in a way that is best for your well-being and that of your patients. That's what I love about being in private practice."
Keith Loria is a freelance writer based in Oaktown, VA.
Photography by Cory Sorensen