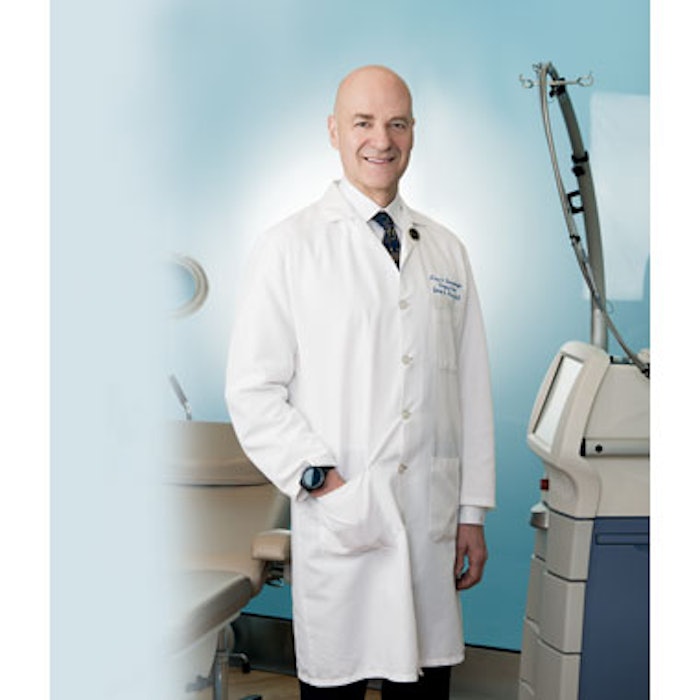 George J. Hruza, MD, has always been surrounded by the medical field. His mother was a pediatrician, who later became a psychiatrist. His father was a gerontology researcher and pathologist. His sister is a radiologist; her husband is a rheumatologist. So it's no surprise that Dr. Hruza, founder of the Laser & Dermatologic Surgery Center in Chesterfield, Missouri, also sought a career in medicine. "It seemed like a profession that would allow me to make a tangible difference for the better in someone's life," he says.
But dermatology wasn't his original choice, the Queens, New York, native admits. His goal upon entering medical school at New York University was to become a cardiologist.
"I was examining patients and listening to their hearts, but I wasn't able to hear the S3 and S4 sounds that everyone else seemed to be hearing," he says. "Clearly, my hearing skills were not quite there—but I am a very visual person and dermatology is a visual specialty. When I worked in dermatology for the first time, I had the same feeling as when I chose medical school—I knew I could make a difference."
At the time, medical lasers were in their infancy, and Dr. Hruza gravitated toward these new tools. He got a position at the Wellman Center for Photomedicine at Massachusetts General, where he worked with R. Rox Anderson, MD, and John Parrish, MD.
"They had lasers that could target almost anything in the skin, and we were in the lab working on some of the earliest devices—Q-switched ruby, CO2, erbium and the excimer. It was fascinating," says Dr. Hruza. "I may have been the first or second person to be a laser fellow there."
He next did a Mohs surgery fellowship at the University of Wisconsin-Madison with Fred Mohs, MD, Stephen Snow, MD, and Paul Larson, MD, after which he was recruited to join the faculty at Washington University in St. Louis, where he spent 11 years teaching dermatologic surgery.
"Not only was I dealing with different types of patients and procedures—the university had some challenging cases—but I had residents and fellows with me for ongoing back-and-forth teaching," he says. "They kept me on my toes. It was very rewarding and interesting."
An Interest in Business Management
About nine years into his academic career, Dr. Hruza enrolled in an MBA program to hone his business skills in anticipation of opening his own private practice. In 1999 he opened the Laser & Dermatologic Surgery Center.
"The academic world was sometimes confining. If we wanted to change how we operated or add a new laser, especially in the aesthetics arena, it was difficult," he says. "But when I went into private practice, I continued my fellowship program, which kept me in academics so I could support my inquisitive nature and still be my own boss."
His practice was profitable early on thanks to the many patients who followed him from the university system. "It started off great right away," he says. "The majority of our practice growth has been through word-of-mouth."
Based on the positive support from his existing patients, Dr. Hruza instilled in his staff the need to provide an optimal patient experience. "We make sure that when patients come in, we see them on time. We offer extended hours and always have adequate staff," he says.
Marketing Savvy
Today, the Laser & Dermatologic Surgery Center has 15 staff members, several of whom have been with Dr. Hruza for more than a decade. "We have nine staff members on the clinical side of things, and the others are in the front office," he says. "On the clinical side, we have a range of people from the medical assistant level to nurses, and we have a physician assistant and a nurse practitioner."
The facility, which Dr. Hruza built and helped design, is modern, minimalistic and elegant, with a large lobby, quartz flooring and a glass wall leading to the waiting room. "It's very open and inviting," he says. "I have Art-Deco posters and a gorgeous silk Persian rug on the wall."
Dr. Hruza hangs his professional accomplishments on one wall of his waiting room, and a bulletin board displays recent news stories in which he has been featured. "Patients enjoy that," he says. "I think it helps connect them to me, and it puts them more at ease. It is important to market yourself and your practice as providing top-quality personalized care. It's far more useful than marketing the latest device or procedure."
He also maintains a strong online presence. "Physician reviews have become especially important in the last few years," he says. "But unhappy patients are much more likely to post a review than happy ones. Due to HIPAA regulations, we can't respond with specifics to complaints, so we need to make sure that our happy patients are represented and overwhelm the rare negative review. That's why we encourage all patients to post online reviews."
Dr. Hruza has found that the no-show rate from the Internet is about 50%, which has reinforced his belief that cultivating positive relationships with existing patients is the lifeblood of private practice. To ensure he and his staff are living up to their goal of providing an optimal patient experience, all patients are given a survey when they leave the office.
"The staff is a huge part of our success. I hear all the time from patients how wonderfully they were treated," says Dr. Hruza. "My goal as a physician and practice leader is for my employees to know that I am genuinely interested in understanding and helping them achieve their goals. I want my patients to know that once I am in the exam room, I am 100% focused on their concerns and care."
A Leading Role in Dermatology
In addition to treating patients and managing his practice, Dr. Hruza is the president-elect of the American Academy of Dermatology and has held leadership positions in several professional organizations. He is a former president of the American Society for Laser Medicine and Surgery, the St. Louis Metropolitan Medical Society and the American Society for Dermatologic Surgery. He has also lectured on lasers and dermatologic surgery on four continents, written four textbooks on laser surgery and authored more than 150 scientific articles.
His varied roles as physician, practice owner and medical society officer have also pushed him to get more involved in government legislation. While he feels that some regulations have had a positive impact on patient safety, he feels other efforts are unnecessary and make things much more difficult for providers and patients.
"I am going to Washington, D.C. three times a year fighting for these types of issues because I want to preserve and strengthen the doctor-patient relationship and try to keep government interference at bay," he says.
Dr. Hruza's immersion in all aspects of dermatology reduces the amount of time he can spend with patients, he admits. "But I see it as an opportunity to give back and to help dermatology be a continuing, thriving specialty," he says. "Dermatology has been very good to me and my family, and I have been very happy and fulfilled in my career."
Keith Loria is a freelance writer based in Oaktown, VA
Photography by Mark Beaven