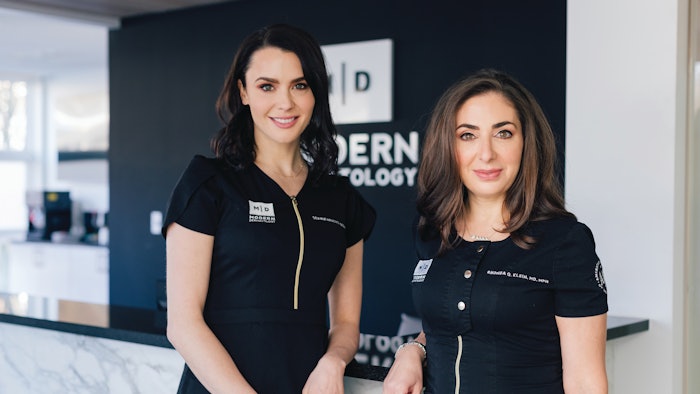 The most successful business partnerships often involve two people with a mutual passion and complementary skill sets. Typically, these partnerships arise out of friendships, as is the case with Modern Dermatology in Westport, Connecticut. Dermatologists Rhonda Klein, MD, and Deanne Mraz Robinson, MD, first met during residency at Yale University.
"When you go through residency, it's like living through a traumatic experience together. You have a bond with these people," says Dr. Robinson. "Ronnie and I were in the infancy of our careers and we've grown together through our careers."
The two founded the practice in July 2018 after working together at a group dermatology practice in Connecticut, but they each followed different routes to their shared specialty. Prior to attending medical school at the University of Pennsylvania, Dr. Klein received her master's in public health from Columbia University and worked for the New York City Department of Health for one year before pursuing a medical degree. "I received my MPH right when 9/11 happened, and there were so many interesting job opportunities in public health in New York at that time," she says.
Dr. Robinson began her medical career with the goal of becoming a physician's assistant. "At that time, it was an undergraduate degree," she says. "I did the first two years and thought I really like this, but maybe I want to do something a little bit more, so I transferred to the University of Rochester as a pre-med undergraduate."
Her initial interests in medical school were genetics and reproductive endocrinology. "I also was really interested in dermatology. I love being able to understand what's going on inside the body by looking at the outside of the skin, and the mixture of art and science," says Dr. Robinson. "It's one of the only specialties in medicine where we get to be very intellectual and very artistic at the same time. I decided at the last minute—at the beginning of my fourth year—to apply for a dermatology residency."
At the University of Pennsylvania, Dr. Klein also went through a shift in her career goals. She originally entered medical school with an eye on epidemiology and public health. "I planned to pursue a career in infectious disease or rheumatology. But Penn has a very, very strong dermatology department, and I fell into some research projects during my first and second year of medical school and learned that dermatology was the perfect combination of procedures, medical, pediatric and adult patients, so it really was a great union of all my interests. There are a lot of preventative and population health aspects of dermatology as well, so it's a fun intersection of all my interests."
Continue reading our Digital Magazine to dive further into this month's Profile piece...
Inga Hansen is the managing editor of MedEsthetics.