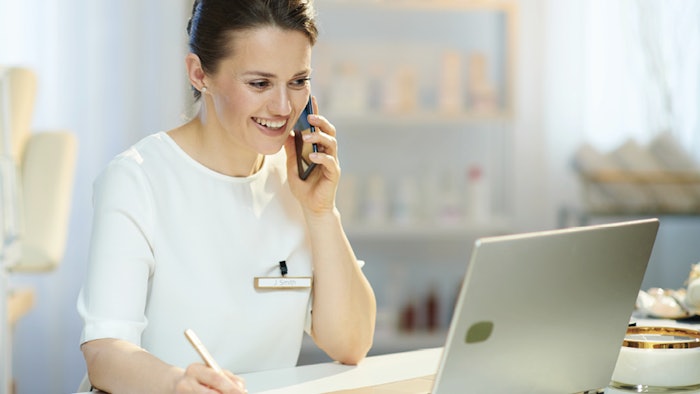 Consultations are a critical part of the success of any medical spa or aesthetic practice. Not only do they serve to establish a treatment plan for your patients, but when done well, they create a bond between the patient and your staff, set realistic expectations and help to increase your revenue.
Scheduling
A successful consultation starts with a convenient and pleasant scheduling process. Online options for scheduling allow potential patients the luxury of making an appointment without having to pick up the phone.
When patients do call your office, they should be greeted in a friendly and professional manner. Protocols for front desk phone behavior need to be in place. For example, whenever possible, callers should not be placed on hold. If it is necessary to place a caller on hold, their permission should be asked first. The phrase, "Do you mind if I place you on a brief hold?" is much more pleasant to hear than is "Hold, please." Receptionists should explain what the consultation process will entail by discussing how long the patient can expect to be there, whether their makeup will need to be removed and any other details that are relevant. New patients should be given the option of having any paperwork e-mailed to them, or arriving early to complete paperwork prior to their consultation.
First Impression
It is estimated that a person makes an impression about your business within about 15 seconds of walking through your door. Therefore, to convert a new patient into a returning patient, everything must be fine-tuned. Your aesthetic practice needs to look beautiful and updated. Front desk personnel must smile and immediately greet everyone who walks in. If they are not able to help a person as soon as they walk in the door, this must be acknowledged, so that the patient knows they have been seen. Beverages should be offered, and the patient made comfortable while completing their paperwork or waiting for the provider.
Continue Reading our Digital Magazine to learn more tips for successful consultations...
Lisa S. Jenks, M.D, began her medical career as an emergency room physician. In 2007, she opened Genesis MedSpa, a medical spa in Colorado Springs, Colorado. Recently, Jenks started Genesis Consulting to help spa owners and other physicians open successful medical spas. Reach her at lisa@genesis-medspa.com or 719-579-6890.