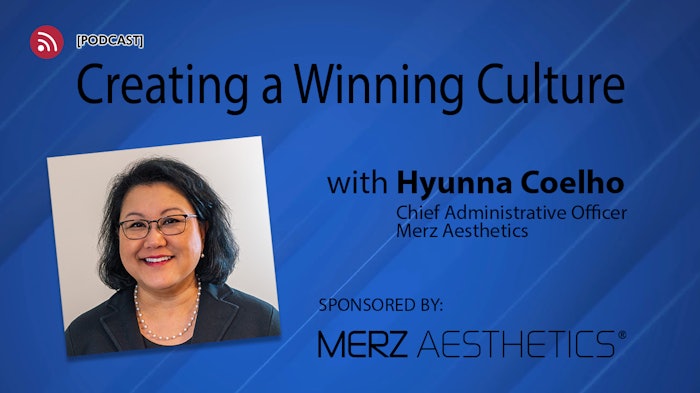 Join MedEsthetics managing editor Inga Hansen and Hyunna Coelho, chief administrative officer of Merz Aesthetics, recognized as a Top U.S. Employer and a Healthiest Employer, as we discuss:
The three key strategies for retaining top talent
The most critical skills for today's business leaders
How Merz Aesthetics communicates its unique identity and purpose
How practice and medspa leaders can engage employees as co-creators of business growth and success
Hyunna Coelho joined Merz in November 2009 and currently serves as chief administrative officer for Merz Aesthetics, where she oversees Global CORE Services, which include corporate communications, organizational development, human resources, learning and development and facilities.
She has more than 31 years of experience in the health care industry, with more than 22 of those years focused on sales leadership, commercial operations and human resources in specialty pharmaceuticals.
Prior to joining Merz, Coelho spent 9 years at Johnson & Johnson in various sales leadership roles of increasing responsibility. Before her career in specialty pharmaceuticals, she held various management roles with Marriott Healthcare Services. Most recently, she served as vice president of CORE Services for Merz North America.
Coelho holds a master's degree in pharmaceutical marketing from St. Joseph's University and a bachelor's degree from the University of South Carolina.